John Prine Succumbs to COVID-19
A great songwriter is gone at 73.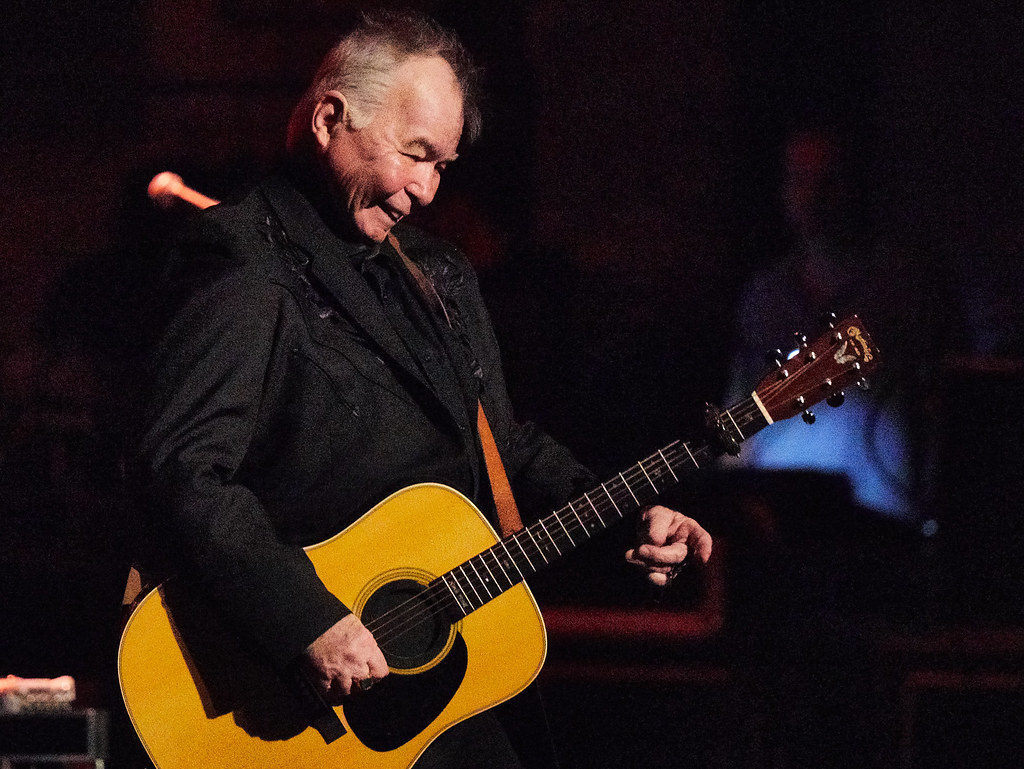 The pandemic that has claimed over 83,000 lives has taken another great musician.
Rolling Stone ("John Prine, One of America's Greatest Songwriters, Dead at 73"):
John Prine, who for five decades wrote rich, plain-spoken songs that chronicled the struggles and stories of everyday working people and changed the face of modern American roots music, died Tuesday at Nashville's Vanderbilt University Medical Center. He was 73. The cause was complications related to COVID-19, his family confirmed to Rolling Stone.

Prine, who left behind an extraordinary body of folk-country classics, was hospitalized last month after the sudden onset of COVID-19 symptoms, and was placed in intensive care for 13 days. Prine's wife and manager, Fiona, announced on March 17th that she had tested positive for the virus after they had returned from a European tour.

As a songwriter, Prine was admired by Bob Dylan, Kris Kristofferson, and others, known for his ability to mine seemingly ordinary experiences — he wrote many of his classics as a mailman in Maywood, Illinois — for revelatory songs that covered the full spectrum of the human experience. There's "Hello in There," about the devastating loneliness of an elderly couple; "Sam Stone," a portrait of a drug-addicted Vietnam soldier suffering from PTSD; and "Paradise," an ode to his parents' strip-mined hometown of Paradise, Kentucky, which became an environmental anthem. Prine tackled these subjects with empathy and humor, with an eye for "the in-between spaces," the moments people don't talk about, he told Rolling Stone in 2017. "Prine's stuff is pure Proustian existentialism," Dylan said in 2009. "Midwestern mind-trips to the nth degree.

Prine was also an author, actor, record-label owner, two-time Grammy winner, a member of the Songwriters Hall of Fame, the Nashville Songwriters Hall of Fame, and the recipient of the 2016 PEN New England Song Lyrics of Literary Excellence Award, a honor previously given to Leonard Cohen and Chuck Berry. Prine helped shape the Americana genre that has gained popularity in recent years, with the success of Prine fans such as Jason Isbell, Amanda Shires, Brandi Carilie, to name a few. His music was covered by Bonnie Raitt (who popularized "Angel From Montgomery," his soulful ballad about a woman stuck in a hopeless marriage), George Strait, Carly Simon, Johnny Cash, Don Williams, Maura O'Connell, the Everly Brothers, Joan Baez, Todd Snider, Carl Perkins, Bette Midler, Gail Davies, and dozens of others.

Prine's string of acclaimed solo albums began with his self-titled 1971 debut on Atlantic Records, featuring a tracklist that reads like a greatest-hits compilation: "Illegal Smile," "Spanish Pipedream," "Hello in There," "Sam Stone," "Paradise," "Donald and Lydia," "Your Flag Decal Won't Get You Into Heaven Anymore," and "Angel From Montgomery" among them. Throughout his career, Prine explored a wide variety of musical styles, from hard country to rockabilly to bluegrass; he liked to say that he tried to live in a space somewhere between his heroes Johnny Cash and Dylan.
NYT ("John Prine, Who Chronicled the Human Condition in Song, Dies at 73″):
John Prine, the raspy-voiced country-folk singer whose ingenious lyrics to songs by turns poignant, angry and comic made him a favorite of Bob Dylan, Kris Kristofferson and others, died on Tuesday in Nashville….

[…]

Mr. Prine was a relative unknown in 1970 when Mr. Kristofferson heard him play one night at a small Chicago club called the Fifth Peg, dragged there by the singer-songwriter Steve Goodman. Mr. Kristofferson was performing in Chicago at the time at the Quiet Knight. At the Fifth Peg, Mr. Prine treated him to a brief after-hours performance of material that, Mr. Kristofferson later wrote, "was unlike anything I'd heard before."

A few weeks later, when Mr. Prine was in New York, Mr. Kristofferson invited him onstage at the Bitter End in Greenwich Village, where he was appearing with Carly Simon, and introduced him to the audience.
"No way somebody this young can be writing so heavy," he said. "John Prine is so good, we may have to break his thumbs."

The record executive Jerry Wexler, who was in the audience, signed Mr. Prine to a contract with Atlantic Records the next day.

Music writers at the time were eager to crown a successor to Mr. Dylan, and Mr. Prine, with his nasal, sandpapery voice and literate way with a song, came ready to order. His debut album, called simply "John Prine" and released in 1971, included songs that became his signatures. Some gained wider fame after being recorded by other artists.

They included "Sam Stone," about a drug-addicted war veteran (with the unforgettable refrain "There's a hole in Daddy's arm where all the money goes"); "Hello in There," a heart-rending evocation of old age and loneliness; and "Angel From Montgomery," the hard-luck lament of a middle-aged woman dreaming about a better life, later made famous by Bonnie Raitt.

"He's a true folk singer in the best folk tradition, cutting right to the heart of things, as pure and simple as rain," Ms. Raitt told Rolling Stone in 1992.
The aforementioned "Sam Stone," from his debut album, is an all-time great song, although not one often heard on the radio:
As amazing as he was with the dark side of life, my favorite Prine songs were more whimsical. I was especially fond of "Jesus, The Missing Years"
And "Space Monkey"
Unlike many legends who pass in older years, or even somewhat younger artists like Joe Diffy, also taken by COVID-19, Prine was still making relevant new material right up to the end.
His last studio album, The Tree of Forgiveness, was released in April 2018, just six months after he was named the Americana Music Association's Artist of the Year. Rolling Stone said the album had "all the qualities that have defined him as one of America's greatest songwriters."

Prine attended the Grammys in January, where he received a Lifetime Achievement Award. The singer could be seen on television with his family, grinning and wearing sunglasses, as Bonnie Raitt sang "Angel From Montgomery." Last year, Prine was inducted into the Songwriters Hall of Fame. Onstage, he summed up why he chose a life as a songwriter: "I gotta say, there's no better feeling than having a killer song in your pocket, and you're the only one in the world who's heard it."
This outcome was what most of us expected when we heard he'd been put on a ventilator but it's still depressing news.