Bob Dylan Wins Nobel Prize In Literature
0000000000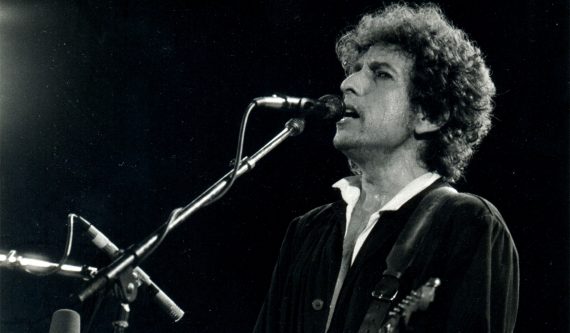 In what appears to be a first, Bob Dylan was awarded the Nobel Prize in Literature for his long career of songwriting:
Bob Dylan, the poet laureate of the rock era, whose body of work has influenced generations of songwriters and been densely analyzed by fans, critics and academics, was awarded the Nobel Prize in Literature on Thursday.

It is the first time the honor has gone to a musician. In its citation, the Swedish Academy credited Mr. Dylan with "having created new poetic expressions within the great American song tradition."

The choice of Mr. Dylan for the world's top literary honor came as something of a surprise and was widely viewed as an expansion of the academy's traditional notions of art. Mr. Dylan, 75, joins a pantheon that includes T. S. Eliot, Gabriel García Márquez, Samuel Beckett and Toni Morrison — the last American to claim the award, in 1993.

"The old categories of high and low art, they've been collapsing for a long time," said David Hajdu, a music critic for The Nation who has written extensively about Mr. Dylan and his contemporaries, "but this is it being made official."

In choosing a popular musician for one of the most coveted prizes in the literary world, the Swedish Academy dramatically redefined the boundaries of literature, setting off a debate about whether song lyrics have the same artistic value as poetry or novels.

"Most song lyrics don't really hold up without the music, and they aren't supposed to," the poet Billy Collins said. "Bob Dylan is in the 2 percent club of songwriters whose lyrics are interesting on the page, even without the harmonica and the guitar and his very distinctive voice. I think he does qualify as poetry."

In previous years, writers and publishers have grumbled that the academy seems to favor obscure writers with clear political messages over more popular figures — last year's prize went to the the Belarussian journalist Svetlana Alexievich, whose deeply reported narratives draw on oral history. But in choosing someone so well known and commercially successful, and so far outside of established literary traditions, the academy seems to have swung far into the other direction.

Sara Danius, a literary scholar and the permanent secretary of the 18-member Swedish Academy, which awards the prize, called Mr. Dylan "a great poet in the English-speaking tradition" and compared him to Homer and Sappho, whose work was delivered orally. Asked if the decision to award the prize to a musician signaled a broadening in the definition of literature, Ms. Danius responded, "The times they are a-changing, perhaps," referencing one of Mr. Dylan's songs.

The choice was hailed across the cultural and political spectrum. Rosanne Cash, the songwriter and daughter of Johnny Cash, wrote simply: "Holy mother of god. Bob Dylan wins the Nobel Prize."

Mr. Dylan emerged on the New York music scene in 1961 as an artist in the tradition of Woody Guthrie, singing protest songs and strumming an acoustic guitar in clubs and cafes in Greenwich Village. But from the start, Mr. Dylan stood out for dazzling lyrics and an oblique songwriting style that made him a source of fascination for artists and critics. In 1963, the folk group Peter, Paul and Mary reached No. 2 on the Billboard pop chart with a version of his song "Blowin' in the Wind," with ambiguous refrains that evoked Ecclesiastes.

Within a few years, Mr. Dylan was confounding the very notion of folk music, with ever more complex songs and moves toward a more rock 'n' roll sound. In 1965, he played with an electric rock band at the Newport Folk Festival, provoking a backlash from folk purists who accused him of selling out.

After reports of a motorcycle accident in 1966 near his home in Woodstock, N.Y., Mr. Dylan withdrew further from public life but remained intensely fertile as a songwriter. His voluminous archives, showing his working process through thousands of pages of songwriting drafts, were acquired this year by institutions in Tulsa, Okla.

His 1975 album "Blood on the Tracks" was interpreted as a supremely powerful account of the breakdown of a relationship, but just four years later the Christian themes of "Slow Train Coming" divided critics. His most recent two albums were chestnuts of traditional pop that had been associated with Frank Sinatra.
I can't say that I've ever been a die-hard Dylan fan. At times, I've found his singing style nearly impossible to understand, for example, and folk music is pretty far outside my range of musical taste. That being said, it's hard to deny his contribution to American, and world, culture. Many of his better known songs, such as "Blowin' In The Wind," and "Mr. Tambourine Man," became major hits for other artists in the 1960s and, to a large degree, his music was an important part of the anti-war and counter-cultural movements that swept across the United States and the West during that period. More so than many of the writers who have won the Nobel Prize for Literature in the past, it also can be said that Dylan left an impact on his craft, and on an American culture that has swept across the globe, and will likely continue to do so for many years to come. For that reason alone, the selection of Dylan as the first songwriter and popular musician to win a Nobel Prize seems to me to be entirely appropriate. In many ways, the words he drafted work as poetry as well as they as music, and that's the signature of a great song.