Jon Stewart vs. Fox News
Daily Show host Jon Stewart spent 15 minutes on yesterday's Fox News Sunday with Chris Wallace trying to explain why he thinks Fox is a propaganda machine.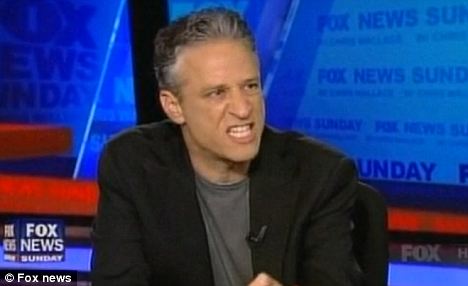 Daily Show host Jon Stewart spent 15 minutes on yesterday's Fox News Sunday with Chris Wallace trying to explain why he thinks Fox is a propaganda machine.
Daily Mail ("'You are insane!' The moment comedian Jon Stewart lost his cool with Fox News host Chris Wallace"):
The audience were shown a transcript of Mr Stewart describing Fox News as a, 'relentless agenda-driven 24 hour news opinion propaganda delivery system.

Mr Wallace the asked the comedian: 'Where do you come up with this stuff.'

Stewart responded: 'Uh, it's actually quite easy.'

After repeated prodding, Wallace then played a clip of Mr Stewart comparing a video of Sarah Palin's recent bus tour to a herpes commercial.

Mr Stewart erupted: 'You're insane… Here's the difference between you and I. 'I'm a comedian first. My comedy is informed by an ideological background, there's no question about that. But the thing that you will never understand…is that Hollywood, yeah, they're liberal, but that's not their primary motivating force. I'm not an activist. I am a comedian.'

Addressing issues of bias in the main stream media, Stewart responded:  'Do I want my voice heard?'Absolutely, that's why I got into comedy. Am I an activist, in your mind? A partisan ideological activist?

Mr Wallace answered with a short, 'Yeah.'

'Okay, then I disagree with you.' Stewart said.

Rising in temper again, he said: 'You can't understand, because of the world that you live in, that there is not a designed ideological agenda on my part to affect partisan change because that's the soup you swim in. And I appreciate that, I understand it. It reminds me of in ideological regimes, they can't understand that there is free media other places because they receive marching orders.'

Composure: Despite flashes of anger, Mr Stewart did slip back in 'comedy' mode

Denying that there was a deliberate liberal bias in the mainstream media, Mr Stewart maintained that: 'The bias of the mainstream media is towards sensationalism, conflict and laziness. 'The embarrassment is that I am given credibility in this world because of the disappointment that the public has in what the news media tells them.'

Through gritted teeth Mr Stewart added: 'In the polls who is the most consistently misinformed media viewers. Fox, Fox viewers. Consistently. Every poll.'

But in a confession, he confided: 'There is no question I do not tell the entire story,' before defusing the situation by telling Mr Wallace, 'My Beef isn't with you.'
The actual interview was less heated than the Mail portrays it. The video is embedded below:
Both Stewart and Wallace are somewhat wrong here. While there's not much doubt in my mind that Fox is agenda-driven, Stewart oversells the degree to which there's a partisan agenda. Fox, like every other media outlet Stewart criticizes, is in the hype business and willing to elide inconvenient facts to sex up the story. But, yes, most of the shows do this in an anti-liberal, anti-Democrat, anti-Obama manner. They're going after a particular audience rather than a mass audience in order to differentiate themselves from the competition.
But Wallace's notion that the New York Times and other major media outlets are party organs for the Democrats, pushing a Progressive agenda, is absurd. Their ownership and editorial pages are liberal and there's a bias in the way they tell some stories. But that's a function of an elite, metropolitan perspective rather than some secret scheme to get Democrats elected.
Stewart, even moreso than Rush Limbaugh, does in fact hide too much behind the "I'm just a humble entertainer" facade. Yes, he's a comedian first. But he is a major opinion shaper and he not only knows it but relishes the fact. But, while he's a liberal–and makes no bones about it–I've watched the show for some time and very seldom feel like he's trying to cram a partisan agenda down my throat. He's very hard on his fellow Democrats. But, yes, he's harder on Republicans. Partly, it's because they've been easy targets of late. Partly, it's because he find Republican arguments more alien, and thus funnier. But he's by no means a shill for the Democratic Party.
One interesting tidbit from the show: Stewart voted for George H.W. Bush over Dukakis in 1988. I'd not have guessed that.