Judge Rejects Major Hasan's "Defense Of Taliban" Defense In Fort Hood Shootings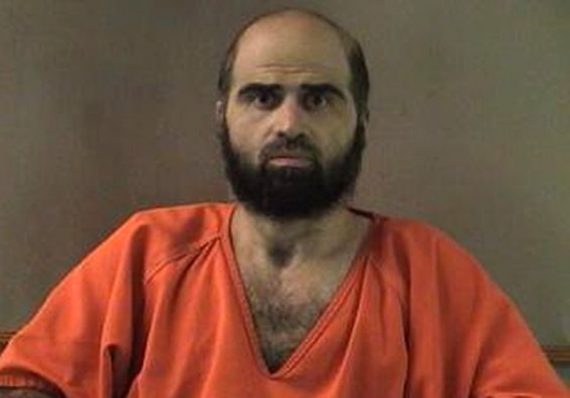 Major Nidal Hasan will not be allowed to claim that the murders he committed at Ford Hood, Texas in November 2009 were in defense of Taliban leaders in Afghanistan:
KILLEEN, Tex. — Days after the Army major charged in the Fort Hood shooting rampage here in 2009 argued that he had carried out the attack to protect Taliban leaders from American soldiers, a military judge effectively tossed out his defense, ruling on Friday that the claim had no legal merit.

Last week, Maj. Nidal Malik Hasan told the judge he was protecting Taliban leaders in Afghanistan from danger when he opened fire at the base on Nov. 5, 2009, killing 13 people. In describing his new defense — known in legal terms as a "defense of others" — he said he was defending the lives of Taliban leaders, including Mullah Muhammad Omar, the group's founder, from Fort Hood soldiers deploying to Afghanistan.

On Friday, the judge, Col. Tara A. Osborn, told Major Hasan that his defense in this case failed as a matter of law, and that no one at Fort Hood posed an immediate threat to anyone in Afghanistan that day. In addition, she told him that the legitimacy of the United States' involvement in the war in Afghanistan was not at issue in the case, and that as a soldier, he had no justification to kill other soldiers. He was forbidden to present evidence and testimony relating to his "defense of others" argument when his trial begins.

Major Hasan, who is representing himself after releasing his court-appointed military lawyers, sat in a wheelchair at the defense table, listening quietly as she delivered her ruling. He was shot by the police in the attack and is paralyzed from the waist down.

"I object to your ruling, for the record," he told Colonel Osborn, a former Army prosecutor and combat veteran of the 1991 Persian Gulf war.

She then quickly moved on to the next subject. She did not address Major Hasan's request for a three-month delay of his trial in order to prepare his defense. He had filed legal briefs outlining the facts and evidence he believed supported his claim.

Some delay will be necessary, regardless of whether she grants his request, because jury selection has not begun. It had been scheduled to start last week, and the trial had been set for July 1.

Major Hasan's next steps were unclear. He could appeal aspects of her ruling, experts in military law said, though such issues may have to wait until the end of the trial before being heard by a military appeals court.

A "defense of others" claim requires a defendant to prove he was compelled to use force against an aggressor to protect others from being harmed or killed by that person. Former military lawyers said Major Hasan's theory failed to meet the criteria of "defense of others" cases, and even his former lawyers were opposed to such a defense, he told the judge at a previous hearing.

Experts in military law said "defense of others" cases required defendants to prove that those they were protecting were victims of unlawful force and faced an immediate threat or danger. The threat to the Taliban was neither immediate nor unlawful, they said, adding that they believed the judge was on solid legal ground in tossing out the defense.

"A defendant has no right to present a defense theory that cannot in any way, shape or form be supported by the facts," said Geoffrey S. Corn, an adviser to the National Institute of Military Justice and a professor at the South Texas College of Law. "It would be like Charles Manson claiming self-defense. Judges are very, very liberal in allowing defenses, but there has to be some plausible factual basis for the defense theory."

But Major Hasan's former civilian lawyer, John P. Galligan, called Colonel Osborn's ruling a mistake and said it opened up a potential appellate issue: By prohibiting him from presenting evidence and testimony on his defense, Major Hasan can argue that the judge prevented him from taking the stand at his trial, though her ruling did not specifically restrict him from testifying.

"In the context of a death penalty case, I'd be very, very leery of a judge seeking to put restrictions on what a defendant can assert, in terms of his mental state and what he perceives as being a defense," Mr. Galligan said. "Every criminal defendant has a fundamental right to present a defense."
That's generally true, and as the article notes, Judges are generally quite liberal in ruling on prosecution objections to a Defendant's proposed defense, especially when the Defendant is proceeding pro se. However, such defenses must still meet some kind of test at bare minimum. If we're talking about a defense that cannot be supported by either the facts or the law, then its the Judges job to step in and prevent irrelevant or inflammatory "evidence" from being put before a jury. Even judging from a distance, it seems quite clear that this is what the Judge did hear. Allowing Hasan to present a "defense of others" claim based on the facts at issue would have stretched the defense beyond the bounds of credulity. Assuming Hasan is convicted, I have no doubt that this ruling will be a grounds for appeal, but it seems unlikely that it would be a successful one.