Justice Department's $16 Muffins and $32 Cracker Jacks
The DOJ needs to go on a low-carb diet.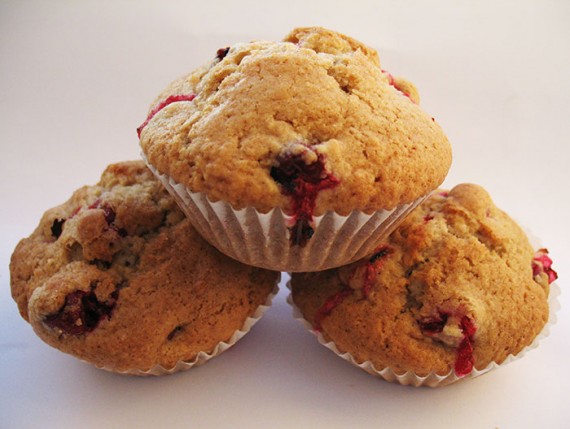 The US Justice Department spent $16 per muffin and $5 per meatball at recent conferences, an internal audit found.
Bloomberg ("$16 Muffins Found at U.S. Meetings"):
U.S. Justice Department agencies spent too much for food at conferences, in one case serving $16 muffins and in another dishing out beef Wellington appetizers that cost $7.32 per serving, an audit found. "Some conferences featured costly meals, refreshments, and themed breaks that we believe were indicative of wasteful or extravagant spending," the Justice Department's inspector general wrote in a report released today.

The inspector general reviewed a sample of 10 Justice Department conferences held between October 2007 and September 2009 at a cost of $4.4 million, a period that included the administrations of Republican George W. Bush and Democrat Barack Obama. The Justice Department spent $73.3 million on conferences in fiscal 2009, compared with $47.8 million a year earlier, according to the report.

The muffins were served at an August 2009 conference of the Executive Office for Immigration Review and the beef Wellington was offered at a February 2008 meeting hosted by the Executive Office for U.S. Attorneys. A March 2009 conference of the Office on Violence Against Women served Cracker Jack, popcorn and candy bars at a single break, costing $32 per person, according to the report.

The report is a follow-up to one from 2007 that found the Justice Department had few controls to limit the costs of conference planning, food and beverages. That audit cited a reception that included Swedish meatballs costing $5 apiece.

In April 2008 the Justice Department issued policies and procedures designed to control conference spending. The new report found that agencies were able to "circumvent meal and refreshment cost limits" when conferences were planned under cooperative agreements, a type of funding awarded by a Justice Department agency.
Let's stipulate that food is outrageously expensive at conference hotels and that itemized costs are often dubious, with some items inflated to keep others under artificial spending limits.* The numbers are nonethless mindboggling. $79 million for one agency's conference budget? Consider that the entire budget for the Corporation for Public Broadcasting, which funds NPR and PBS, is $430 million.
Now, unlike Stacy McCain ("'MuffinGate': Obama Says We Must Tax the Rich Because Federal Officials Can't Do Without $5 Swedish Meatballs"), I don't think there's enough of this kind of waste in the federal budget to bring our fiscal situation into balance. But we agree that there's too much of it.
CBS News chief legal analyst Andrew Cohen ("$16 for a Muffin?! A Justice Department Boondoggle") calls this a "bipartisan mess." But, really, I'm not expecting the Attorney General to go through the food budget. This is more a symptom of bureaucracy run amok, with an added twist of the scourge of contracting out services that should be done in house.
At places all over the country and the world, the conferences took place after the Justice Department had been warned by the OIG in 2007 that there was too little oversight over food and beverage costs. Investigators determined, for example, that the DOJ "spent $600,000 (14 percent of costs) to hire training and technical assistance providers as external event planners for 5 of the 10 conferences reviewed. This was done without demonstrating that these firms offered the most cost effective logistical event planning services. Further, these event planners did not accurately track and report conference expenditures."
Business Insider's Linette Lopez ("You'll Never Guess How Much The Justice Department Spends On Party Snacks") notes that the $32 Cracker Jacks were at a conference of the Office on Violence Against Women. Insert tasteless  joke here.
Hot Air's AllahPundit quips, "I know you're angry, but don't forget that DOJ made some extra cash this year selling AK-47s to Mexican drug cartels." On the matter of the $5.57 sodas, he adds, "That's a fair price if you're in a stadium watching football, less so if you're in a ballroom watching Eric Holder sweat while he ducks questions about who knew what vis-a-vis Operation Fast & Furious. "
____________
*My hunch proved correct. See my follow-up post, "When Is A $16 Muffin Not a $16 Muffin?"