Justice Sotamayor Presides In Judge's Chambers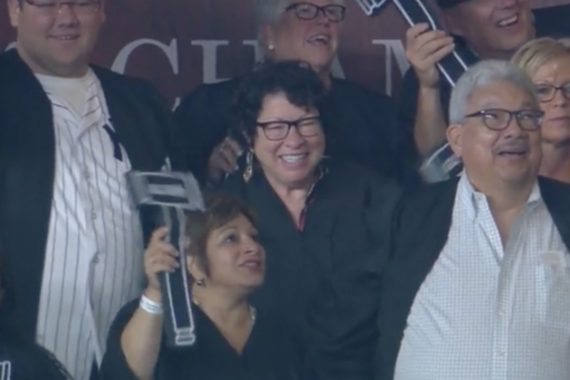 Supreme Court Justice Sonia Sotomayor showed up at Yankee Stadium yesterday for the first of a four-game series against the Red Sox that could prove crucial to the team's chase for the AL East pennant this season. Instead of sitting in a luxury box seat down by the dugout though, she was in Judge's Chambers:
While Aaron Judge was tearing up baseball earlier this season, the Yankees cleverly set up a cozy section in right field called "The Judge's Chambers," complete with dark robes and foam gavels for fans, plus faux wood paneling. On Thursday, one of those seats was graced by an actual Supreme Court justice, Sonia Sotomayor.

A native of the Bronx and a longtime Yankees fan, Sotomayor rooted on her favorite squad during a 6-2 home win over the Red Sox, albeit one in which the slumping Judge went hitless in two at-bats. She declined to offer comment after the game, but to, well, judge from appearances, the verdict is in: Sotomayor had a very good time.

Judge did manage a pair of walks, plus a run scored in the seventh inning, so Sotomayor had reason to cheer for him specifically. Since entering the all-star break as the front-runner for AL MVP honors, though, the right fielder has batted just .179, with seven home runs and 16 RBI in 44 games.

Not long after being confirmed in 2009 as the Supreme Court's first justice of Hispanic heritage, Sotomayor threw out the first pitch at a Yankees game. Fourteen years before that, in a U.S. District Court, she issued a temporary injunction that helped end a nearly eight-month MLB players strike, leading some to dub her "the judge who saved baseball."

More recently, Sotomayor  sat with the Yankee's "Bleacher Creatures" during a 2012 game, and she had high praise for those fans. "I [pay] homage to the Bleacher Creatures," Sotomayor said at the time (via MLB.com). "They are the greatest fans.

"To sit in sweltering heat, while the sun is blazing, to sit out there in the rain, to sit out there on days we're losing, and not to take it out on our players, takes heart. They show it every game, every time they come out, and so I felt very proud to be with them."
In addition to the photo above, Sotomayor also showed up on Twitter:
So good – Sonia Sotomayor is at the Yankees game wearing a judge's robe for Aaron Judge (I assume) pic.twitter.com/JqnkNOEWWx

— Amanda Terkel (@aterkel) September 1, 2017
Sotomayor in the Judge's Chambers!!! ❤️ pic.twitter.com/quEs2Sq4Ph

— Stefanie Gordon (@Stefmara) August 31, 2017
No word on whether or not Sotamayor ever attended a game with her fellow Yankees fan Antonin Scalia, who was a common, if often hard to spot, sight at Yankees games either in New York or when the team visited Baltimore to play the Orioles.
In any case, given that the Yankees won the game and put themselves closer to the Red Sox in the pennant race, perhaps the team should consider inviting the Justice to come back for the entire series this weekend. They could use the help.