Keep Calm and Carry On
We shouldn't overreact. But we shouldn't fool ourselves either: We're not safe.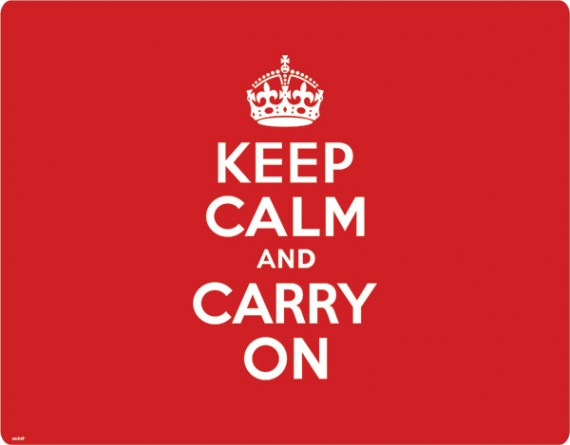 The Keep Calm and Carry On is cropping up everywhere in the aftermath of the explosions yesterday at the Boston Marathon that most presume are a terrorist attack.
Bruce Schneier at The Atlantic ("The Boston Marathon Bombing: Keep Calm and Carry On"):
As the details about the bombings in Boston unfold, it'd be easy to be scared. It'd be easy to feel powerless and demand that our elected leaders do something — anything — to keep us safe.

It'd be easy, but it'd be wrong. We need to be angry and empathize with the victims without being scared. Our fears would play right into the perpetrators' hands — and magnify the power of their victory for whichever goals whatever group behind this, still to be uncovered, has. We don't have to be scared, and we're not powerless. We actually have all the power here, and there's one thing we can do to render terrorism ineffective: 

Refuse to be terrorized

.

It's hard to do, because terrorism is designed precisely to scare people — far out of proportion to its actual danger. A huge amount of research on fear and the brain teaches us that we 

exaggerate threats

 that are rare, spectacular, immediate, random — in this case involving an innocent child — senseless, horrific and graphic. Terrorism pushes all of our fear buttons, really hard, and we 

overreact

.

But our brains are fooling us. Even though this will be in the news for weeks, we should recognize this for what it is: a 

rare

 event. That's the very definition of news: something that is unusual — in this case, something that almost never happens.
Ross Douthat ("Keep Calm and Carry On"):
But what I hope we don't see, when the next race or a parade or festival looms up in front of us, are layers of extra stops and searches and checkpoints, wider and wider rings of closed streets, the kind of portable metal detectors that journalists remember unfondly from political conventions, more of the concrete barriers that Washingtonians have become accustomed to around our public buildings … more of everything that organized officialdom does to reassure us, and itself, that soft targets can somehow be eliminated entirely, and that everything anyone can think of is being done to keep the unthinkable at bay.

This kind of security theater is a natural response to terrorism, but it's a response that since 9/11 we've done an absolutely terrible job of reasoning through and then gradually ratcheting back. Today's attack, on the kind of event that countless cities hold and that even the most omnicompetent police force couldn't make entirely secure, could easily lead to a further ratchet, a further expansion of preventive (or preventive-seeming) measures, a further intrusion of bureaucratic and paramilitary rituals into the rhythms of everyday life. Or it could be an opportunity to recognize the limits of such measures, the impossibility of achieving perfect security, and the costs of pretending that an extra ring of barriers and inconveniences will suffice to stop a determined evil from finding its way through.
Like Douthat, I work in DC and very much hope that there's no permanent overreaction to yesterday's events. Extra precautions at the White House and other high value targets for a few days, until we figure out who is behind yesterday's attack and whether follow-ons are likely, strike me as prudent. But measures that last for months and years add inconvenience for little real security.
Unlike Schneier, though, I actually think the threat is under-appreciated. That is, while these attacks are thankfully rare, I can't for the life of me figure out why. The Boston Marathon and the Super Bowl are comparatively easy to secure, because they're one-offs, generate sufficient revenue to make a security investment reasonable, and obvious targets. It's simply impossible to protect all of our schools, shopping malls, movie theaters, airports, and other places where hundreds and even thousands of people gather on a daily basis.