Paul Ryan's Marathon Fish Story
In a radio interview last week, Paul Ryan claimed to have run a sub-3 hour marathon. He did no such thing.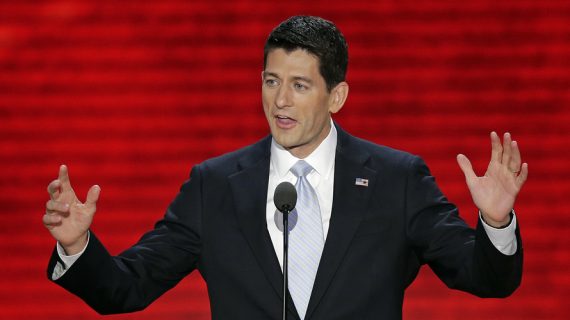 In a radio interview last week, Paul Ryan claimed to have run a sub-3 hour marathon. He did no such thing.
Here's the relevant part of the interview with conservative host Hugh Hewitt a few days back:
HH: That's okay. Hey, in high school, what did you do in high school? Were you a speech and debate guy? Were you a bandie? What were you?

PR: No, I was student government and athletics, honor society, you know, that kind of thing. I was kind of a combination. I was class president my junior year, I was the school board rep my senior year. I lettered in varsity, you know, my first year in high school, mostly soccer and track. I was a distance runner and a soccer player. So kind of well-rounded. I can't, I can play a cowbell. That's about it for instruments.

HH: Are you still running?

PR: Yeah, I hurt a disc in my back, so I don't run marathons anymore. I just run ten miles or yes.

HH: But you did run marathons at some point?

PR: Yeah, but I can't do it anymore, because my back is just not that great.

HH: I've just gotta ask, what's your personal best?

PR: Under three, high twos. I had a two hour and fifty-something.

HH: Holy smokes. All right, now you go down to Miami University…

PR: I was fast when I was younger, yeah.
That's a really fast marathon. As Jim Henley joked, "Paul Ryan ran a sub 3 hour marathon?? He must be Kenyan. Check his birth certificate!" The gang at Runners World was apparently a little skeptical and looked into it.
Runner's World has been unable to find any marathon results by Ryan. Requests for more information from Ryan's Washington and Wisconsin offices, and from the Romney-Ryan campaign, have so far gone unanswered.

If Ryan has broken 3:00, he'd be the fastest marathoner to be on a national ticket. John Edwards has run 3:30; George W. Bush has run 3:44; Sarah Palin has run 3:59; and Al Gore has run 4:58.

Ryan isn't the first aspirant for national office to make a hard-to-verify claim about having run a marathon. John Kerry came under scrutiny when he ran for president in 2004 for saying that he'd run the Boston Marathon.

The November 2004 issue of Runner's World reported that Kerry had run Boston in the 1970s but gave no supporting details. ESPN looked into the claim and wound up concluding "there's no official record of his feat, and his campaign did not provide further details despite repeated inquiries."

In an e-mail to Runner's World last night, Tom Derderian, author of Boston Marathon, said, "It is very hard to prove a negative, but in doing my research I read every account in every newspaper about the Boston Marathon. I would have seen and noted that a US Senator ran."
Ryan's campaign wrote back to, er, walk back the story:
A spokesman for the Romney-Ryan campaign e-mailed Runner's World today to say Ryan ran Grandma's Marathon in Duluth, Minnesota, while a college student in 1991.

When asked about Ryan's finishing time, the spokesman said, "His comments on the [radio] show were the best of his recollection."

Ryan's name does not show up in the 1991 race results provided by Grandma's. Runner's World checked 11 years of results for Grandma's Marathon, from 1988 through 1998, and found a finisher in the 1990 race by the name of Paul D. Ryan, 20, of Minneapolis.

Ryan's middle name is Davis, and he was 20 in 1990. The finishing time listed was 4 hours, 1 minute and 25 seconds.

We are awaiting confirmation from the Ryan camp that the vice presidential nominee is the Paul D. Ryan listed in the race results – and, if he is, whether he ran any other marathons faster than 4:01:25.
Later, they added:
A spokesman confirmed late Friday that the Republican vice presidential candidate has run one marathon. That was the 1990 Grandma's Marathon in Duluth, Minnesota, where Ryan, then 20, is listed as having finished in 4 hours, 1 minute, and 25 seconds.

Ryan had said in a radio interview last week that his personal best was "Under three, high twos. I had a two hour and fifty-something."

In a statement issued to Runner's World by a spokesman Friday night, Ryan said of his marathon experience:

"The race was more than 20 years ago, but my brother Tobin—who ran Boston last year—reminds me that he is the owner of the fastest marathon in the family and has never himself ran a sub-three. If I were to do any rounding, it would certainly be to four hours, not three. He gave me a good ribbing over this at dinner tonight."
I've never been the athlete Ryan was and sure as hell am not in the kind of shape he is now. Yet, I can tell you my fastest 2-mile  (12:09) and 10k (39:40) times–both from longer ago than Ryan's marathon. So, no, I don't believe his recollection was off by more than an hour.  A two hour and fifty-something time would easily have qualified Ryan to run in the Boston Marathon; a 4 hour and 1 minute time is too slow for a 64-year-old—and just barely qualifies a 50-year-old woman. No way in hell he makes that mistake.
This is a classic case of what I years ago dubbed an "Al Gore lie," after the reflexive tendency of the then-vice president to issue obviously untrue statements for no apparent reason. Politicians lie on the campaign trail all the time, of course. And, as the fictional Dr. House reminds us, everybody lies to cover up embarrassing truths or otherwise make themselves look better. But Gore, whose personal biography was surely impressive enough on its own merits, was constantly telling little stories that wouldn't have been particularly useful to him even if they were true. That Gore had gone to Harvard and roomed with future movie star Tommy Lee Jones was an interesting story as it was; for no apparent reason, Gore stretched it so that he and Tipper were the inspiration for "Love Story," forcing the author to say it wasn't so.
Similarly, Paul Ryan is in fantastic shape for a 42-year-old man. His fitness is legendary and has already been the subject of fawning press stories since his announcement as Mitt Romney's running mate. Who is it out there who's sitting on the fence thinking to himself, "Sure, Ryan leads Hill people in grueling P90X workouts; but I'm not sure I can vote for him to be Romney's understudy without evidence he's run a sub-3 hour marathon"?  Nobody, that's who.
Is this going to sink his campaign? I doubt it. While John Kerry lost in 2004, I don't think his marathon fib was the reason; indeed, I don't recall having heard the story before. But this is yet another whiskey tango foxtrot moment for a campaign that doesn't need any more of them.