Public Concerned With Government Overreach In Response To Terrorism
The American people aren't panicking.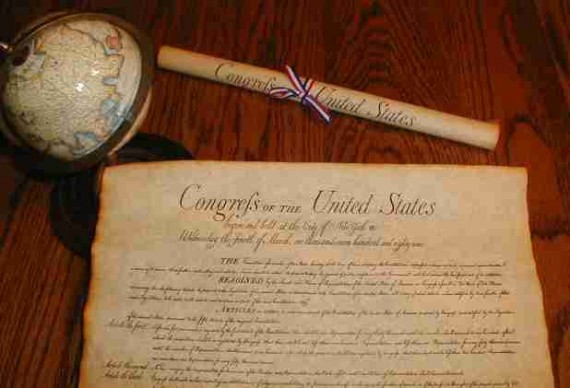 In the immediate aftermath of the Boston Marathon bomb attack, many observers wondered whether it would lead to another round of civil liberties restrictions in the name of "public safety" must as the September 11th attacks led to the PATRIOT Act and the increases in the power of the Presidency in the name of the "War On Terror." Indeed, in those initial days there were many political leaders who were calling for exactly that, whether it be suggesting that suspect Dzhokhar Tsarnaev should be treated as an enemy combatant, complaining that he was read his Miranda rights too early, or calling for a halt to the debate over immigration reform because the two suspects had come to the United States as immigrants some ten years earlier. These voices are still out there, but if polling taken in the immediate aftermath of the bombing is any indication, the American people are skeptical about giving up more personal liberty in response to what happened in Boston.
First up, there's a CNN/Time poll:
Although worries about terrorism have edged up following the Boston Marathon bombings, a new national poll indicates only four in ten Americans say they are willing to give up some civil liberties to fight terrorism.

And according to a CNN/Time/ORC International survey, the public is particularly concerned about the government eavesdropping on their cell phones or reading their email.

The goal of a terror attack is to terrorize, and the poll, released Wednesday, indicates concerns over becoming a victim of terrorism are up slightly in the wake of the April 15 bombings, which left three people dead and more than 260 injured. The 40% who worry that someone in their family will become a victim of terrorism is up six percentage points from a 2011 CNN poll, conducted on the tenth anniversary of the 9/11 terror attacks.

"But only a quarter are less likely to attend large public events like the Boston marathon, even though more than six in ten believe that the terrorists will always find a way to launch an attack regardless of what the government does," says CNN Polling Director Keating Holland.

The poll suggests that public attitudes toward terrorism and civil liberties have changed dramatically since 1995, when the deadly bombing of a federal office building in Oklahoma City first ushered in a new era of anti-terrorism measures that impacted the lives of ordinary Americans. Back in 1995, 57% of the country said that they were willing to give up some civil liberties if that were necessary to curb terrorism. Today, that figure is down to 40%, and it appears that the biggest change is in attitudes toward cell phones and email.

"After 9/11, 54% of Americans favored expanded government monitoring of cell phones and email. Now, the message is 'hands off,' " adds Holland. "Only 38% favor expanding government monitoring of those forms of communication."
Right after the attack, a Fox News Poll found that Americans were more angry than frightened by the attack:
The Boston Marathon bombings have sparked more anger than fear among Americans, who are confident those responsible will be caught.

That's according to a Fox News overnight poll of voters nationwide.

Two explosions at the Boston Marathon finish line on Monday killed three and injured 176.

When asked which best describes how they feel about the bombings, 58 percent of voters say: angry. That's double the number who feels worried (27 percent)

(…)

While 34 percent of voters are worried about a terrorist attack happening in their area, nearly twice as many — 65 percent — are not concerned.
This is consistent with a Washington Post poll taken several days later than respondents were more concerned that the government would go too far in compromising constitutional rights in response to the terror attacks than that it wouldn't go far enough. The one exception to this rule seems to be the fact that the public is becoming far more accepting of public surveillance cameras than it was in the past, as reflected in a recent New York Times poll:
WASHINGTON — Americans overwhelmingly favor installing video surveillance cameras in public places, judging the infringement on their privacy as an acceptable trade-off for greater security from terrorist attacks, according to the latest New York Times/CBS News Poll.

A week after the Boston Marathon attack, which was unraveled after the release of video footage of the two suspects flushed them out of hiding, 78 percent of people said surveillance cameras were a good idea, the poll found.

The receptiveness to cameras on street corners reflects a public that regards terrorism as a fact of life in the United States — 9 out of 10 people polled said Americans would always have to live with the risk — but also a threat that many believe the government can combat effectively through rigorous law enforcement and proper regulation.
The support for public surveillance cameras isn't entirely surprising considering that it was cameras, albeit mostly ones operated by private companies, that were largely responsible for identifying the bombing suspects and setting in motion the chain of events that led to the death of one and the capture of another. As I've noted before, these cameras have become such a common fact of daily life in the past ten years that it appears that people have pretty much gotten used to them, and to the fact that the idea of complete anonymity in public spaces isn't the thing that it used to be. Moreover, though there remain serious concerns about how the technology is used, their existence in public spaces is clearly not something that is prohibited by the 4th Amendment or any other provision of the Constitution. So, to some extent, surveillance cameras are here to stay, they've seemingly proven their usefulness by the way they were used in the aftermath of the Boston attacks, and public seems to have come to accept them.
Judging from the polls, though, the same cannot be said for other actions that the government might take in response to terrorism, and there's something to be said about that. Rather than jumping into the arms of the state in the name of safety, people actually seem to be thinking for themselves for once. Sadly, this is likely to disappoint the John McCain's and Lindsey Graham's of the world.