A Camera On Every Corner? The Surveillance Debate After Boston
Big Brother is watching us. And he may be watching us a lot more after what happened in Boston.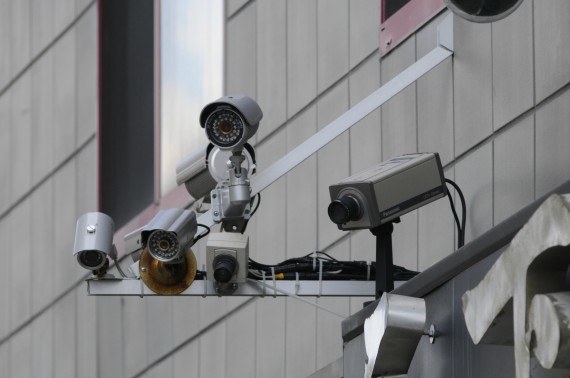 The Criminal Complaint released today against Dzhokar Tsarnaev confirms that the most important evidence that Federal authorities were able to gather in the wake of last Monday's attacks in Boston came from the plethora of outdoor surveillance cameras around the area where the attack took place. Indeed, without that evidence, it's difficult to see how the Tsarnaev brothers could have been identified so quickly without this video evidence. It's probably understandable then that the attacks in Boston have set off a discussion about the wider use of surveillance cameras in public places:
Security cameras began popping up in American subways and on government buildings en masse soon after the Sept. 11 attacks and have remained a point of controversy since. But they've become background noise in places like London, which pioneered the installation of public cameras to fend off attacks by the Irish Republican Army. Israel has had systems in place for years.

Bombings on American soil in recent years — like the 2008 Times Square incident — have only spurred public support for more surveillance.

"If you are not safe in your home and if you are not safe in the street, then your privacy becomes kind of a hollow concern," said Jim Pasco, the executive director of the Fraternal Order of Police, who noted a smaller outcry from civil liberty groups this time.

While some suggest that muted response reflects a growing comfort among Americans with the idea of being watched, privacy advocates worry that that complacency and the comfort of surveillance in trying times is eroding rights.

"I don't know any civil libertarian who is seriously arguing that cameras are not valuable in these high-risk events," said Jonathan Turley, a George Washington University law professor. "But even police states can't deter all attacks. So that's the kind of dialogue we need but that won't occur."

Rep. Peter King (R-N.Y.), the former Homeland Security chairman, joined a parade of officials post-Boston calling for increased surveillance.

"I do favor more cameras," King told MSNBC on Tuesday. "They're a great law enforcement method and device. And again, it keeps us ahead of terrorists, who are constantly trying to kill us."

Former New York Mayor Rudy Giuliani, who was in England during the 2005 London subway attacks, marveled to Bloomberg News on Friday about the city's vast network of cameras and its subsequent ability to name suspects in hours. London has "a much more efficient system than even they have in New York today," he said.

 Others echoing that view included Hillsborough County, Fla., Sheriff David Gee, who told a Tampa TV station: "Even if it intrudes on some of our personal liberties, we're not going to allow these things to happen, and we're going to subject ourselves to whatever security measures we need to make sure we're safe and our children are safe."

Those fearing overreach point out that security cameras may enable capture but haven't prevented attacks.

"The only way to use these cameras to prevent crime is to have blanket surveillance, to have someone monitoring every intersection and nook and cranny, and that's where we have problems," said Hanni Fakhoury, an attorney with the Electronic Frontier Foundation
As a preliminary matter, it's important to note that the cameras that provided the viral clues that led to the eventual capture of Tsarnaev in this case were not maintained by the City of Boston, but were instead security cameras utilized by several of the businesses in the area, specifically including a restaurant and the Lord & Taylor department store near the scene of the bombings. Those types of cameras have become ubiquitous over the past decade or so for reasons that have nothing to do with surveillance of the public in general since, for the most part, they are intended to protect the property itself and to provide a record in the event of a robbery or similar event on the property.The fact that these cameras also happen to provide good views of public areas outside the property is merely a side benefit, one that law enforcement has taken advantage of many times in the past. For example, the security cameras that were present on hotel property on the day Dominque Strauss Kahn was accused of raping a hotel maid proved to be an important piece of evidence in establishing that there were holes in the accusers story. In this case, the cameras proved invaluable in providing what is essentially a nearly perfect record of the Tsarnaev brother's activities before, during, and after the attack. As I said, it seems unlikely that the case would have proceeded as quickly as it did without this evidence.
Additionally, it's important to note that there are virtually no Constitutional issues raised by the use of surveillance cameras in public places, whether they are maintained by the government or by private entities (although private entities are not covered by the Bill of Rights). Courts have long held that there is  no reasonable expectation of privacy in a public place, which makes sense when you think about it. If a police officer observes you committing a crime in public, they have a right to arrest you on the spot so it makes sense that video evidence of that crime captured by a surveillance camera would be accepted as evidence in court, so long as the cameras proper operation and related matters are sufficiently established in court.
The concern about surveillance cameras, though, isn't so much about the fact that they exist, there's nothing we can do about that now, or the way they are used in cases such as the one now pending in Boston where they are used to crack cases, it's about how they are used or may be used in the future. For example, as the linked article notes there are about 150 cameras operated by government authorities in Boston, by contrast there are more than 3,000 such cameras in New York City, most of them in the downtown/midtown area of Manhattan where attacks are believed to be most likely. According to some reports, many of those cameras are part of a system that is so advanced that it can detect when someone in Times Square leaves a package unattended and walks away and independently notifies law enforcement of the potential threat.  Admittedly, that's actually a very useful piece of technology if the reports are true. However, the question that remains unanswered is what else these cameras can do. Can they track individual people as they go about their day in public, for example? Have they ever been used for that purpose outside of the context of a specific criminal investigation? And, most importantly, how will this technology be used in the future when things like facial recognition technology become far more accurate?
As I said above, there aren't any specific Constitutional issues that are raised by the presence of surveillance cameras, be they public or private. However, the uses that this technology could be put to in the future should raise concerns for all of us. There was a time when one could walk the streets of a major American city with some degree of anonymity. Those times are vanishing quickly, and I'm not sure that's a good thing.