No, Dzhokhar Tsarnaev Is Not An Enemy Combatant. He Is A Criminal.
The Boston Marathon bomber must be tried in a court of law.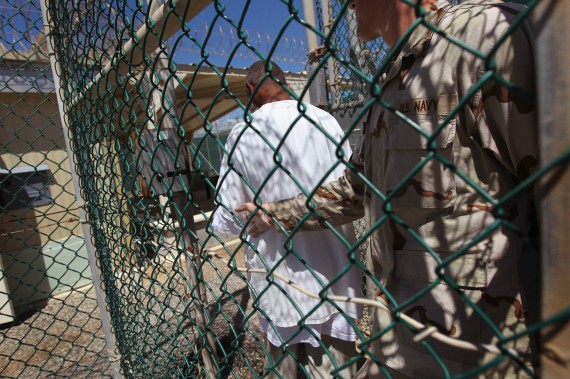 Just hours after Dzhokhar Tsarnaev was finally apprehended hiding underneath a boat tarp in a backyard in Watertown, Mass., Senator Lindsey Graham and other Republicans were calling for him to be treated as an "enemy combatant" when he was captured:
Several Republican lawmakers are calling for the surviving suspect in the Boston Marathon bombings to be tried as an enemy combatant, rather than as an ordinary criminal.

"It is clear the events we have seen over the past few days in Boston were an attempt to kill American citizens and terrorize a major American city," read a Saturday statement from Sens. Lindsey Graham (R-S.C.), John McCain (R-Ariz.), Kelly Ayotte (R-N.H.) and Rep. Peter King (R-N.Y.). "The accused perpetrators of these acts were not common criminals attempting to profit from a criminal enterprise, but terrorists trying to injure, maim, and kill innocent Americans. The suspect, based upon his actions, clearly is a good candidate for enemy combatant status. We do not want this suspect to remain silent."

Their statement came after Dzhokar Tsarnaev was taken into custody and sent to the hospital Friday night. The suspect had earlier spurred a Boston-wide lock-down as authorities searched for him Friday. His older brother, Tamerlan Tsarnaev, died earlier in clashes with authorities. The lawmakers argued that a criminal trial would move slowly at a time when information is needed fast.

"We should be focused on gathering intelligence from this suspect right now that can help our nation understand how this attack occurred and what may follow in the future. That should be our focus, not a future domestic criminal trial that may take years to complete," they said.

King told POLITICO on Saturday that Tsarnaev was operating on a "battleground."

"America is part of the battleground," he said. "If you capture someone on the battleground, they should not be given the privilege of a civilian trial where they are given different rights. He's going to be convicted one way or another. My concern is intelligence we can get from him, whether other people were involved, whether he's dealt with other Islamist terrorists in the past, is there a Chechen base overseas [the Tsarnaev family is from Chechnya], [ties] to the Mideast, other cells?

"The only way to get that is through extensive, intensive interrogation," he continued, adding that his "real concern is whether there are other sleepers around."

(…)

The lawmakers argued that the United States faces major challenges posed by "radical Islamists."

"We continue to face threats from radical Islamists in small cells and large groups throughout the world," they said. "They have, as their primary focus, killing as many Americans as possible, preferably within the United States. We must never lose sight of this fact and act appropriately within our laws and values."

They urged the Obama administration to classify Tsarnaev as an enemy combatant.

President Barack Obama offered a possible nod to that issue in his televised address Friday night, saying that "it's important that we do this right."

"That's why we have investigations. That's why we relentlessly gather the facts. That's why we have courts," Obama said.
Yes, Mr. President, that's exactly why we have courts. We have courts because they are essential to the protection of the rule of law and the rights of individual citizens, and they are the method by which we dispense justice under rules that are designed as much to protect us as they are to protect criminal defendants.  Treating Tsarnaev, a naturalized American citizen who has lived in this country since he was eight years old, no differently from men who were captured on battlefields in Afghanistan and are currently sitting in the prison complex at Guantanamo Bay where they are likely to remain for a very long time, is a perversion of that system of justice in the name of a haphazard system of non-justice that has risen up in the years since the September 11 attacks. If Tsarnaev  is treated as an "enemy combatant" then it would mean that any American citizen could potentially receive the same designation if the government so chose, and that they could be subjected to the same deprivations of rights, including lack of access to counsel for extended periods of time. That's a perversion of justice and a perversion of liberty.
This isn't new for Republicans, and especially not for Lindsey Graham, who said this last year during a debate over indefinite detention:
It has been the law of the United States for decades that an American citizen on our soil who collaborates with the enemy has committed an act of war and will be held under the law of war, not domestic criminal law," he said. "In World War II it was perfectly proper to hold an American citizen as an enemy combatant who helped the Nazis. But we believe, somehow, in 2011, that is no longer fair. That would be wrong. My God, what are we doing in 2011? Do you not think al-Qaeda is trying to recruit people here at home? Is the homeland the battlefield? You better believe it is the battlefield."
Graham repeated  the "homeland as a battlefield" comment in an interview earlier this week with Washington Post blogger Jennifer Rubin:
I spoke with Sen. Lindsey Graham (R-S.C.) by phone just a few minutes ago. He said of the Boston bombers: "They were radicalized somewhere, somehow." Regardless of whether they are international or "homegrown," he said, "This is Exhibit A of why the homeland is the battlefield." Recalling Sen. Rand Paul's filibuster, Graham noted that he took to the Senate floor specifically to object to Rand's notion that "America is not the battlefield." Graham said to me, "It's a battlefield because the terrorists think it is." Referring to Boston, he observed, "Here is what we're up against," and added, "It sure would be nice to have a drone up there [to track the suspect.]" He also slammed the president's policy of "leading from behind and criminalizing war."
Graham, I think, speaks for a large segment of the Republican Party here. Outside of people like Rand Paul, who have been far  more circumspect and cautious when talking about the "war on terror" and related issues,  most Republicans do indeed believe that the entire nation, indeed the entire world, is a "battlefield" in this war, and that wartime tactics and legal regimes are necessary to fight it. It's the reason that the Bush Administration was so easily able to justify not only the establishment of the prison at Guantanamo Bay, which to some extent is likely necessary, but also "enhanced interrogation" techniques that we now know clearly crossed the line to torture, rendition of suspected terrorists to CIA black sites in friendly countries (including, according to some reports, countries like Libya) where American agents were free to engage in brutal interrogation techniques without having to worry about legal niceties.  Now, they are suggesting that we extend that power not just to terrorists captured on a foreign battlefield, but to American citizens arrested in the suburbs of America's 21st largest city. If we do that, where, exactly, does it end?
Lindsey Graham and others in the Republican Party would have us believe that this weeks events in Boston were part of a war that began nearly twelve years ago with the attacks of September 11th. At the very least, this judgment is premature because we have absolutely no idea what the real story behind the Boston Marathon attacks actually is. We don't know if the Tsarnaev brother were motivated by religion, by a political agenda, by an unspecific generalized hatred of the society they'd grown up in based on the fact that they hadn't achieved what they believed they were entitled to, or by just a desire to cause destruction and pain to people. Even if the attacks were based on some kind of religious/political motivation, we don't know if they were acting alone or if they were surrogates for others, either domestic or foreign. Ascribing, at this early date, these attacks to a "Global War On Terror" is both premature and, quite obviously, based only on the fact that they are Muslim men. That is clearly not sufficient grounds to strip an American citizen of his rights and throw him in the rat hole that is Guantanamo Bay.
Our legal system has served us well, although admittedly at times imperfectly, for two centuries now. Sacrificing the values it represents in the name of the "war on terror" would be a fatal error.