The Boston Bombings And The Immigration Reform Debate
For better or worse, the attack in Boston is likely to have an impact on the immigration reform debate.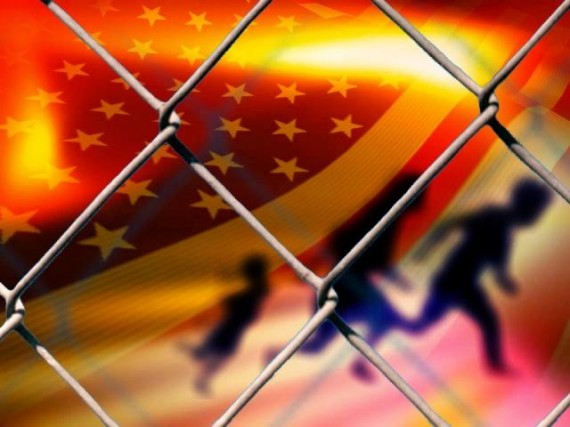 Even before Dzhokhar Tsarnaev had been captured on Friday evening, the Boston Marathon attacks, and the revelation that the two men accused in the bombing were Chechen immigrants, there were those who sought to use the story to push  a political agenda. As I noted yesterday, Lindsey Graham and other Republicans began pushing the administration to declare the last known suspect an enemy combatant in accord with their own view of the "War On Terror." Perhaps most significant, though, is how quickly the story of the Tsarnaev brothers became wrapped up in the still developing debate over immigration reform:
A powerful senator warned Friday that this week's Boston marathon bombings should give Congress pause as it attempts to overhaul the nation's immigration system.

Sen. Chuck Grassley (Iowa), senior Republican on the Senate Judiciary Committee, emphasized that it's too early to know whether the perpetrators of the bombings exploited gaps in immigration law to help stage their attacks. But with the chief suspects said to be ethnic Chechens raised in Kyrgyzstan who have lived in the United States for roughly a decade, he suggested their story could serve as a cautionary tale as lawmakers attempt to revamp the system

"Given the events of this week, it's important for us to understand the gaps and loopholes in our immigration system," Grassley said in his opening statement of a Judiciary hearing on reform. "While we don't yet know the immigration status of the people who have terrorized the communities in Massachusetts, when we find out, it will help shed light on the weaknesses of our system.

"How can individuals evade authorities and plan such attacks on our soil?" Grassley asked. "How can we beef up security checks on people who wish to enter the U.S.?  How do we ensure that people who wish to do us harm are not eligible for benefits under the immigration laws, including this new bill before us?"
Today, those sentiments where echoed by Senator Dan Coats of Indiana in an appearance this morning on This Week where he basically said that the attack in Boston meant that we need to put immigration reform on hold and concentrate on the budget deficit, or something along those lines.  Members of the so-called "Gang of Eight" behind the immigration reform package that the Senate will begin taking up in the near future quickly began pushing back on this rhetoric fairly quickly:
Sen. Richard Durbin (D-Ill.), one of the Senate's so-called "Gang of Eight," said the threat of terrorism – highlighted by the Boston bombings – fits hand-in-glove with the immigration debate.

"It's the right question at the right time, because we're talking about what to do with foreigners in the United States or coming to the United States," Durbin told Bloomberg TV's "Political Capital with Al Hunt" program. "And it's put in the context, clearly, of our national security first."

Other members of the Gang of Eight weighed in. Sens. John McCain (R-Ariz.) and Lindsey Graham (R-S.C.) issued a joint statement:

"In the wake of this week's terrorist attack in Boston, some have already suggested that the circumstances of this terrible tragedy are justification for delaying or stopping entirely the effort for comprehensive immigration reform. In fact the opposite is true: Immigration reform will strengthen our nation's security by helping us identify exactly who has entered our country and who has left – a basic function of government that our broken immigration system is incapable of accomplishing today. The status quo is unacceptable."

The office Sen. Marco Rubio (R-Fla.), another lead negotiator of the Senate package, also weighed in Friday on a possible link. Rubio spokesman Alex Conant said the bombings present "legitimate policy questions … about what role our immigration system played, if any, in what happened."

"Regardless of the circumstances in Boston, immigration reform that strengthens our borders and gives us a better accounting of who is in our country and why will improve our national security," Conant said.
Looking at the actual history of how the Tsarnaev brothers came to this country, though, it's hard to see how the current immigration debate is implicated at all. They arrived here with the parents in the early 2000s in the footsteps of other family members fleeing the fighting and persecution that was being inflicted upon ethnic Chechens in the Northern Caucuses region. They originally arrived on tourist visas but quickly applied for refugee status, which was granted. Most importantly, at the time they arrived in this country, Tamerlan was a teenager and Dzhokhar was an eight year old boy. There doesn't seem to be any question that they qualified for refugee status at the time and, indeed, it is appears that most of their extended family came into the country under similar status. There really isn't anything about the specific facts of the Tsarnaev's biography that raise real implications for the immigration debate, and it's hard to see exactly how changing immigration laws regarding something that happened ten years ago would have had any impact on what happened last Monday.
None of that is going to stop the opponents of immigration reform from latching on to the tragedy in Boston in an effort to slowdown the momentum of the bill. The New York Times has an excellent report today about how the Boston attack is already starting to shape public opinion on further immigration reform and I'm sure we're likely to see some of this reflected  in the polls at least temporarily. If nothing else, the fact that these two young adults from a part of the world that most Americans know little about and understand even less were able to pull off the first successful terror attack since September 11th is likely to reinforce the reflexive xenophobia that motivates the anti-reform crowd in the immigration debate. The argument they'll make, of course, is that we shouldn't make it easier for people to get into the United States if those laws are going to used to commit acts of terror here in the United States. The fact that the vast majority of people who emigrate here never commit such acts is irrelevant to them, it's the fear of the foreign danger that feeds the argument, and I'm afraid to say that it can be very politically effective.
In reality, of course, the terrorism issue and the immigration issue are completely separate. Yes, we need to do what we can to keep people who would come here to commit evil acts from being able to do so, but we also need to recognize just how rare such a phenomenon actually is. The 9/11 hijackers came here on valid student visas. The attempted Times Square bomber was a legal immigration who had become a naturalized American citizen in 2009. The "underwear bomber"failed before he could ever get off of an airplane. Working only from my memory, I'm unaware of a single situation where someone accused of attempting to commit a terrorist act in the United States was here illegally. As Jonathan Tobin points out, the immigration debate concerns issues that have nothing to do with terrorism:
The status quo on immigration and border security has brought us a situation where an estimated 11 million illegals currently live inside the United States. We know little about them and any talk about deporting them is pure fantasy. If this were changed to allow those illegals to come into the system and a modern computerized system of background checks were installed, perhaps not only would security be enhanced. It is also possible that the federal government would also not be expending so much of our scarce resources on attempting to round up chambermaids, busboys and migrant agricultural workers here trying to make a meager living doing jobs Americans don't want. Those who try and confuse anti-terror efforts with that pointless endeavor are doing the country no favor.

The tale of the Tsarnaev brothers appears to be one in which immigrants who were shown compassion by the United States and given a chance for a new and better life turned on their new home. Their behavior, especially if it turns out to be motivated by radical anti-American Islamism, is a disgrace and an insult to the countless immigrants from abroad, including many Muslims, who have become loyal citizens, just as those who came from abroad in previous generations did.

But our feelings of disgust and anger at the Tsarnaevs must not be used to rationalize a continuation of our current failed immigration and border policy.
Tobin is exactly right. The issues in the immigration debate are the same that they were a week ago, and the reasons for needing to reform our current system and provide some way for the 11 million people who are here illegally to come out of the shadows and become part of American society by participating in it openly rather than with the fear that they'll lose everything that they've worked for any be separated from their families are exactly the same. We must not let ourselves get distracted by opponents of immigration reform who seek to use the tragedy in Boston to advance their political agenda. Immigration reform was going to be a difficult task even before  the events of  April 15th. It will likely be somewhat more difficult in the wake of those events, but it was a good idea before the bombs went off in Copley Square and it remains a good idea afterwards.