Kellyanne Conway Leaving White House
To spend more time with her family.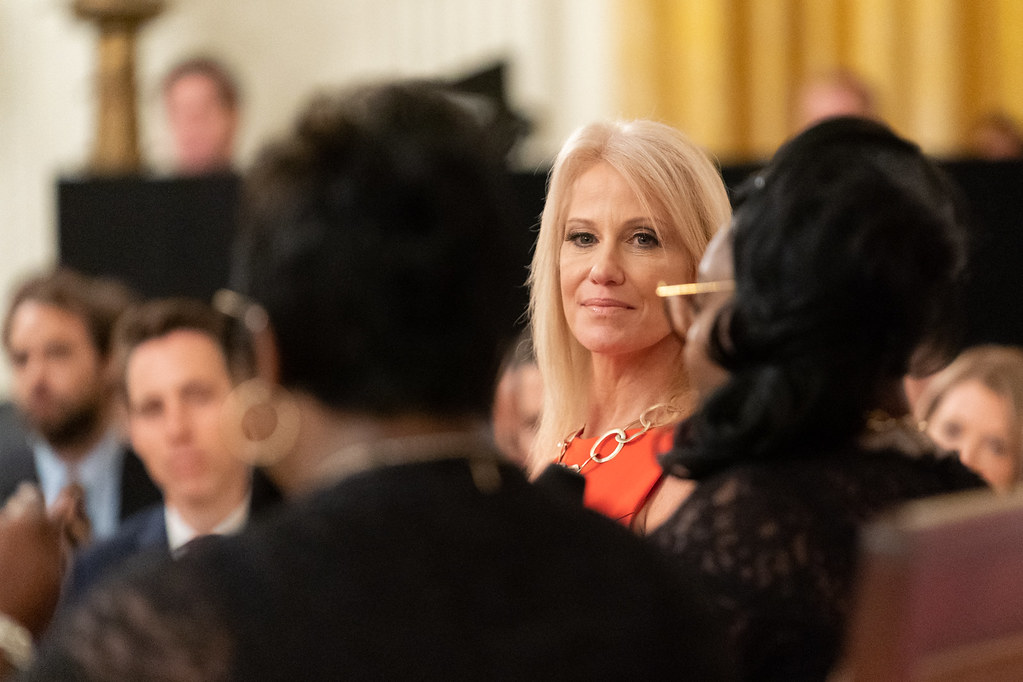 The strangest Washington power couple since James Carville and Mary Matalin are both stopping away from the limelight for the moment.
WaPo ("Kellyanne Conway to leave the White House at the end of the month, citing the need to focus on her family"):
Kellyanne Conway, a senior adviser to President Trump and one of his longest-serving aides, is leaving the White House at the end of the month.

Conway, whose title is counselor to the president, was Trump's third campaign manager in 2016 and the first woman to successfully manage a presidential bid to victory. She joined the White House at the start of Trump's term and has been one of his most visible and vocal defenders.

Conway informed Trump of her decision Sunday night in the Oval Office.

Her husband, George T. Conway III, a conservative lawyer and outspoken critic of the president, is also stepping back from his role on the Lincoln Project, an outside group of Republicans devoted to defeating Trump in November. He will also take a hiatus from Twitter, the venue he has often used to attack the president.

In a statement, Conway called her time in the Trump administration "heady" and "humbling," and said she and George were making the decision based on what they think is best for their four children.

"We disagree about plenty," she wrote of herself and her husband, "but we are united on what matters most: the kids. Our four children are teens and 'tweens starting a new academic year in the middle school and high school that will be conducted remotely from home for at least a few months. As millions of parents nationwide know, kids 'doing school from home' requires a level of attention and vigilance that is as unusual as these times."

Conway continued: "This is completely my choice and my voice. In time, I will announce future plans. For now, and for my beloved children, it will be less drama, more mama."
While "spend more time with my family" has become something of a joke, trotted out seemingly every time a prominent figure steps away from their job, it seems quite plausible here. I can't imagine the strain it would take on a family to have both parents not only in all-consuming jobs but doing so in rather nasty opposition to one another.
I have little love for either of the Conways. She helped elect the worst President in American history as his campaign manager and then took a position requiring her to lie to the American people on his behalf on a daily basis. Her husband is a least on the right side of the fight, but has gotten public visibility in doing so precisely because his wife is a prominent administration official.