Keystone XL Developer Abandons Project
The project that has been on-again, off-again since 2008 seems to be off for good.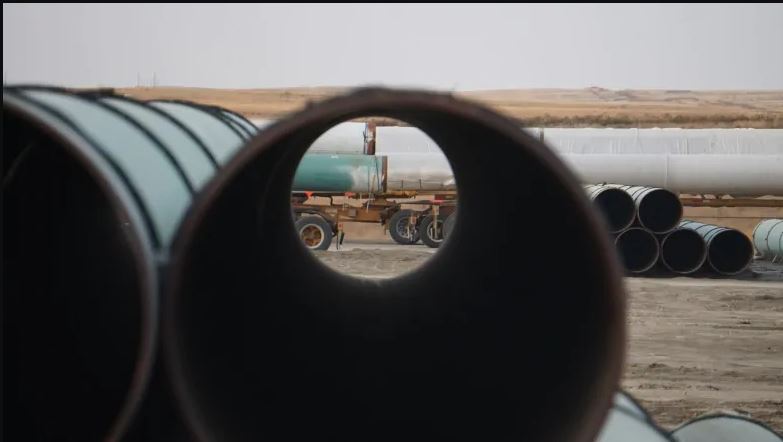 AP:
The sponsor of the Keystone XL crude oil pipeline pulled the plug on the contentious project Wednesday after Canadian officials failed to persuade President Joe Biden to reverse his cancellation of its permit on the day he took office.

Calgary-based TC Energy said it would work with government agencies "to ensure a safe termination of and exit" from the partially built line, which was to transport crude from the oil sand fields of western Canada to Steele City, Nebraska.

Construction on the 1,200-mile (1,930-kilometer) pipeline began last year when former President Donald Trump revived the long-delayed project after it had stalled under the Obama administration. It would have moved up to 830,000 barrels (35 million gallons) of crude daily, connecting in Nebraska to other pipelines that feed oil refineries on the U.S. Gulf Coast.

Biden canceled the pipeline's border crossing permit in January over longstanding concerns that burning oil sands crude could make climate change worse and harder to reverse.

Canadian Prime Minister Justin Trudeau had objected to the move , raising tensions between the U.S. and Canada. Officials in Alberta, where the line originated, expressed frustration in recent weeks that Trudeau wasn't pushing Biden harder to reinstate the pipeline's permit.

Alberta invested more than $1 billion in the project last year, kick-starting construction that had stalled amid determined opposition to the line from environmentalists and Native American tribes along its route.

Alberta officials said Wednesday they reached an agreement with TC Energy, formerly known as TransCanada, to exit that partnership. The company and province plan to try to recoup the government's investment, although neither offered any immediate details on how that would happen.

"We remain disappointed and frustrated with the circumstances surrounding the Keystone XL project, including the cancellation of the presidential permit for the pipeline's border crossing," Alberta Premier Jason Kenney said in a statement.

The province had hoped the pipeline would spur increased development in the oil sands and bring tens of billions of dollars in royalties over decades.
In the short term at least, this may be a big win for TC Energy. They're able to use to cover of Biden's decision to get out of a project that looks to be a whole lot less lucrative than when it started. The oil boom of 2008 is long behind us. But it's a big blow to investors and others who relied on the project.
I've only paid passing attention to this fight as it's unfolded over the years and don't have a firm view as to whether the environmental risk posed by building and operating the pipeline is outweighed by the economic benefit. But I continue to believe that it makes no sense at all to make a massive project of this sort—one that will costs billions and take years to construct and that involves a foreign ally and multiple domestic constituencies—to rest on the whims of whoever happens to be President at the moment.
It seems obvious that there should be an approval process in place that takes into consideration international treaties, US environmental laws and regulations, as well as inputs from impacted states and tribal groups. And, if a project is approved, the contract should be honored so long as the terms continue to be met.