Kyrsten Sinema Facing Blowback For Being The Senator She Said She'd Be
Far-left Democrats in Arizona want to punish Arizona Senator Kyrsten Sinema for being exactly the kind of Senator she said she'd be when she ran for office a year ago.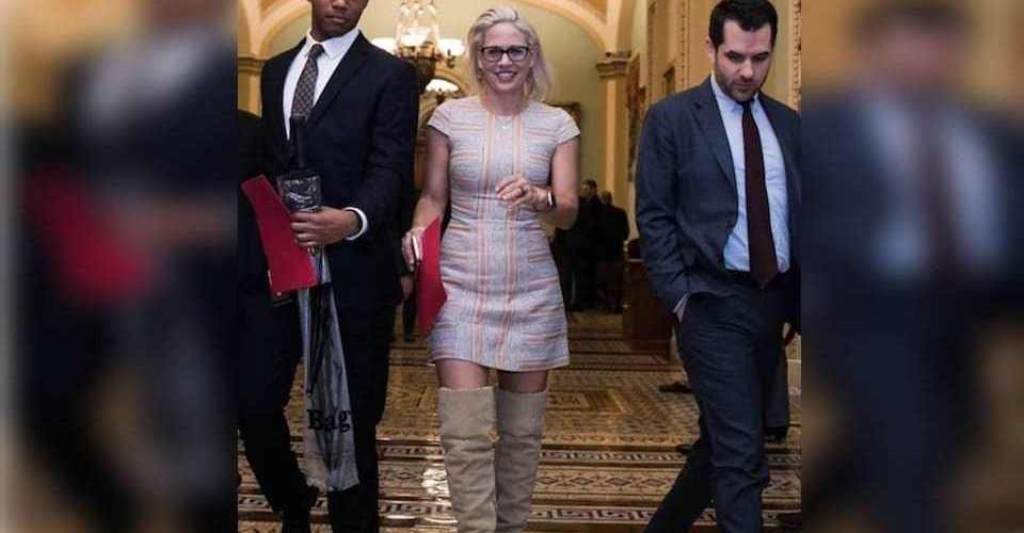 Freshman Arizona Senator Kyrsten Sinema is facing blowback from some of her fellow Democrats over the fact that she is behaving, well, like you'd expect a Democrat elected statewide in a state like Arizona to act:
The Arizona Democratic Party is planning to hold a vote this week to determine whether Sen. Kyrsten Sinema (D-Ariz.) should be censured.

The Arizona Republic reports the censure vote is due to the fact that progressives in the state Democratic Party see her as too accommodating to President Trump and his policies.

Those seeking to censure Sinema point to her vote to confirm David Bernhardt, Trump's nominee to serve as secretary of the Interior, as well as her vote to confirm William Barr as Attorney General, the news outlet notes.

Additionally, progressives in the Arizona Democratic Party cite Sinema's resistance to joining fellow Democrats in trying to reinstate net neutrality rules to prevent internet service providers from throttling websites.

Dan O'Neal, the state coordinator for Progressive Democrats of America, told the news outlet that the censure is an effort to push Sinema back toward the left.

"Here's the thing: We really support Kyrsten Sinema, we want her to succeed, we want her to be the best senator in the country," O'Neal said. "But the way she is voting is really disappointing. We want Democrats to vote like Democrats and not Republicans."

The progressive caucus of the state party outlined its reasoning in a resolution.

FiveThirtyEight's Trump Tracker found that Sinema has opposed Trump during her time in the Senate 81 percent of the time. During her time in the House, where she served three terms, she supported Trump's agenda 54% of the time.

Felecia Rotellini, the Arizona Democratic Party's chairwoman, said the censure will be heard but is unsure it will pass.

"We are a very diverse group and that means diversity of thought, as well," Rotellini said. "I don't think it reflects poorly on the party at all, I don't think it's an indication of a fracture. I think it's an indication of a group of people who think differently and have a different perspective on the same topic."

The vote is being held Saturday during the party's quarterly meeting. Rotellini and O'Neal told the news outlet that the language for the censure is still being finalized.

The Hill has reached out to Sinema for comment.
It's unclear from either the report in The Hill or AZCentral.com whether or not the censure motion, which is being made by "progressive members of the Arizona Democratic Party, but it strikes me as being particularly idiotic. Well before she was elected to the Senate, it was well-established that Sinema was basically a standard center-left Democrat who leaned toward the more moderate wing of the party where one might find other Democrats such as West Virginia Senator Joe Manchin or Maine's Independent Senator Angus King, who caucuses with the Democrats. This was self-evident from her record as a Member of Congress and from the manner in which she campaigned for the Senate last year.
More importantly, it's unlikely that Sinema would have been able to win election statewide in Arizona if she had a record of being a hard-left progressive, or if she had tried to base her campaign on the idea that she would vote like one if she was elected to succeed Jeff Flake. As it was, she barely won election to begin with, winning by less than 60,000 votes in a state that Donald Trump had won by nearly 100,000 votes two years earlier. Similarly, if Democrats are going to win the 2020 election that is expected between Senator Martha McSally and likely Democratic nominee Mark Kelly it will not be because Kelly, who is also campaigning as a relatively moderate Democrat, modeled his campaign after Bernie Sanders. Finally, it is also worth noting that Sinema is the first Democrat elected to the Senate from Arizona since Dennis DiConcini, who was another moderate Democrat, retired at the end of 1994. In fact, Sinema is only the sixth Democrat elected to the Senate from Arizona since it became a state in 1912. (Source)
Seeking to censure Sinema for being exactly the kind of Senator she said she would be is absurd. Expecting her to be Arizona's version of Elizabeth Warren is pure political stupidity.
Update: The Arizona Democratic Party has announced that the censure resolution vote has been postponed:
The Arizona Democratic Party said it will not vote on a resolution to censure Sen. Kyrsten Sinema (D-Ariz.) on Saturday, postponing the vote to January, according to an Arizona Republic report.

The Arizona Democratic Party's Progressive Caucus had introduced the resolution to censure the first-term senator for "failing to support the tenets of the 2016 Democratic Party platform." However, it submitted the resolution too late for it to be put to a vote at the Saturday meeting of the party, according to party spokesperson Matt Grodsky.

As a result, the censure resolution will be considered before the full party at its January meeting.

On Saturday the party will discuss a months-old resolution on whether the progressive caucus will censure Sinema and whether that resolution will receive a full floor vote remains unclear, according to Grodsky.

(…)

Mark Kelly, one of several Democratic candidates vying to face off against Sen. Martha McSally (R-Ariz.) next year, defended Sinema in an interview with the Republic, although he said that he "probably would not have" voted to confirm Barr.

"I think Senator Sinema's doing a very good job representing us in the United States Senate," Kelly said. "I think regardless of who the person is in office, we are all not going to agree with every vote that every member of Congress takes. It's just clear. I'm not going to necessarily agree with every vote she takes, certainly not every vote Senator McSally takes, and that's certainly true for all of us."
The postponement probably means the vote is destined to fail.