LeBron James' Game (Theory)
Does the NBA's best player have first mover advantage? Or should he take his time?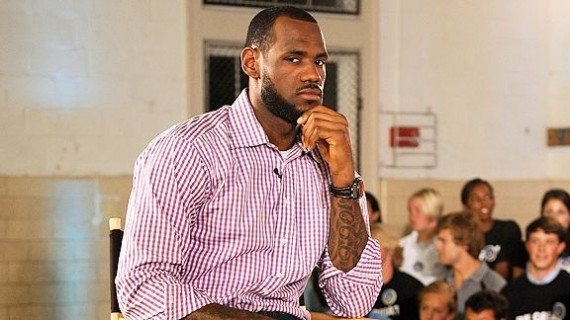 At the Monkey Cage, Joshua Tucker applies game theory to argue that LeBron James ought choose which team he signs with quickly.
First, let's make some simplifying assumptions, as all game theoretic models do.  I'm going to assume that basketball players' decisions regarding the team with which they should sign are motivated by two factors: making money and winning championships. It may be that other factors – such as playing close to home – matter as well, but my approach here is going to focus on money and winning.

[…]

Where things get interesting is when the chances of winning a championship go up if a player is paid less money.  This could be because by taking less money in a salary-capped NBA the player in question gives his team more money to sign other strong players (e.g., what Phil Jackson wanted Carmelo Anthony to do with the Knicks), or it might be because the best teams don't have as much money available (e.g., the current champion San Antonio Spurs), or it might be because in the NBA teams are allowed to sign their own players for more money than players from other teams.  Either way, players are often faced with a choice between earning more money and being more likely to win.

This leads to a complicated situation when multiple free-agents are trying to decide where to sign.  If I'm a free agent, not only do I have to think through what my signing will mean to a team's ability to sign other players and compete, but I have to anticipate what other players are thinking as well.  I have some information – I know how much money every team has to spend – but I don't know how much everyone else values winning vs. money.  Solving this game is complicated, and would normally place a premium on waiting to see what everyone else does first, although even that's not as simple as it seems because every time another free agent signs, that leaves less money available to sign the next free agent.
Tucker assumes, correctly I believe, that James is easily the best free agent available, if not the best player in the game.
So let's think this through: if Lebron waits until every other play has signed, those players will all have made their decisions not thinking they have the maximum chance of winning a championship.  Because they value both winning and making money, every one of those players will have signed for more money than they would have needed to sign had Lebron already signed with that team.  Lebron, upon joining that team, will therefore be playing with players who were more expensive than they needed to be.  This in turn means that whatever team he joins will either (a) have less money to sign Lebron or (b) have less money to sign other players besides Lebron and the free-agents they have already signed.  Either way, Lebron gets less of what he wants (defined here as money + likelihood of winning) than if the other free agents had known he was going to be on that team before he signed.

Therefore the converse should also hold: by moving sooner, Lebron should be able to get more of what he wants.  By virtue of being the single best free agent available, Lebron instantly adds more to a team's chance of winning a championship than any other player, and therefore will drive down the cost of acquiring other players to complement him as he seeks out additional championships.
Presuming Tucker's assumptions are correct, this analysis is correct. Perhaps even common sense.
But I believe one of his key assumptions is wrong:
I have to anticipate what other players are thinking as well.  I have some information – I know how much money every team has to spend – but I don't know how much everyone else values winning vs. money.
It's true that Tucker and I are in that boat. We have only conjecture and rumor to go on. But that's surely not true of LeBron James. As he demonstrated four years ago, he has the ability to talk to the key players. If he really wants to continue playing with Dwayne Wade and Chris Bosh, he can not only let them know that but suss out how much below their market value they're willing to sign for in order to get the massive win probability advantage that comes with being on his team. Likewise, if he wants to play with Carmelo Anthony, he can talk with him about the various options—whether Anthony should sign with the Heat or whether the two would sign somewhere else.
With rumors that Bosh is thinking very hard about playing for the Houston Rockets, there has been speculation that James would like that, as it would give the Heat the ability to replace him with Anthony. But it seems to me to make far more sense for James to convince Pat Riley to let Wade, who because of injury is a shell of the player he used to be, walk and instead keep Bosh and add Anthony.  Regardless, so long as Bosh would prefer to play with James for less money, there's no big hurry on James' part so long as he and Bosh are talking.
Additionally, even if we discount the "home town" angle of the "return to Cleveland" option—which I frankly dismissed as a media creation until a few days ago—there's really no rush if that's either James' first choice or happy fallback option. The team has a lot of young, cheap by NBA standards, talent locked in for quite some time and, as we saw four years and five years ago, is an incredibly unattractive free agent destination even with James on board. So there's really no hurry if he's seriously considering that option.