LeBron James Gets His Title
Will winning a championship finally overshadown "The Decision" and erase the NBA's best player's reputation as a choke artist?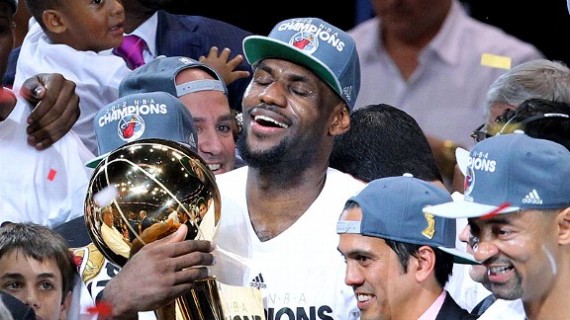 With Chris Bosh out from injury, the Miami Heat came very close to getting knocked out in the Eastern Conference Finals by the Boston Celtics. With him healthy, they brushed aside the Oklahoma City Thunder in five to win the NBA Finals.
Aside from highlights, I watched maybe five minutes of it. I've been at best a casual fan of the NBA since Michael Jordan's second retirement–interested enough to not fast forward through a discussion of the game on PTI or not flip the channels in the car radio when they're talking about the game but not dedicated enough to stay up late to watch.* The other night, I flipped over to catch a bit of game 4 but, since it was already 1030 and they were only halfway through the 3rd quarter, there was no way in hell that I was going to see the end. Nowadays, only the only sports that I'll sacrifice sleep for are Dallas Cowboys and Crimson Tide football.
Even so, I've been fascinated the last four years with the LeBron James saga. Two years of frenzied speculation about where he would go–or stay–once he became a free agent, the sordid ESPN special where he infamously announced he was "taking my talents to South Beach," the insane "not 1, not 2, not 3…" unveiling of the new Heat, the collapse in last year's finals, and the ups and downs of this year's playoffs–which seem to have been ongoing since 2008–have been gripping even though I'm not really following the game any more.
Like most, I thought "The Decision" was cheesy and twisted the knife into the hearts of his hometown fans in Cleveland  (though everyone seems to forget that LeBron donated the $3 million in proceeds to charity) but fully understood why he'd rather play for Pat Riley and with Dwayne Wade and Bosh than stay in a town that couldn't attract free agent talent. And I've never understood why a guy who's clearly the most dominant player in the most athletic sports league on the planet was constantly derided as a choke artist.
So, I agree with Kevin Arnovitz's assessment in "LeBron James and the end of all that."
I'd been quietly pulling for the Miami Heat to win the title since April — and not because I find LeBron James to be sympathetic or because I like the Heat's brand of basketball or even because I have a lingering attachment to the Heat after covering them in Miami during the 2010-11 season.

I simply wanted it all to be about basketball again, because the public exercise of trying to probe James' inner life had grown tiresome. The ease with which epithets like choke artist, fraud and much worse have been thrown at James has always been petty and, when examined closely, they usually rang false. In recent months, those takedowns had also become boring, and the prospect that they'd continue to dominate the NBA for at least another year was excruciating.

[…]

I can think of a zillion reasons why a person's curiosity would be drawn to the NBA. But it became increasingly difficult for me to understand how someone whose interest is vested in a game they supposedly love could watch James during this postseason run and not want to commit his performances to their catalog of fan memories.

If you're a Thunder fan or just someone who felt the Heat were assembled in the tackiest fashion, then you've had good reason not to root for James, but can't there be appreciation without devotion?

One day, someone a lot younger than you might want to know what it was like to watch this era of superstars in real time. That conversation will turn to James earlier than later. You'll likely explain the full context of his career, how even the most natural talent has its limitations, how he was a polarizing figure at an evolutionary moment for the NBA. But do we really believe that will be the lead? I'd feel silly emphasizing that above a glowing summation of who he was as a basketball player.

Now that James has won his first championship, the conversation will change. Some of James' fans will engage in the inevitable — and insufferable — score-settling with those who revel in seeing him fail. The dark margins of the fan experience will always play host to ugly exchanges like these, but for the first time in about five years, we can celebrate the game through James, apart from all the other stuff.
LeBron finally has his ring–and a Finals MVP–to go along with his three regular season MVP awards. The latter, incidentally, puts him in some elite company, indeed. Kareem had 6, Jordan and Russell 5, Wilt 4, and Bird, Magic, and Moses also had 3. That's the list. Kobe Bryant, whose career achievements still outstrip James', has only one.
If he and Wade stay healthy, this will likely not be LeBron's last ring. Somehow, though, I don't think he's going to make it to 8.
_____________________
*It occurs to me that, during the short period in the 1990s when I was a true NBA fan, two things were true that no longer are: I was single with no kids and lived in the Central time zone. With two small kids, I have less time for sports and less room for error on getting enough sleep. And the games starting and ending an hour later in my day is just huge. Even Monday Night Football went by the wayside once I moved to the East Coast. Unless the Cowboys are playing, I just can't stay up past midnight and get up at 6.