Lee-Jackson Day And The South's Continuing Confederate Fetish
It's Lee-Jackson Day again in Virginia, and, once again, I find myself wondering why the South continues to honor a dishonorable legacy.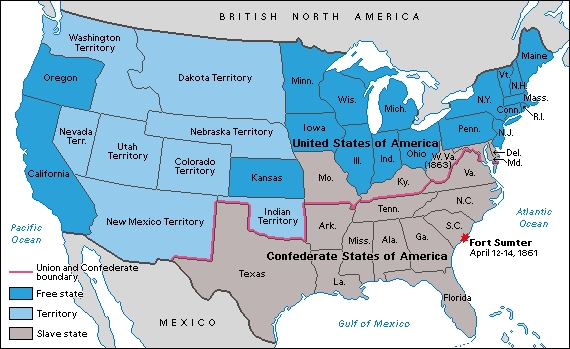 Today, the Commonwealth Of Virginia stands alone in celebrating as an official state holiday Lee-Jackson Day, a holiday first established in 1883 to mark Robert E. Lee's birthday and then expanded in 1904 to include Thomas J. "Stonewall" Jackson, both natives of Virginia who served as Generals for the Confederacy during the Civil War. Other than the birthday of Jefferson Davis, which is marked as a state holiday in Mississippi, it is the only state holiday in the United States for a person associated with the unsuccessful Southern rebellion of 1861-1865.
Lee-Jackson Day became more of a controversy when, for a time, it coincided with the celebration of Martin Luther King, Jr.'s birth and was called, again only in Virginia, Lee-Jackson-King Day. When I first moved to Virginia twenty years ago, the idea of Lee-Jackson Day — not to mention Lee-Jackson-King Day — was a bit of a culture shock. While Robert E. Lee and Stonewall Jackson may well have been honorable men, they fought on the side of a nation founded principally on the idea that one race of man was inferior to another and that human beings could be owned as property. Compared to the legacy of Martin Luther King, Jr., who admittedly had faults of his own as all humans do, it just didn't seem to add up. More importantly, the idea of celebrating men whose greatest legacy is fighting on the side of a nation founded to enshrine and expand human bondage strikes me as just wrong somehow.
As one of my fellow conservative Virginia bloggers J.R. Hoeft noted a few years ago, the truth about Lee-Jackson Day is far from benign:
[F]olks believe the days came to fruition simply out of reverence for Robert E. Lee and Stonewall Jackson. Not quite.

The tradition to honor the two generals is more than a century old and began in 1889. Virginians began paying remembrance to Robert E. Lee — nearly nineteen years following his death (and nineteen years following the end of federal military control). The holiday started while Fitzhugh Lee, Robert's nephew, and fellow confederate officer, served as governor; F. Lee enacted the legislation during his last year in office.

In 1904, Jackson's name

was added by the General Assembly, but in a less than desirable political climate.

Andrew Jackson Montague (born in 1862) was elected governor in 1902 having made two major promises – education reform and the disfranchisement of black voters. During Montague's term, poll taxes and literacy tests came into being: the very laws we know now as "Jim Crow" laws.

For nearly twenty years following Lee's death, Virginia did not honor him. It took his nephew on his way out the door from serving in Virginia's highest office to give him a day. As for Jackson, his day came during a time of deep racial discrimination and mistrust, where some Virginians were looking back to the confederacy with wistful longing.
Moreover, as Jon Henke noted several years ago, Confederate symbols, and holidays, are inextricably linked to slavery and the climate of racial segregation that persisted in the South for nearly 100 years after the Civil War:
In the South, the Confederate flag symbol is somewhat akin to the Washington Redskins name and logo, which also has offensive racial connotations. Owning/supporting a Confederate flag is generally understood to be no more intrinsically racist than, e.g., supporting, or owning the logo of, the Washington Redskins. The understood symbolism simply isn't racial.

On the other hand, there is no getting around the history of the Confederate flag, and no excuse for that history. Whatever people may intend by it now, it was, as Matt Yglesias writes, "a banner of violent white supremacist ideology." Many people, correctly, are deeply disturbed by the thing; they have no obligation to pretend it is anything but a banner of the ugliest, most inexcusable policy in American history.

So, we have one group of people who intend no offense, and another group who perceive great offense. Where do we go from there?

For starters, I'm reminded of a lesson I learned as a child: don't take offense where none is intended. It would be helpful if we stopped assuming that racism is at the root of every disagreement and misunderstanding. For instance, it's probably not helpful to reflexively assume that because somebody voted against a federal holiday for Martin Luther King, Jr, the motivation must have been racist. There are many great Americans without federal holidays, and – while racism was undoubtedly the case for some – one need not be bigoted against their ethnicity or race to disagree with creating a federal holiday in their honor. In Martin Luther King, Jr's case, however, they were wrong. Martin Luther King, Jr. ought to be considered the Last Founding Father for the work he did to finally hold those truths to be self-evident.

(..)

But I'm also reminded of another lesson I learned in childhood: don't do things you know will offend others. Even if you mean no offense, courtesy and a decent respect for your fellow man demands you take their opinions and perceptions into account. Confederate History Month should be ended, and the Confederate flag should be discarded, replaced, as Yglesias suggests, with "some less provocative emblem of Southern folkways". The Confederacy and the Confederate flag are not worth celebrating. Their revolting history is too inescapable.
After last year's controversy over Governor Bob  McDonnell's decision to revive the discarded practice of commemorating Confederate History Month, a decision he later regretted and has since announced he will no longer do again, it seems long past time for the state of Virginia to move beyond celebrating a holiday like this, however informally (no, there are no Lee-Jackson Day parties going on that I'm aware of, and we don't exchange gifts or anything). More importantly, though, with the United States spending the next four years marking the Sesquicentennial of the bloodiest war in its history, it seems beyond time for the Virginia, and South, to put its Confederate fetishism behind for good.
As for the argument that we should honor Lee and Jackson for their nobility, my co-blogger Steven Taylor, who lives even deeper in the South than I do, put it quite succinctly a few months back:
I am at a loss, to be honest, as to what that is actually supposed to mean save as a means to ignore the ignoble goals of the CSA.  Further, if the ultimate goals of an organization for which one fights are actually dishonorable, can the fighting itself ultimately be honorable?  I'm thinking not.
Robert E. Lee and Stonewall Jackson may have been "honorable" men but they fought for a dishonorable cause. Neither they, nor their cause, should be commemorated.