Let All The Poisons That Lurk In The Mud Hatch Out
This St. Louis couple neatly summarizes what's wrong with America.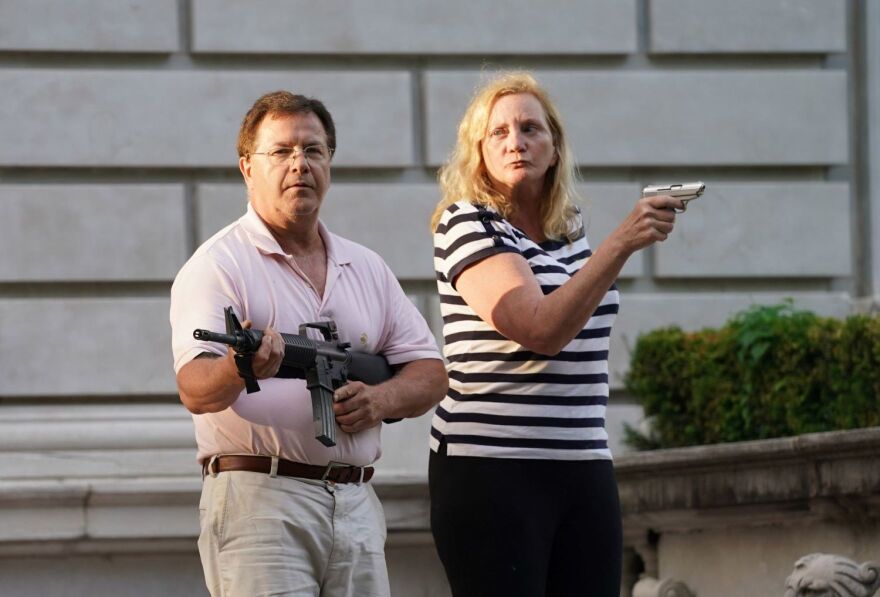 We have new poster children for what's wrong with the United States: these two married attorneys holding guns, including an assault weapon, outside their mansion, while peaceful protesters walk by. Both are angry about something, even though they seem to have pretty good lives, and the crowd threatening their mansion while demonstrating on behalf of people whose lives aren't nearly so good. Not only was the incident itself horrifying, but so too was the contrast in police response, or apparent lack thereof, compared to what would happen if the couple were not white, attorneys, or rich.
The number of huge defects in our country that have been exposed during the last few months is staggering. Structural racism, a dilapidated health care system, political tribalism, hostility to science, casual corruption, political cowardice, people living vulnerably from paycheck to paycheck, anger addiction…That's only part of the list.
It's hard to digest. Whether you recognized all these problems already, or you're new to understanding some of them, the first half of 2020 sits in your guts like a jagged stone. We should recognize the trauma that we're facing collectively, even if individually someone might not have contracted COVID-19, or lost a job, or had someone close to them suffer these immediate forms of damage. We're seeing daily how awful we are, summarized as neatly as the diagrams that show the startling and unnecessary differences in the coronavirus infection curves for the United States and Europe.
But we need this trauma, if it gets us to face our problems squarely and motivates us to fix some of them. My biggest concern is that it's too much, and it will be difficult to determine where to begin. Overwhelmed people often give up on solving their problems. That's where real leadership is crucial.
Postscript: If you don't recognize the quote in the title, it's from the classic BBC series I, Claudius. The phrase is shorthand for Claudius' intent to expose everything that is noxious about Rome, including his own family. Here's a link to a short clip. If you've never seen I, Claudius, I strongly recommend that you do so as soon as possible.