Levon Helm in 'Final Stages' of Cancer Battle
Legendary musician Levon Helm is dying.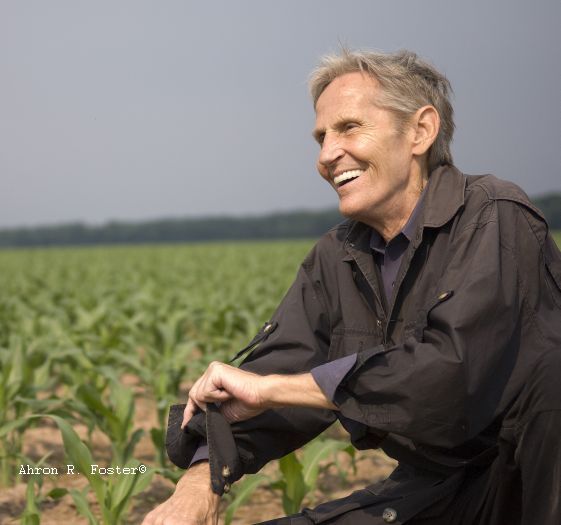 Legendary musician Levon Helm is dying. His daughter Amy and wife Sandy report the sad news on his website:
Levon is in the final stages of his battle with cancer. Please send your prayers and love to him as he makes his way through this part of his journey.

Thank you fans and music lovers who have made his life so filled with joy and celebration… he has loved nothing more than to play, to fill the room up with music, lay down the back beat, and make the people dance! He did it every time he took the stage…
One hopes the pronouncement is premature, even as one presumes it isn't. The small silver lining here, CBS reports, is that he's at least around to hear the wonderful tributes that are pouring in on the news.
While fighting the final stages of cancer, Levon Helm is hearing directly from his fans.

A day after Helm's wife and daughter announced the former member of The Band had entered the final stages of cancer, his manager Barbara O'Brien provided an update: She's reading fans' online Facebook posts and dedications to Helm.

"Thank you, all, for the outpouring of kindness and love," O'Brien shared on Facebook. "I know Levon is feeling it and that love will help guide him through this final journey … YOU are truly people with class and Levon would think the world of you. The pain of knowing we're going to lose him is almost too much for all of us to bear at the moment. But it can't be about US. This is about honoring this great man's dignity and privacy. Let's send him off with love, positive energy, lots of light and words of support and comfort. Keep sending the great posts. I'm going to read them all to him."

Meanwhile, Helm's former bandmates are offering their own love and support for their friend.

Musician Garth Hudson, also a founding member of The Band, paid tribute on his website.

"I am too sad for words right now," Hudson wrote. "Please continue praying for Levon and family."

During an induction speech Saturday at the Rock and Roll Hall of Fame ceremony in Cleveland, Helm's former bandmate Robbie Robertson sent his "prayers and love" to the drummer.
WaPo has a nice montage of "Levon Helm's musical journey," albeit one that's somewhat tarnished by an incredibly annoying video advertisement.
Esquire's Charles Pierce, with whom I seldom otherwise agree, calls Helm "the Real Voice of America."
 [During the tumult of 1968] Capitol released Music from Big Pink. It didn't sound like anything on the radio. It didn't sound like anything on earth. The lyrics were dense and allusive, as dense as Dylan's, but drawn from a different place, a bleached-out roadhouse in Fort Smith, not a folk club in the Village, the kind of place where, as Levon once said, you had to puke twice and show them your knife before you could get in. You could hear all kinds of things in the music — white soul, field hollers, the sound a carnival makes on the outskirts of town when the sun drops behind the horizon and all the lights come up. It might have been recorded in 1938 for all anyone really knew.

[…]

This was healing music, but it was in no way peaceful. Levon's voice made sure of that. It was tough and sound and brooked no easy answers. (When, an album later, he voiced the story of Virgil Kane, a grunt in the Confederate army, he managed to push the story beyond politics. You swear by the mud below your feet and you make a pact with the land that nothing can break.) It was a Southern voice, certainly, but there was in it that universal sense that we are all in this great experiment together, that we hold a number of truths to be self-evident and the ones that Mr. Jefferson listed were only the very beginning of them. That there is a commonwealth that binds us, through the worst of what we can do to each other, and the worst of what we can make of our promise. For all the wild rhetoric and the political posturing, and for all the horror that extended from My Lai to the floor of the kitchen of the Ambassador Hotel and back again, that we all had an America to come back to, no matter how long we were away, no matter even if we were half-past dead. Because that America was the America of the tall tale, the underground history, the renegade, buccaneer country that belongs to all of us. Levon Helm told those stories. He gave that history a voice that we could all hear over the din of the times.

He was the true Voice of America, as far as I'm concerned. And, after The Band split up, he kept touring, wrote a hilarious memoir, and then started hosting the Midnight Ramble in his barn in upstate New York. He was as generous with his talent and his time as any artist ever was. There was a message on his website on Tuesday saying that, goddammit, he was in the last stages of a long and brave fight with cancer. I wanted to write all of this before he passed. I wanted to thank him for the way he sang, and for the throb of his drums, and for the way he helped point the way home for all of us who thought we'd lost our country. He brought us back to what was really important: the fugitive grace of a young democracy, that America, for all its flaws and shortcomings, for all its loss of faith in itself and its stubborn self-delusions, was a country that was meant to rock. For that, I return his salute from long ago. Thank you, neighbor. And godspeed.
I'm not quite sure Helm and his bandmates accomplished all that. But they did make some sweet music.
Here's the definitive version of Helm singing "The Night They Drove Old Dixie Down," from The Last Waltz.