Light Bulb Ban Looms
With a Federal ban on sales of incandescent light bulbs fast approaching, manufacturers are still scrambling to invent suitable substitutes.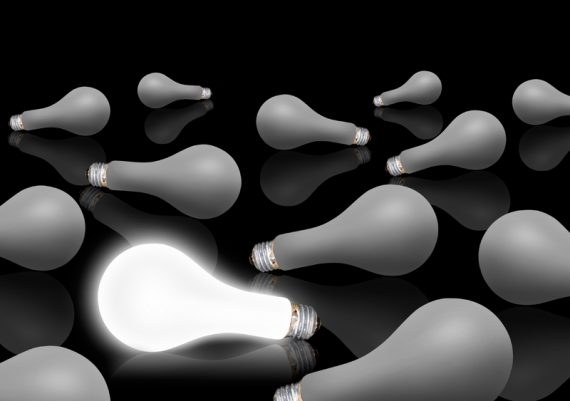 With a Federal ban on sales of incandescent light bulbs fast approaching, manufacturers are still scrambling to invent suitable substitutes.
AP ("LED bulbs hit 100 watts as federal ban looms"):
Two leading makers of lighting products are showcasing LED bulbs that are bright enough to replace energy-guzzling 100-watt light bulbs set to disappear from stores in January.

Their demonstrations at the LightFair trade show in Philadelphia this week mean that brighter LED bulbs will likely go on sale next year, but after a government ban takes effect.

The new bulbs will also be expensive — about $50 each — so the development may not prevent consumers from hoarding traditional bulbs.

The technology in traditional "incandescent" bulbs is more than a century old. Such bulbs waste most of the electricity that feeds them, turning it into heat. The 100-watt bulb, in particular, produces so much heat that it's used in Hasbro's Easy-Bake Oven.

To encourage energy efficiency, Congress passed a law in 2007 mandating that bulbs producing 100 watts worth of light meet certain efficiency goals, starting in 2012. Conventional light bulbs don't meet those goals, so the law will prohibit making or importing them. The same rule will start apply to remaining bulbs 40 watts and above in 2014. Since January, California has already banned stores from restocking 100-watt incandescent bulbs.

Creating good alternatives to the light bulb has been more difficult than expected, especially for the very bright 100-watt bulbs. Part of the problem is that these new bulbs have to fit into lamps and ceiling fixtures designed for older technology.

Compact fluorescents are the most obvious replacement, but they have drawbacks. They contain a small amount of toxic mercury vapor, which is released if they break or are improperly thrown away. They last longer than traditional bulbs but not as long as LEDs. Brighter models are bulky and may not fit in existing fixtures.

Another new lighting technology, organic light-emitting diodes, or OLEDs, has had problems reaching mass production. OLEDs are glowing sheets or tiles, rather than pinprick light sources, as LEDs are. They're used as vibrant color screens for smartphones, particularly from Samsung Electronics Co. But making OLEDs that are big, bright, cheap and long-lasting enough for use as light sources has proved difficult, in part because they use chemicals that are sensitive to oxygen and spoil unless sealed very carefully.
So, essentially, with next to zero command from the people, our government has banned a vital technology that's been with us for over a century . . . with no suitable replacement in existence? Whose bright idea was that?
It's wonderful that necessity is literally becoming the mother of invention here. But most of us have dozens of light bulbs in our homes, some of which are rarely used. Currently, powerful, long-lasting bulbs that produce beautiful light can be had for about a buck each. We're really supposed to replace them with unproven technology that's 50 times as expensive?