Ban on Incandescent Light Bulbs Producing Massive Energy Savings
I was wr-r-r-r-r-ong.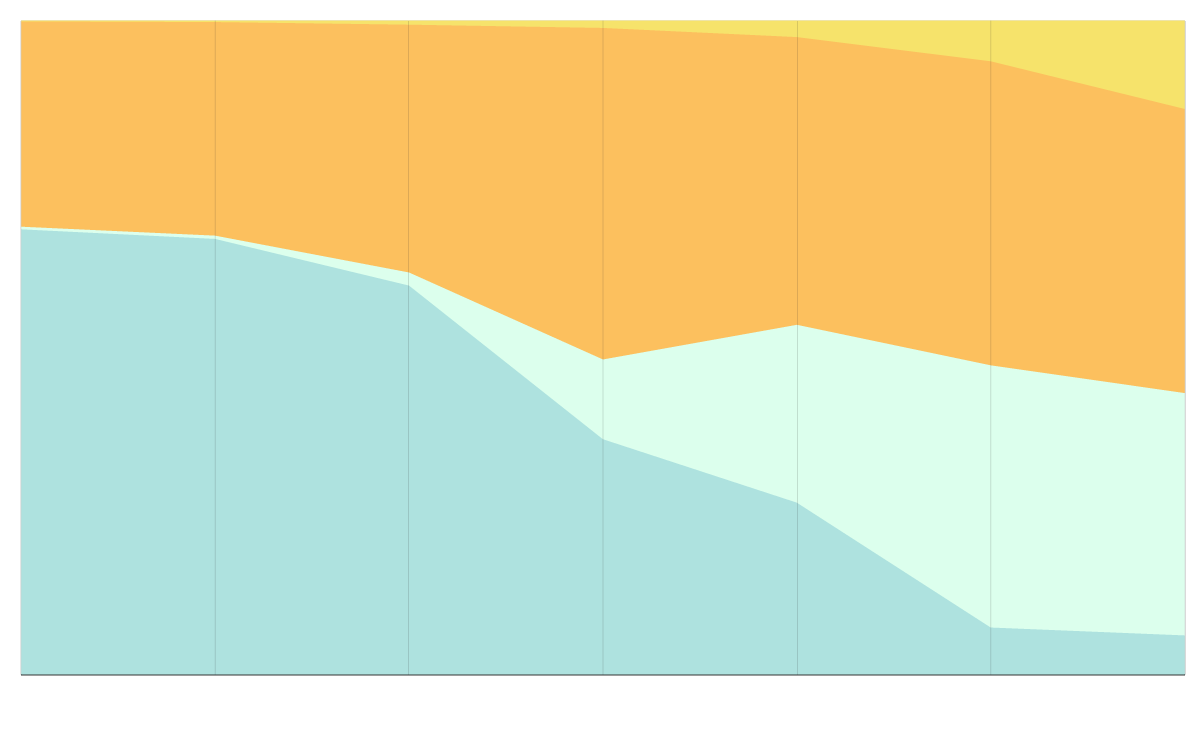 NYT ("America's Light Bulb Revolution"):
Over the past decade, traditional incandescent bulbs, those distinctive glass orbs with glowing wire centers, have been rapidly replaced by more energy-efficient lighting. The shift has driven down electricity demand in American homes, saving consumers money and cutting greenhouse gas emissions.

The energy savings are expected to grow as highly efficient and increasingly inexpensive LED bulbs continue to replace older lights. But energy efficiency advocates worry that the Trump administration could slow the pace of this lighting revolution.

Last month, the Department of Energy said it would withdraw an Obama-era regulation that nearly doubled the number of light bulbs subject to energy-efficiency requirements. (The chart above shows changes for basic, pear-shaped bulbs that are regulated by current rules. Other bulb styles, including globe, candelabra and reflector bulbs, as well as outdoor lighting, are not included.)

After climbing for decades, electricity use by American households has declined over the past eight years.

"That's a staggering change," said Lucas Davis, an energy economist at the Haas School of Business, part of the University of California, Berkeley.

The economic recession in the late 2000s contributed to an initial dip in electricity demand, but as the economy improved, lighting and other energy-efficiency improvements continued to drive down household electricity use.

Congress established the first national light bulb efficiency standards in 2007, which were signed into law by President George W. Bush. Starting in 2012, the law required new light bulbs to use 28 percent less power than existing incandescent lights — essentially ending the sale of the older, inefficient bulbs.

A new generation of halogen bulbs initially replaced traditional incandescents, but, more recently, sales of highly efficient LEDs have grown as their prices have fallen.

The switch to more efficient lighting has been relatively rapid, Dr. Davis said, because of the short lifespan of traditional light bulbs. While consumers may replace an old refrigerator or dishwasher with an energy-saving model once a decade, incandescent bulbs last only about a year before they need replacing.

And that replacement yields huge relative savings.

"When you take out incandescent light bulbs and replace them with LEDs, the amount of electricity you consume goes down more than 80 percent," Dr. Davis said. "There's nothing else like that."
When the effective ban on old-style light bulbs was about to take effect toward the end of 2011, we posted on the topic several times here at OTB. Not surprisingly, we opposed the policy. At least in terms of impact, we were wrong.
Not only has the energy savings been substantially more robust but, more importantly, the downside for consumers was not nearly so dire as predicted.
For example, in a May 2011 posting titled "Light Bulb Ban Looms," I observed,
So, essentially, with next to zero command from the people, our government has banned a vital technology that's been with us for over a century . . . with no suitable replacement in existence? Whose bright idea was that?
That new technology was eventually going to improve the product and the economies of scale created by the mandated elimination of old-style bulbs was obvious. Indeed, I noted that via both an excerpt from an AP story and my observation,
It's wonderful that necessity is literally becoming the mother of invention here. But most of us have dozens of light bulbs in our homes, some of which are rarely used. Currently, powerful, long-lasting bulbs that produce beautiful light can be had for about a buck each. We're really supposed to replace them with unproven technology that's 50 times as expensive?
But prices wound up plummeting. The new bulbs are still quite a bit more expensive than the old ones but it's 2-3 times, not 50.
More importantly, the technology improved with incredible speed. Compact fluorescents now produce much warmer light and without the flicker and wait times of old.  And LEDs, which were awful in 2011, are now the gold standard.
That we can achieve necessary energy conservation and reduce pollution through massive regulation and investment by the government is behind projects like the Green New Deal. I'm highly skeptical about many of the specific proposals there and find some of them, like the notion that we should eliminate air traffic, laughably stupid.
But the light bulb example shows that, sometimes, the only way to break inertia is through government action. Only the most well-heeled and energy-conscious consumers would have switched away from the old incandescent bulbs of their own volition. And, without a critical mass of consumers forced to seek out new technologies, there simply wouldn't have been an incentive for the private sector to innovate, much less achieve the economies of scale that made the $50 LEDs of 2011 the $2 or so they are today. (Indeed, Amazon is currently selling a 24-pack for under a buck apiece; no, it's not an affiliate link.)
I tend to be skeptical of government planning in the technology sector, for a variety of good reasons. Most importantly, governments often guess wrong and wind up dropping massive investments betting on the wrong horse. Still, it makes sense to heavily subsidize R&D in exchange for either limited intellectual property rights or other guarantees of lower consumer costs on the backend for technologies that break out.