Lincoln Chafee Officially a Democrat
The former Republican Senator and current Independent governor has come full circle.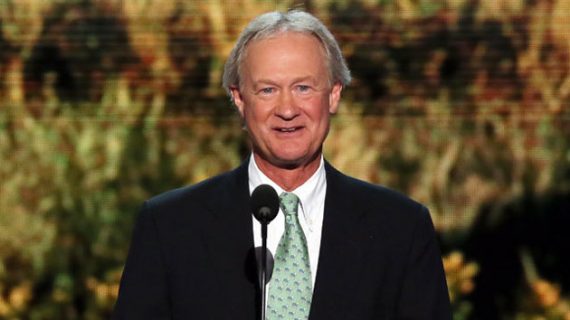 Lincoln Chafee, who served eight years in the Senate as a Republican, was elected governor as an Independent, is now becoming a Democrat.
POLITICO ("Lincoln Chafee switches affiliation to Democrat"):
Rhode Island Gov. Lincoln Chafee will formally switch his party registration Thursday, abandoning his status as an independent and joining the Democratic Party, the governor's office told POLITICO.

Chafee quietly informed President Barack Obama of his intention to affiliate as a Democrat after reaching that decision in private, Chafee spokeswoman Christine Hunsinger said. The governor's office confirmed Chafee's plans after POLITICO reported that the governor had notified national Democrats that he'd be joining the party.

A former Republican who served with Obama in the Senate, Chafee has struggled with perilously low job approval ratings and faces a difficult reelection fight in 2014.

Hunsinger said politics had nothing to do with Chafee's decision to sign up with Obama's party. "What you're seeing in him affiliating as a Democrat is a recognition that there's strength in numbers – that the Democratic Party and the president, he shares their agenda and the policy beliefs of the party," she said. "It really is a matter of conviction with this governor. It's been a long road from when he first left the Republican Party to here."

The senior Chafee aide said the switch in registration would not change Chafee's governing agenda. "He's fairly progressive on social issues. He's about efficient and honest government and every move he's made when in elected office has been to achieve that on behalf of the taxpayer," Hunsinger said. "For anybody to imply that affiliating as a Democrat is simply about politics or about winning an election, doesn't know Gov. Chafee."
This move is hardly surprising. Chafee has been at odds with the GOP for more than a decade and not only endorsed Obama in 2008 but served as his state chairman. He spoke at the 2012 Democratic convention, too. Still, it's yet another in a long series of signs that the northeastern wing of the GOP, long known as "Rockefeller Republicans," is extinct.
Lincoln's father, John, was governor from 1963 to 1969,  served as Richard Nixon's Secretary of the Navy from 1968 to 1972, and served in the Senate from 1976 to his death in 1999. Lincoln was appointed his successor before winning a term of his own.  But, after surviving a bruising 2006 primary battle, he was rather easily defeated by Sheldon Whitehouse.
Essentially, it's next to impossible for a northeastern Republican to simultaneously serve a left-of-center constituency and yet remain in good standing with an increasingly hard right party leadership. Doing the latter is essential if one is to get plum committee assignments and advance in the leadership—both of which maximize one's chances of serving the people back home. As governor, Chafee doesn't have those constraints but he's apparently still too conservative for Rhode Island.
It remains to be seen whether aligning squarely with the Democratic Party will save him. It would seem to make it more likely for him to win, however. It'll be hard to mount an effective primary fight against an incumbent governor and it's doubtful the Republican nominee will be competitive.