Lincoln Chafee's Presidential Campaign Comes Up Thousands Of Kilometers Short
So close, and yet so very, very, far.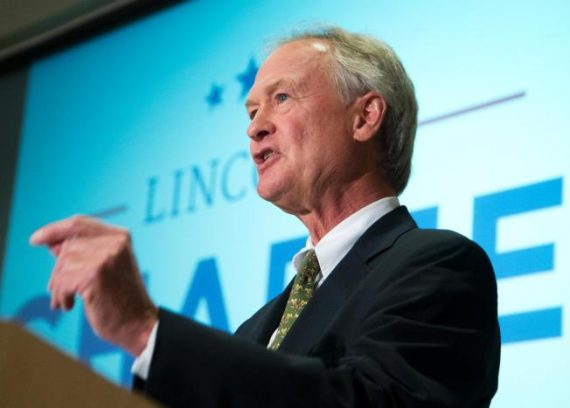 Lincoln Chafee, a former Rhode Island Senator and Governor and former Republican turned Independent turned Democrat, has ended a Presidential campaign that most Americans likely never knew had even started:
Democratic presidential hopeful Lincoln Chafee announced Friday that he is withdrawing from the race, ending a bid that had failed to gain any traction.

Chafee, a former governor and U.S. senator from Rhode Island, used an appearance in Washington at a Democratic National Committee forum on women's leadership to make his announcement.

Chafee bowed out with a plea for "an end to the endless wars and the beginning of a new era for the United States and humanity."

"Do we want to be remembered as a bomber of weddings and hospitals?" Chafee said. "Or do we want to be remembered as peacemakers, as pioneers of a more harmonious world?

Chafee's exit further narrows a Democratic field led by Hillary Rodham Clinton and Sen. Bernie Sanders (I-Vt.) that also includes former Maryland governor Martin O'Malley.

Vice President Joe Biden announced Wednesday that he would not make a late entry into the race, and former Virginia senator Jim Webb dropped out of the Democratic race earlier this week, leaving open the possibility of an independent bid.

Clinton, Sanders and O'Malley were all scheduled to address the same DNC forum in Washington later Friday morning.

Speaking at the forum, DNC Chairwoman Debbie Wasserman Schultz called Chafee "a class act" and said she looks forward to him continuing to campaign for Democrats.

Chafee was polling at less than 1 percent in recent national polls and averaging less than 1 percent in recent polls from Iowa and New Hampshire, the first two nominating states, according to Real Clear Politics.

Chafee, a former Republican, made a splash in the run-up to the launch of his bid, saying in an interview that Clinton's 2002 Senate vote to authorize military action in Iraq should disqualify her from becoming commander in chief.

Coverage of his campaign announcement in June was dominated by his embrace of the metric system — "it doesn't take long before 34 degrees is hot" — and Chafee never seemed to get on track after that.

He was largely a bystander in the first Democratic debate this month in Las Vegas, and through September, he had raised only $44,506 for his candidacy. According to Democracy in Action, a watchdog group, Chafee spent 35 days campaigning in New Hampshire, more than any other candidate. Visits to states that were further from his native Rhode Island were more scarce — just four in Iowa and two in South Carolina.

Chafee's presidential race was the least successful of his career — a career twice boosted by happenstance. In 1999, when Rhode Island Sen. John Chafee died, the state's Republican governor handed the seat to his son, Lincoln. By his own admission, the new senator (and former mayor of Warwick, R.I.) was befuddled by the job, telling CNN's Anderson Cooper last week that he voted for a major banking reform bill because he'd "just arrived at the Senate" and thought he'd get some do-overs. He won a full term in 2000 even after admitting to some youthful and regrettable experiments with drugs.

"Now when I hear someone talking about a Rhode Island politician whose father was a senator, who got to Washington based on his family name, used cocaine, and wasn't very smart, I know there's only a 50-50 chance it's me," then-Rep. Patrick Kennedy, the Democratic son of Edward M. Kennedy, joked at a 2001 Providence political roast.
When it was reported in April that Chafee, who most political observers seem to have largely forgotten about after he declined to run for re-election last year, an election he most likely would have lost had he made the effort, was considering a run for President the news was greeted mostly with puzzlement. When June came around and Chafee actually entered the race in a speech that emphasized not only his vote against the Iraq War but also his assertion that America needs to convert to the Metric System, an issue that had pretty much died in the United States during the Carter Administration, that puzzlement became bemusement. After that, Chafee mostly disappeared from campaign coverage and apparently made only a limited number of trips to New Hampshire and Iowa until the first Democratic debate last week during which he was largely a non-entity.
I suppose one is supposed to say something significant when a candidate with a resume like Chafee's drops out of a Presidential race, but in all honesty in a race that has been dominated by Hillary Clinton, Bernie Sanders and, until Wednesday, Vice-President Biden, Chafee was the least notable of the remaining candidates. Now, with Biden not running, Jim Webb out of the race, and Chafee out of the race as well, the Democratic race is basically down to Hillary Clinton, Bernie Sanders, and for some reason former Maryland Governor Martin O'Malley. In all honestly, though, after the debate and the bump in the polls that Hillary Clinton received from it, and after yesterday's Benghazi Committee hearing, one does get the impression that the Democratic race is basically over at this point. Bernie Sanders will stay in the race likely until the end, and he will probably get a prominent speaking role at the Democratic National Convention, but he is obviously not going to be the nominee. Martin O'Malley, meanwhile, now has the distinction of being the remaining non-entity left in the Democratic race. After the events of the past week or so, this race is completely Hillary Clinton's, which is probably always has been. The only question left is at what point next year Clinton will officially lock up the delegates she needs to win the nomination.