Lindsey Graham's Abortion Stunt
He's proposed a bill with no chance of passage seemingly timed to hurt his own party in the midterms.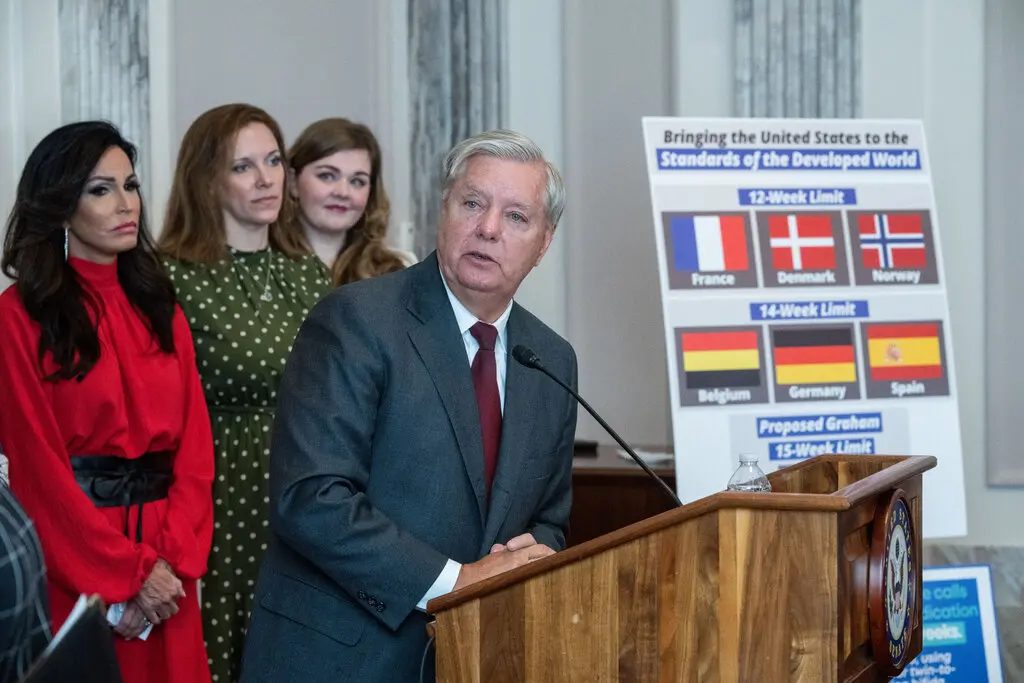 POLITICO ("Graham's abortion ban stuns Senate GOP"):
Lindsey Graham's anti-abortion legislation once unified the Republican Party. The 15-week abortion ban he pitched Tuesday had the exact opposite effect.

The South Carolina senator chose a uniquely tense moment to unveil his party's first bill limiting abortion access since this summer's watershed reversal of Roe v. Wade. It was designed as a nod to anti-abortion activists who have never felt more emboldened. Yet Graham's bill also attempted to skate past a Republican Party that's divided over whether Congress should even be legislating on abortion after the Supreme Court struck down a nationwide right to terminate pregnancies.

And some fellow Republicans said they were highly perplexed at Graham's decision to introduce a new abortion ban — more conservative than his previous proposals — at a precarious moment for the party.

"I don't think there's an appetite for a national platform here. My state, today, is working on this. I'm not sure what he's thinking here. But I don't think there will be a rallying around that concept," said Sen. Shelley Moore Capito (R-W.Va.). "I don't think there's much of an appetite to go that direction."

Graham's past pitches for a 20-week abortion ban attracted most Republicans' support and even the votes of some Senate Democrats. His latest effort would leave in place state laws that are even more restrictive while also imposing new limits in blue states that currently have none. Coming less than 60 days before the midterms, it's riled some Republicans, who are watching their once-dominant polling advantage shrink since the Roe reversal.

Senate Minority Leader Mitch McConnell said that questions about the bill should be directed to Graham and that most Republican senators "prefer this be handled at the state level." Sen. John Cornyn (R-Texas) suggested Graham had gone a bit rogue with his latest legislation: "That wasn't a conference decision. It was an individual senator's decision."

"There's obviously a split of opinion in terms of whether abortion law should be decided by the states … and those who want to set some sort of minimum standard," Cornyn said of the 50-member Senate GOP conference. "I would keep an open mind on this but my preference would be for those decisions to be made on a state-by-state basis."
NYT ("Graham Proposes 15-Week Abortion Ban, Splitting Republicans") adds:
Senator Lindsey Graham of South Carolina introduced legislation on Tuesday that would institute a federal ban on abortions after 15 weeks of pregnancy, reigniting debate on an issue that Republicans have worked to confront before midterm elections in which abortion rights have become a potent issue.

There is no chance that Senator Chuck Schumer, Democrat of New York and the majority leader, would allow such a bill to receive a vote in the Senate, where his party has been focused on preserving abortion access after the Supreme Court's ruling in June ending the constitutional right to abortion.

And the proposal quickly divided Republicans, splitting their leaders and reflecting the difficult politics of abortion for the party in the wake of the Supreme Court's decision.

[…]

Mr. Graham's proposal appeared to be an effort to find a politically palatable position for Republicans after the court's decision that could insulate them from a voter backlash, even as G.O.P.-led states enact bans on nearly all abortions.

But it also accomplished something that many Republicans have sought to avoid, highlighting for voters that their choice in November is between supporting a Democratic majority that wants to preserve abortion access and handing control of Congress to Republicans who are seeking to ban the procedure.

"If we take back the House and the Senate, I can assure you we'll have a vote on our bill," Mr. Graham said. "If the Democrats are in charge, I don't know if we'll ever have a vote on our bill."

The Supreme Court's decision in Dobbs v. Jackson Women's Health Organization has galvanized Democrats on one of the most charged issues in American politics and underscored for Republicans the political risks of their longstanding opposition to abortion rights.

Mr. Graham's bill, which would prohibit doctors from performing the procedure after 15 weeks of pregnancy, appeared to be an effort to appease the most conservative Republicans, who want to sharply restrict access to abortions or ban them outright, while also trying to appeal to those in the party who want to impose more modest limits.

The measure would leave in place state laws with stricter restrictions but supersede those that allow the procedure after 15 weeks, outlawing many abortions that are currently legal.
Whatever one might think of Lindsey Graham, we can agree on two things. First, he has no principles. He's willing to do whatever it takes to stay "relevant" and get re-elected. Second, he's highly skilled at reading the necessary tea leaves to accomplish those things.
The first means that he's not particularly interested in issues, including abortion. It's just about the politics.
The second means that he's fully aware that there's no chance in hell that this bill will pass this Congress or be signed by this President. And he had to know that the GOP caucus as a whole is quite antsy about the impact of Dobbs on the midterms and beyond. Every single OTB reader knows that, after all, and Graham is more plugged in than any of us.
Clearly, then, this is just a political stunt. Presumably, it's aimed at shoring up his conservative bona fides with South Carolina voters. Then again, he was just re-elected to another six-year term in 2020.
Is he positioning himself for another Presidential run in 2024? I don't think he's got a snowball's chance in hell but senators tend to be somewhat delusional about their appeal.
The whole thing just seems odd.