Looking to the Founders
Sandy Levinson suggests that there is a key lesson from the Founders that we ignore.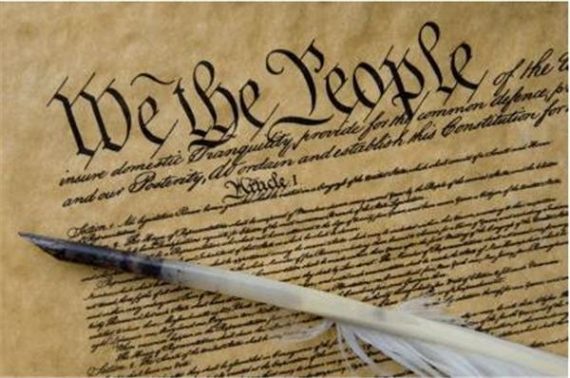 Sandy Levinson (as inspired by a David Brooks column) notes the following:
The Founders, as I've written too many times before, are models for us not because of the particular system they designed–they did not think they were demigods who were getting it right for all time–but because they were willing to look at their situation with unblinking seriousness and do what they thought was necessary to rectify it. That is, they were capable of learning the "lessons of experience." In our orgy of Founder and Constitution veneration, we are rejecting the most important lesson they had to teach us. (It is as if we had an entrepeneurial grandparent whom we revered and drew from his legacy the lesson that one should invest in buggy whips or typewriters, since that's how he made his own fortune.
He has a point.  We so often treat the Founders are geniuses who gave us the perfect system,* that we almost always ignore the fact that they were political reformers who were willing to look objectively at political dysfunction and accept that notion that applied reason could be used to fix such problems.
Indeed, that reminds me of the following from Federalist 1 (as penned by Hamilton—emphasis mine):
It has been frequently remarked that it seems to have been reserved to the people of this country, by their conduct and example, to decide the important question, whether societies of men are really capable or not of establishing good government from reflection and choice, or whether they are forever destined to depend on their political constitutions on accident and force.
The funny thing is, and this is something I have been thinking about more and more of late for a variety of reasons, we Americans often treat with the Founders and their writings and history not as a function of reflection, but as though they are holy writ, tossing around quotations from various Founders more like Bible verses at a theological convention where we expect the proper interpretation to end debate, rather than as being a basis for further discussion.  Put another away:  reflection is a rather different action than veneration, but we tend to default to veneration when it comes to the constitutional order.
Don't get me wrong:  there is a lot to learn from the Founders, but a)  what they did, they did for a specific time and with an understanding of a world and political problems as they existed two and a quarter centuries ago, and b) while they deserve a great deal of credit for what the long-term permanence of much (but not all) of what they created, it is curious that we are so reticence in our general opposition to discuss reform.
Back to Levinson:
Consider, though, that Hamiltonwas was savagely critical of the political system created by the Articles of Confederation (see, e.g., Federalist #15). I believe that he once referred to the existing American political system in 1787 as "imbecilic." He believed, probably correctly, that "national greatness" of any kind, including the basic ability to create a military that could defend us from adversaries, was impossible under that system, and it needed immediate replacement. One need not argue that the Constitution is as bad as the Articles (though it's closer than most people think) in order to believe that Brooks and other pundits who so regularly write about the "dysfunctionalities" of our present political order might profit from actually thinking about the Constitution and, concomitantly, about possible changes.
This strikes me as both not unreasonable and interesting because it does point to behavior in which the Founders themselves engaged.
I would note that one need not be seeking a constitutional convention to state that reform is worth considering.  At a minimum, it is not unreasonable to note that our system has demonstrated a number of deficiencies, some of which have repeatedly arisen.
A major and obvious policy area that we have had a great deal of trouble addressing:  long-term fiscal issues.  Also, a long term problem that I think is a serious one:  the large number of wholly uncompetitive congressional districts that exist.  Lack of competitiveness is bad for democracy and representation and the number of uncompetitive districts is a direct result of our current electoral system.**
Two recent policy-specific examples:
1.  Budgets:  over the last several years there have been several years in which the Congress has failed to passed a budget, and instead has had to fund the government via continuing resolutions (as was the case for the current fiscal year).  This has been a bipartisan problem.  Further, budgeting is one of the most fundamental regular tasks facing a legislature.  The inability to adequately address this task is indicative of a problem.
2.  Libya (and, indeed, war powers in general).  Libya is the latest example of the ambiguity that exists between the Congress and the President on the question of US military involvement abroad, and is an excellent example of a structural problem in governance that the Founders simply could not have anticipated.  The combination of a massive standing military (something the Founders didn't even want), technology, and instant communication has radically altered the relationship between the President, the Congress, and military action.  While the War Powers Act attempts to fix the situation, it simply created more ambiguity as the executive and legislature dance around it because they fear losing power if an actual confrontation went to the courts.
At a minimum, it is worth considering that some of our policy difficulties (and public discontent with Washington) may not be as much a simple problem of the parties being incompetent or the lack of the right person in the White House, as it is the result of broader structural/institutional design problems.
It strikes me as something worthy of thought, at least.
_____
*And one of the things that I always find amazing about this perspective, which is widespread (and to be fair, maybe not "perfection" but close) is that it is manifestly not the case.  Two simple examples:  the Constitution provided for the continuation of slavery (a not perfect situation, to put it mildly) and the fact the electoral college has never worked as intended (although many will defend it as an institutional simply because it was created by the Founders).
**The funny thing is that we get more upset about lack of competiveness in our sports leagues than we do about lack of competiveness in elections.