Loretta Lynch Confirmed As 83rd Attorney General Of The United States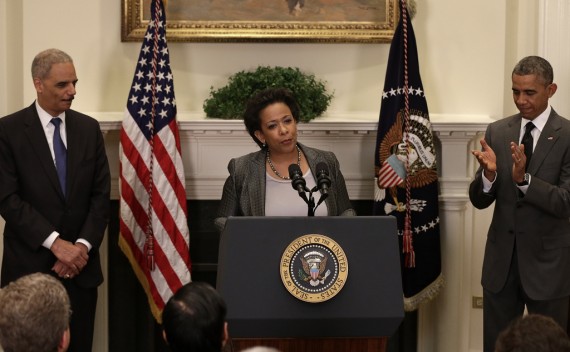 After waiting 166 days since President Obama first appointed her to replace Eric Holder as Attorney General, Loretta Lynch has been confirmed as the 83rd Attorney General of the United States:
The Senate confirmed Loretta Lynch to be the next U.S. attorney general on Thursday, ending months of acrimonious debate and installing a black woman as the nation's top law enforcement official for the first time in history.

Lynch's nearly six-month nomination drama was fraught with controversy — many unrelated to the veteran federal prosecutor from Brooklyn, nor her track record. Few, if any, senators challenged Lynch's qualifications, but her legal endorsement of President Barack Obama's executive actions on immigration triggered a wave of Republican opposition.

But the lengthy delay between her nomination and eventual 56-43 confirmation vote — a delay prompted by a Senate-created drama over a human-trafficking bill — stoked allegations from Democrats, particularly black lawmakers in the House, that the historic lag had some racial overtones. She was nominated by Obama in November.

Still, the final margin of her confirmation vote was wider than expected. Just six Republicans had said they would support her before the vote, but 10 GOP senators ended up casting their ballots in favor of confirmation, including Senate Majority Leader Mitch McConnell, (R-Ky.).
As I noted last week, the delay in voting on Lynch's nomination had little to do with her merits but was instead related to a dispute over the provisions of a human trafficking bill that has been pending in the Senate since February. Senators were able to resolve those disputes last weekend, thus clearing the way for a vote on the nomination. Presumably, Lynch will be sworn in as soon as possible.