Confirmation Of New Attorney General Likely To Be Delayed Until 2015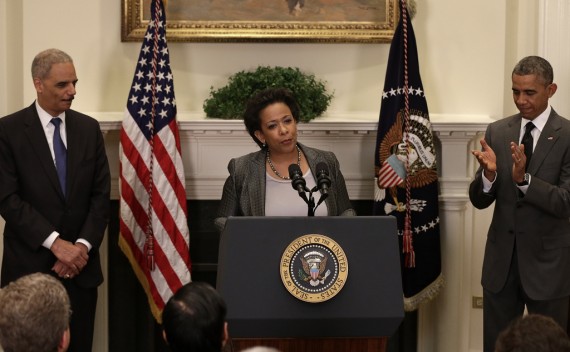 Democrats are telling The Hill that confirmation of President Obama's choice to replace Eric Holder as Attorney General will likely wait until the new Congress convenes in January:
President Obama will have to get his nominee for attorney general past a Republican-controlled Senate, Democratic and Republican aides say.

A packed schedule after the election is almost certain to push the vetting process for Loretta Lynch into January, when Republicans are set to take power in the upper chamber.

"It seems likely [the Lynch vote] would be in the next Congress. It's difficult to process an [attorney general] that quickly," said a Democratic aide.

Senate Majority Leader Harry Reid (D-Nev.) has not yet made a decision on whether to move Lynch's nomination in the lame-duck session, according to spokesman Adam Jentleson.

But aides say the time crunch and growing GOP opposition to Lynch make it exceedingly unlikely that the replacement for Eric Holder will be confirmed in December.

That means the task of approving a new attorney general — a position that is a lightning rod for controversy — will fall to the new Republican majority of Sen. Mitch McConnell (R-Ky.).

"Ms. Lynch will receive fair consideration by the Senate. And her nomination should be considered in the new Congress through regular order," McConnell said in a statement.

Senate Republicans are unified against Lynch's nomination moving through the lame-duck session, giving Reid another incentive to postpone it.

Reid needs Republican cooperation to pass other priorities in December, including an omnibus spending bill, a package extending a variety of expired tax cuts, the Defense Department authorization bill and dozens of lower-profile nominees.

In addition to that legislative to-do list, Senate Judiciary Committee Chairman Patrick Leahy (D-Vt.) is insisting on passing an overhaul of the National Security Agency (NSA) before the clock runs out on the Democratic majority. Leahy's committee is tasked with vetting Lynch's nomination.

"Leahy says he wants to do the NSA reform bill before doing anything else in committee so it bottles that up," the Democratic aide said. "Lynch is a very qualified nominee and should be confirmed no matter who is in charge."

If confirmed, Lynch would be the first African-American woman to serve as attorney general. The Senate has already confirmed her twice to serve as U.S. attorney for the Eastern District of New York, the post she holds currently.

Leahy on Monday predicted Lynch would ultimately win broad bipartisan support, regardless of when the confirmation vote occurs.

"I think most people would agree that this nominee is extremely well qualified. There may be some who feel they have to vote no simply because it's a nominee by President Obama, but the vast majority of Republicans and Democrats will vote for her," Leahy said on MSNBC. "She's superbly qualified."

A Judiciary Committee aide said Leahy's NSA reform bill — known as the USA Freedom Act — has been sent straight to the Senate floor so it doesn't have to undergo a time-consuming markup and vote in committee.

Still, the Judiciary aide said Leahy wouldn't make the call on how long it will take to process Lynch's nomination until the White House submits her files to the Senate.

"We don't have paperwork for Loretta Lynch. We still have to review her background materials," the aide said.

The Judiciary aide said Leahy would give careful consideration to the views of the ranking Republican on Judiciary, Sen. Chuck Grassley (R-Iowa), about when to move Lynch's nomination. Grassley prefers that Lynch come up for a vote in the new Congress — when the Judiciary panel will be under his command.

"He's not somebody who's going to jam people," the Judiciary aide said of Grassley.

Sen. Orrin Hatch (Utah), a senior Republican member and former chairman of the Judiciary Committee, warned in a Friday op-ed that Democrats should not try to rush Lynch's nomination through in the compressed timeline after the elections.

"Properly considering a nominee to such a significant position as attorney general requires a full and fair process, something that is particularly hard to do in a post-election 'lame-duck' session," Hatch wrote in The Washington Times.

"No one has been nominated and confirmed to be attorney general in a lame-duck session since before the Civil War," he added.

Sen. John Thune (S.D.), the third-ranking member of the Senate Republican leadership, said on CNN Sunday that, "it would be in the best interest in the country and the Congress to wait and do this next year."
Given the fact that Eric Holder has said that he will say on the job until a successor is confirmed, and that there is no significant rush to confirm anyone at this time, I think that waiting until the new Congress convenes is the wise decision. At most, that will be a matter of weeks and, considering the work that will need to be done to prepare for hearings there just doesn't seem to be enough time to get this done before the 113th Congress gavels itself out of existence.