161 Days Later, The Senate Still Hasn't Voted On Loretta Lynch's Nomination
The confirmation of a new Attorney General has been held up nearly six months for what amounts to no legitimate reason.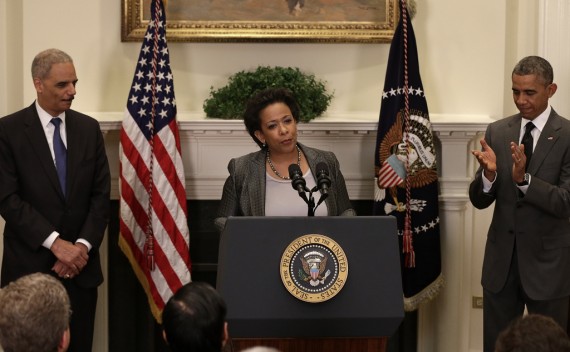 As of today, it has been 161 days since President Obama nominated Loretta Lynch, currently the United States Attorney for the Eastern District of New York, to replace Eric Holder as Attorney General. Given that the appointment was made just days after the 2014 election and the fact that there were strong substantive objections to cramming a confirmation process into the short lame duck period before the end of the years, consideration of that nomination was delayed until the new Senate, controlled by Republicans, convened in January. At first, it seemed as though the confirmation process would go smoothly. Nobody seemed to disagree with the idea that Lynch, who is serving in her second stint as U.S. Attorney, was qualified for the position professionally, and she quickly received endorsements from several top Republicans, including former New York City Mayor Rudy Giuliani. Very quickly, though, the Lynch nomination became mired down in politics even more than many expected it to be. When Lynch told Judiciary Committee members that she believed that the President's November executive action on immigration was legal and proper, many conservatives called for her to be defeated. Since then, others on the right have been using the Lynch nomination to attack the Obama Administration's position on civil asset forfeiture, and the nomination has also been delayed by the Senate's consideration of a human trafficking bill that is being held up by Democratic objections to language dealing with abortion.
With all that controversy, it was somewhat surprising to see Jeb Bush come out in favor of not only putting Lynch's nomination on the floor, but in favor on confirming her as Attorney General as well:
Jeb Bush says that the Senate should confirm the nomination of Loretta Lynch, President Barack Obama's choice for attorney general. A number of Senate Republicans oppose her nomination.

"I think presidents have the right to pick their team," Bush said, according to reports of his stop at the "Politics and Pie" forum in Concord, New Hampshire, on Thursday night.

The former Florida governor made sure to get in a few digs at current Attorney General Eric Holder, saying that Republicans should consider that the longer it takes to confirm Lynch, the longer Holder stays.

A Senate fight over a sex-trafficking bill that includes a controversial abortion provision has held up Lynch's nomination for 160 days since Obama announced his choice last Nov. 8, but Minority Leader Sen. Harry Reid (D-Nev.) is threatening to break protocol and force a vote on the Senate floor.

"If someone is supportive of the president's policies, whether you agree with them or not, there should be some deference to the executive," Bush told reporters. "It should not always be partisan."
Generally, I agree with the position that Bush is taking here.
At the very least, there doesn't seem to me to be any reason not ultimately rooted in partisan politics to block Lynch's nomination from coming to an up-or-down vote on the Senate floor. As I said, Lynch is qualified for the position, there are no allegations of ethical lapses that would constitute a bar to her serving in the office to which she's been appointed. Based on the public statements of Senators, it is clear that she would be easily confirmed if a vote was taken. No Republican in the Senate is obligated to vote in favor of her, of course, and it is entirely appropriate to use her nomination to voice concerns about issues such as civil asset forfeiture and other Justice Department policies. However, in the end nobody should be surprised that the President has appointed someone to his cabinet who agrees with him, nor should they be surprised or shocked that she expressed the opinion that his immigration policies are acceptable under the law. Quite obviously, the President would appoint someone who agreed with his policies, to expect otherwise is either an indication that someone is incredibly naive or simply out of touch with reality.  Given that, the argument that a Cabinet appointee should be rejected solely because they agree with the policies of the President who appointed them is really rather silly.
For that reason, I tend to agree with Bush and other Republicans who have argued that Lynch should be confirmed. Loretta Lynch probably is not my ideal Attorney General. There are several issues I disagree with her, and the President on. I agree that the Federal civil asset forfeiture laws are out of control and need to be reformed. And, of course, others will find other reasons to disagree with her and the President on policy matters. Professionally, though, there's no question that she's qualified for the job, and on some level that ought to be enough when it comes to cabinet members. President Obama won the election. When it comes to Cabinet appointments at least, he ought to be entitled to some deference when it comes to the confirmation of on of the people who would be one his closest advisers inside the Executive Branch of the Federal Government.
What makes the Republican position on this nomination ironic, of course, is the fact that it means that Eric Holder remains as Attorney General of the United States. Of all the members of the President's Cabinet, Holder has probably been the one subjected to the most partisan fire from Republicans on Capitol Hill over the past six years. That is exemplified most of all, of course, by the fact that he was held in contempt by the House of Representatives due to a dispute over document production regarding the investigation of the ATF's Fast & Furious operation that led to the death of at least one Federal agent when guns ended up in the hands of Mexican drug cartels. One would think that conservatives would be eager to get Holder out of office as quickly as possible. Instead, they've given him an extra six months on the job and, unless they vote on the Lynch nomination soon, he'll be there even longer.