Louis C.K.'s Awkward Comeback
The masturbator-harasser is doing stand-up again.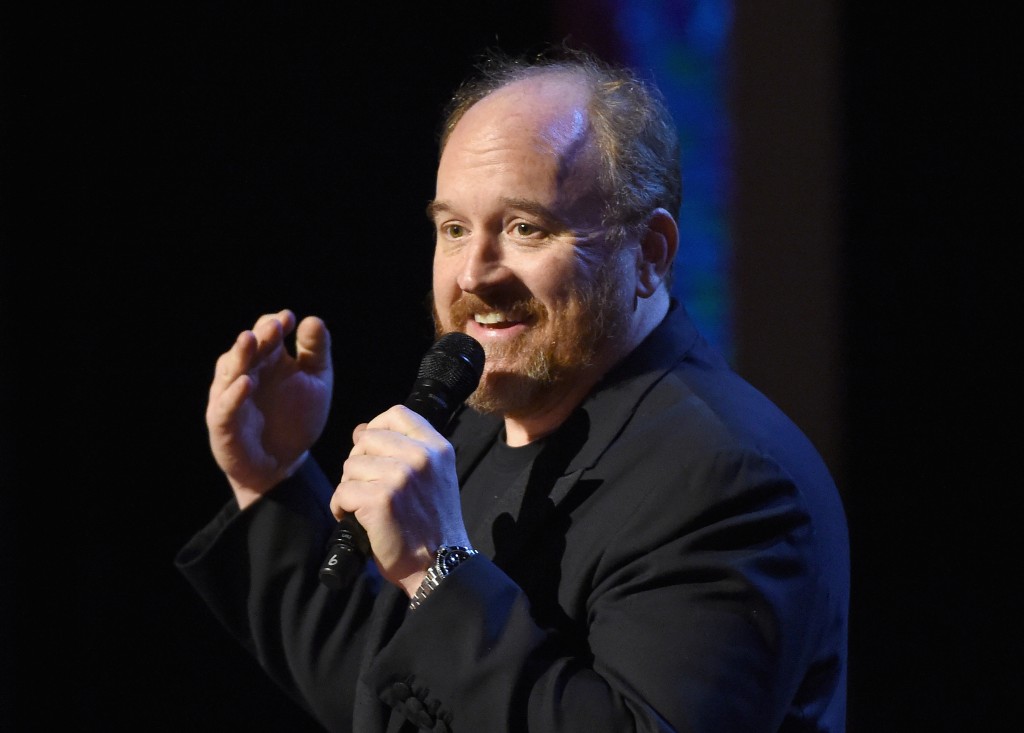 Mere months after being pronounced "done" after it was revealed that he forced women over whom he had substantial professional power to watch him masturbate, Louis C.K. is back doing stand-up comedy. Not surprisingly, plenty of women are less than comfortable with that.
As the New York Times reported, when Louis C.K. took the stage for a surprise set at the Comedy Cellar Sunday night, he was met with applause. The short set was his first appearance after he released a statement in November admitting to sexually harassing five women following a New York Times exposé. Two women who sat through C.K.'s set told Vulture that though the small venue's audience was overwhelmingly supportive of the comedian, one joke about rape whistles was "uncomfortable," and that there seemed to be a divide between how men and women reacted to C.K.'s presence.

The women were at the Comedy Cellar that night to see another comedian on the lineup when C.K. appeared onstage after a brief introduction from the night's emcee. "It felt like he was being thrust upon the audience without telling them," one woman, who asked to remain anonymous, told Vulture. "The audience was very loud when Louis C.K. walked in. They were clearly supportive and surprised when he showed up, but there were a number of women sitting in the front row," the woman said. From her seat to the left of the stage, she could see a pair of women sitting stone-faced. Her friend, who asked be identified with the initials S.B., noticed the same reaction: "There were at least four to five females that I could see, and three or four of them were not having it. They were just looking at him, deadpan, straight, not having it."

S.B. said the audience was mostly white, with lots of couples. Both women say the set was awkward, but the first woman was particularly upset by it. "It was an all-male set to begin with. Then, it's sort of exacerbated by [C.K.'s] presence," she said. "If someone had heckled him, I think they would've been heckled out. It felt like there were a lot of aggressive men in the audience and very quiet women. It's the kind of vibe that doesn't allow for a dissenting voice. You're just expected to be a good audience member. You're considered a bad sport if you speak out."
As detailed in "The Limits of Comedy" and "Cultural Vandalism?" I have mixed reactions views about the way we tend to intertwine our reception to an artist's work and who they are as people. Bill Cosby was a rapist and C.K. was a creep when I was enjoying their work; learning the truth theoretically shouldn't change that.
This is slightly different. On the one hand, the complaint that C.K.'s appearance at the comedy club was "thrust upon the audience" is odd. After all, big-name comics routinely drop in at these venues, unannounced, to perform new material in front of relatively small crowds as part of building their act. That's a longstanding part of the culture. On the other, this is a highly unusual circumstance. The audience was indeed essentially forced to watch him perform and it was quite predictable that some would find that appalling, if not insulting or even triggering. And, while we only have the post hoc reflections of a couple of women to go on, it's quite plausible that they would feel they weren't free to object or even demonstrate displeasure.
After C.K.'s set, Comedy Cellar owner Noam Dworman said the comedian showed up unannounced, and he didn't know about the surprise set until later. Dworman told The Hollywood Reporter that he'd only received one email complaining about C.K.'s set, but that the comedian received "a real ovation," according to audio he heard after the fact. The women agree that C.K.'s reception was warm, with one man shouting that it was "good to have [C.K.] back." S.B. recalled that the applause at the end of C.K.'s set was a bit quieter than the beginning. "I was actually surprised personally how his exit round of applause compared to his entrance round of applause," she said. "It was way quieter for sure. There was a huge difference in that volume or in those number of claps."

The women say C.K.'s set was similar to his usual material, and included a joke about the phrase "clean as a whistle," which built up to a joke about how rape whistles are not clean. "When he said 'rape whistle' people were laughing, and I was just sitting there like oh my fuck. This is so uncomfortable and so disgusting. Everyone around me was laughing. That was just depressing."

C.K. hasn't commented on his appearance, but Dworman said the outrage over his return shows that it's "a dark period for discourse in this country." The woman told Vulture that it was tense to watch C.K. make jokes in a room so obviously welcoming of him. "You hear this big, loud guy sitting next to you, yelling, 'Oh, it's so great to have you back, Louis,' and people cheering and giving him a standing ovation," she said. "Our voice is definitely not going to be prioritized in that space. [Dworman] says we can't [have a discourse] properly. How do you think the women in that room felt? It's just really frustrating."
Again, under normal circumstances, I'd find that complaint invalid. When I go to a performance, I'm there to see the performer. The only "voice" I want to "hear" is that of those on stage, not those of random yahoos who came to see the show with me. A comedy club isn't a venue for "discourse." There's a reason stand-up bits are called "monologues."
But this wasn't a normal circumstance. He shouldn't be foisted on an unsuspecting audience with women who feel forced to sit on their hands while others cheer his return.
At the same time, I reject the notion, put forth by Roxane Gay and others, that the perpetrators of sexual misconduct must somehow be kept out of the public limelight until their victims or some other arbiters of social justice deem their penance paid. C.K. hasn't been charged with, much less convicted of, a crime. He has every right to ply his trade and see if he can work his way back into the good graces of the public. But, as Adrian Hennigan suggests, trying to make the comeback this soon—especially in an act that doesn't own up to the awfulness of what he did—may make that task harder.