Lying About the Easter Bunny, Santa Claus, and the Tooth Fairy
Should you lie to your kids about holiday fantasy characters?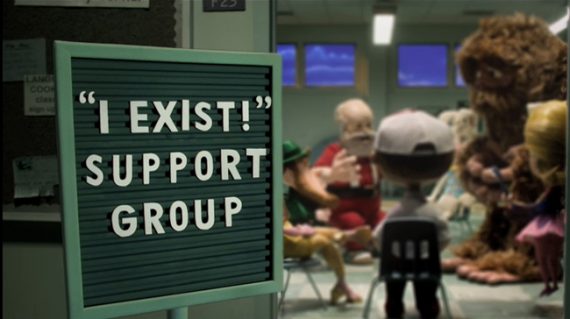 A Dr. Laura Markham answers a question from a mom who feels guilty about lying to her 8-year-old about the Tooth Fairy:
Most psychologists suggest that children need to know they can trust their parents to tell them the truth, even about things like this.  In other words, when your kids ask if Santa, the tooth fairy and the Easter bunny are real, you should tell them the truth.

That's not always easy, of course.  We may feel we are crushing a belief that our child needs.  When my daughter was five years old, she asked me if the tooth fairy was real. When I told her no, she became very angry at me, not because I had lead her to believe that a make-believe character was real, but because she wanted so much for the tooth fairy to be real. I desperately wanted to hedge, so I know how you felt with your son. Somehow I resisted the temptation, and let her cry and rage, not just at the unfair world, but at me. Over and over, I reflected back to her how disappointed she was, and how much she wished the tooth fairy could be real, and how angry she felt at that moment at the world and at me.

My daughter is now twelve, and remembers this incident clearly. She told me recently that she thought that I did the right thing, and that she would have been even angrier at me if I had lied in response to her direct question. Even though she was disappointed that the tooth fairy wasn't real, she thinks it was better for me to tell her the truth when she wanted to know. But I still recall my own anxiety and internal debate about whether I was doing the right thing.
Keith Humphreys, who pointed me to the story, jokes, "Personally, it's long been my view that parents should lie to their children. Otherwise, they will be unprepared for how elected officials will treat them when they grow up."
My dad told me the truth about Santa when I was very little, perhaps 3 or 4. I don't recall whether I was traumatized by the news at the time; I got over it if I was. My oldest turned 3 New Year's Eve and was very excited about Santa Claus this past Christmas but, for whatever reason, hasn't mentioned the Easter Bunny even though she's been excited about the approach of Easter.
My approach thus far has been to treat these characters precisely the way I do Mickey Mouse, Winnie the Pooh, and Dora the Explorer: they're real characters but not real people. So, when she tells me that Santa has a beard and wears a red suit, that's just as true as the facts that Pooh likes honey and Dora has a friend named Boots. If, on the other hand, she asks me whether Santa Claus brought her a particular present, I tell her, no, her grandmother bought it for her. This strikes me as the right balance between letting the kids enjoy their childhood and building their trust.
That said, this strikes me as one of the many cases of today's parents being hyper concerned about trivial things. If you're telling your 12-year-old that there's really a Santa Claus, you're probably a crappy parent. But your 5-your-old isn't going to hate you forever for pretending that the Tooth Fairy left a fiver under their pillow.