Maliki: U. S. Exit Not Subject to Extension or Alteration
Iraq's PM re-affirms Iraq's commitment to the U. S. withdrawal date in the Status of Forces Agreement.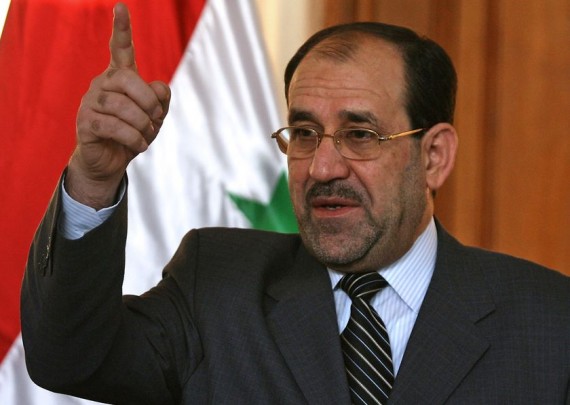 The (finally) newly formed government in Iraq in the person of Iraqi Prime Minister Nouri al-Maliki has reaffirmed its commitment to the terms of Status of Forces Agreement between Iraq and the U. S.:
BAGHDAD—Prime Minister Nouri al-Maliki ruled out the presence of any U.S. troops in Iraq after the end of 2011, saying his new government and the country's security forces were capable of confronting any remaining threats to Iraq's security, sovereignty and unity.

Mr. Maliki spoke with The Wall Street Journal in a two-hour interview, his first since Iraq ended nine months of stalemate and seated a new government after an inconclusive election, allowing Mr. Maliki to begin a second term as premier.

A majority of Iraqis—and some Iraqi and U.S. officials—have assumed the U.S. troop presence would eventually be extended, especially after the long government limbo. But Mr. Maliki was eager to draw a line in his most definitive remarks on the subject. "The last American soldier will leave Iraq" as agreed, he said, speaking at his office in a leafy section of Baghdad's protected Green Zone. "This agreement is not subject to extension, not subject to alteration. It is sealed."
The Status of Forces Agreement currently in force was negotiated by the Bush Administration and was approved by the Iraqi government in November, 2008. It called for U. S. combat forces to withdraw from Iraqi cities by June 30, 2009 and for all U. S. forces to leave Iraq by December 31, 2011.
President Obama has adhered to that schedule. It bears mentioning that, under the terms of the agreement, Iraq could demand that the U. S. withdraw its forces at any time subject to a year's notice. There was some concern that a referendum of Iraqi citizens might have forced an earlier withdrawal. For various reasons that referendum never materialized so PM al-Maliki's statement might be interpreted as a confirmation that U. S. forces will stay through the end of next year as much as a demand that they do so.
In my view this is all to the good, indeed, I think it's overdue. There comes a point at which we've accomplished all that we can reasonably expect to accomplish by our continued military presence and, at least in my view, that point was arrived at some time ago.