It Looks Like Nouri Al-Maliki Has Lost The Kurds, Assuming He Ever Had Them
Iraq continues to fall apart.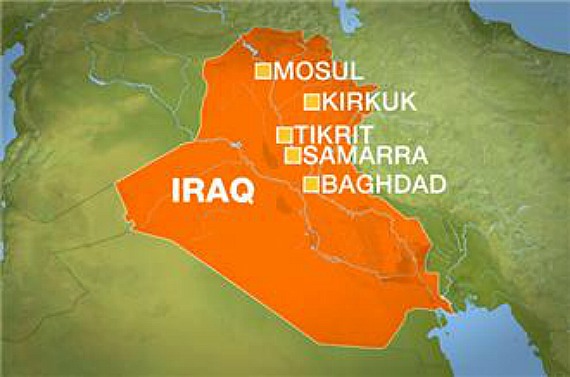 Both inside and outside of the country, the general consensus among observers, analysts, and diplomats is that Iraqi Prime Minister Nouri al-Maliki's best option for dealing with the ongoing threat from ISIS and other Sunni militants is to reach out beyond his base among Iraq's Shiite community to the Sunnis and Kurds in order to form a more stable unity government. There have already been some signs that al-Maliki was not very amenable to following this advice, much less to the suggestion that he step aside in favor of a candidate that might be better able to unify the nation's ethnic factions. To some extent, perhaps, one can understand the reluctance to reach out to the Sunni population given the ongoing fight, but one would think that strengthening relations with the Kurds in the north would seem to be a logical course of action. After all, the Kurds could provide material and men to fight ISIS, and that seems to be something that the Baghdad government could use at the moment. For a number of reasons, though, including quite prominently al-Maliki's own actions, it doesn't look like that will happen; and that could have serious consequences for Iraq's future.
At the top of the list, we have the news that al-Maliki has ousted Iraq's Kurdish Foreign Minister:
BAGHDAD — The dangerous struggle between the leadership of Iraq and the country's Kurdish minority intensified Friday, as the Kurds seized two oil production facilities in Kirkuk Province and the prime minister announced that he was appointing a temporary replacement for the foreign minister.

The prime minister, Nuri Kamal al-Maliki, a Shiite, moved to replace the current foreign minister, Hoshyar Zebari, a Kurd, with Hussain Shahristani, a Shiite from Mr. Maliki's bloc. Mr. Maliki was responding to a decision by Mr. Zebari and other Kurdish cabinet members to boycott cabinet meetings in protest of Mr. Maliki's searing criticism of the Kurds this week.

In a televised address on Wednesday, Mr. Maliki charged that the Kurds were harboring Sunni militant opponents of the central government and were even allowing members of the group known as the Islamic State in Iraq and Syria, which swept through northern Iraq in June, to organize operations from Kurdistan.

The replacement of Mr. Zebari infuriated the Kurds, but it also appeared to solidify their resolve to move ahead with the constitutional procedure to select a new government, including a president, prime minister and Parliament speaker.

"With this step, the prime minister doesn't leave any room for power sharing," said Faleh Mustapha, who serves as the foreign affairs minister for the Kurdish regional government — a separate position from that of Iraqi foreign minister. "Had our ministers resigned from the government or if we had withdrawn entirely from the government, it would be different, but we are still participating in the political process," he said.
In response, the Kurds are demanding that al-Maliki resign, and taking control of oil fields in their territory:
Iraqi Kurds have taken over two oil fields amid a growing dispute with the government in Baghdad, Iraqi and Kurdish sources say.

Kurdish peshmerga forces seized control of production facilities at the Bai Hassan and Kirkuk oil fields in the north of the country on Friday.

Kurdish MPs have also withdrawn from Iraq's central government.

They did so after Iraqi Prime Minister Nouri Maliki accused the Kurds of harbouring extremists.

Kurdish forces have moved into areas of north-western Iraq abandoned by the Iraqi army during the advance of Islamist insurgents led by the Isis (Islamic State in Iraq and the Levant) group over the past month.

The Kurds have since declared plans to hold a referendum on independence in the areas seized, escalating tensions with Iraq's central authorities.

In a statement on Friday, the Iraqi oil ministry condemned the seizure of oil refineries, adding that they expected Kurdish fighters to "support security forces in confronting terrorist groups rather than using the conditions to raid and occupy oil fields".

Reuters news agency said a senior source within the Kurdistan Regional Government had confirmed the takeover.

The unnamed source said they had been "forced to act to protect Iraq's infrastructure after learning of attempts by Iraq oil ministry officials to sabotage it".

The two oil fields are said to have a combined daily output capacity of some 400,000 barrels per day, AFP quotes a ministry spokesman as saying.

The Kurdish minority in Iraq managed to establish an autonomous region in the north in 2005 after decades of political and military efforts to seek self-rule.

Kurdish officials, including Kurdistan Region leader Massoud Barzani, say they view independence of areas under Kurdish control as their right.
In the end, that Kurdish desire for independence, which has existed for decades and survived brutal attacks from Saddam Hussein over the years, seems like it may be too powerful to convince the Kurds that they have any interest at all in being part of a united Iraq. For them, this attack by ISIS likely seems like the perfect opportunity for them to establish if not de jure  independence than essentially de facto independence from Baghdad. If that persists, then it's hard to see how the rest of Iraq hold together.
Perhaps, as Ed Morrissey suggests, al-Maliki could have prevented all of this. It would have required him to supress his obvious instincts to act in favor of his fellow Shiites while pushing Sunnis and Kurds out of power and rounding many of them up as supposed threats to the government. At the same time, though, it would also have required the Iraqi minorities themselves to want to be part of a unified nation. As I've noted before, though, the idea of a united Iraq is a relatively new one in history and its not one that has been held together by anything other than an authoritarian ruler until Saddam's regime fell in 2003. It was never clear at all if the Iraqi people would want that in a democratically elected regime. Recent events certainly seem to call the idea into doubt, and Jean MacKenzie suggests that perhaps its time for the world to accept the idea of a partitioned Iraq:
In 2007, Joe Biden, then a senator from Delaware, co-sponsored a measure calling for a federated Iraq, according autonomy to the various groups. As he wrote in an op-ed he coauthored with Leslie Gelb, president emeritus of the Council on Foreign Relations, "Some will say moving toward strong regionalism would ignite sectarian cleansing. But that's exactly what is going on already, in ever-bigger waves. Others will argue that it would lead to partition. But a breakup is already under way."

Biden's resolution was widely pooh-poohed, and then-president Bush continued with the surge. For a while, things stabilized, at least on the surface. But the currents were always running underneath.

Peter Galbraith, former U.S. diplomat who acted as an advisor to the Kurdish government in 2003, also argued against keeping Iraq together by force.

In his own op-ed in The New York Times called "Make Walls, not War," published in October 2007, he points to the value of some form of federalism.

Sunnis would never accept a Shiite-dominated state, he maintained, and the Kurds would insist on independence. All the money and time the US spent on training the Iraqi army would be wasted if the government in Baghdad continued to repress its Sunni minority.

"American training can make Iraq's Shiite-dominated security forces more effective, but it cannot make them into neutral guarantors of safety that the Sunnis can trust," he wrote.

His words seem prescient indeed given the widespread defection of Iraqi security forces in Mosul and elsewhere in the face of the ISIS advance.

"Let's face it," wrote Galbraith, "partition is a better outcome than a Sunni-Shiite civil war. There is, in any event, little alternative to partition. Iraq cannot be reconstructed as a unitary state, and the sooner we face up to this reality, the better."

If the experts are right, then what is happening now seems to be the worst of both worlds: a Sunni-Shiite civil war and a de facto partition of the country.

"Some things cannot be undone," said Mendelsohn. "The bad blood between Sunni and [Shiite] is becoming worse with every crisis. Maybe a few years ago there could have been a strong central government, but now the regions will demand much greater autonomy."

No matter what the U.S. and other international actors try, there is no going back, he said. "We are not going to have the same Iraq even in the best of circumstances."
There are, of course, a whole host of potential complications associated with the idea of a partitioned Iraq. As it is, post-Saddam Iraq finds itself at the mercy of a much more powerful Iran, to the point that al-Maliki made an open and blatant decision to side with Iran and its ally in Damascus in the Syrian civil war by allowing Iraqi air space to be used to transport men and material between Iran and Syria. An Iraq that is partitioned into Sunni, Shia, and Kurdish states would obviously be in a far weaker position vis a vis Iran. Indeed, it's quite probable that an Iraqi Shiite state would essentially be an Iranian client state. Such a development would create significant problems for Saudi Arabia, Kuwait, and the Gulf States, obviously. The Sunni Iraqi state would likely be a continued source of trouble for Syria, perhaps even leading to a situation where the borders of Syria also start to fall into question. Finally, if the Kurds in Iraq finally achieve their goal of statehood there's no telling what impact this will have on the Kurds in Turkey and Syria, although it is interesting to note that Turkey has been generally supportive of the idea of increased autonomy if not outright independence for Iraqi Kurds, perhaps in the hope that it will serve as something of a safety valve for the nationalism of their own Kurdish population. Beyond that, there would likely be a whole host of other consequences from Iraqi partition that we cannot forsee at this point, but it's unclear if we can do anything to stop it from happening, or that we should even try.