Man Arrested for Singing Racist Song 'Kung Fu Fighting'
Singing the 1974 Carl Douglas classic "Kung Fu Fighting" can get you arrested in England.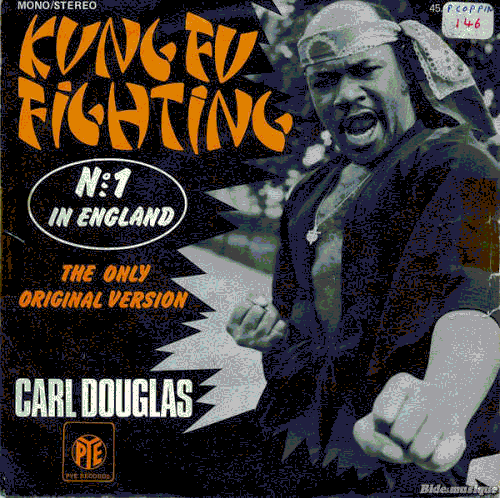 Those of us over a certain age vividly remember the 1974 Carl Douglas classic "Kung Fu Fighting" — which everyone was apparently doing in those days. Apparently, it's considered racist and arrest worthy in the UK.
The Sun ("Nicked for singing Kung Fu Fighting in front of Chinese pair")
A PUB singer was arrested for alleged "racism" after belting out the chart hit Kung Fu Fighting as two Chinese people walked past.

One of them complained to cops, who later nicked stunned Simon Ledger – in a Chinese restaurant.

Simon, 34, often performs the song in Sandown, Isle of Wight. He said: "I hadn't even seen these two."

Now he fears he could get a criminal record.

Cops sprang into action and arrested Simon despite the fact that he regularly features the 1974 No1 in his act at a seaside pub.

Simon, who has performed on TV with Michael Barrymore, was doing a spot with a pal at the town's Driftwood Beach Bar on Sunday afternoon. All went well until he began the Carl Douglas disco classic, with its famous Chinese-sounding riff.

Simon said: "We were performing Kung Fu Fighting, as we do during all our sets. People of all races were loving it. Chinese people have never been offended by it before. But this lad walking past with his mum called us w*****s and did the hand sign before taking a picture on his mobile phone. We hadn't even seen them when we started the song. He must have phoned the police. They phoned me when I was in a Chinese restaurant that night. They arranged to meet me and I was arrested."
This is bizarre all around. Not only had it never occurred to me before now that "Kung Fu Fighting" was racist but the notion that someone could be arrested for "racially-aggravated harrassment" for singing a song makes no sense. Then again, this is a country where tabloids routinely show bare women's breasts and yet have to bleep out what I presume is "wussies." [Megan McArdle and other commenters guess it was "wankers," which makes a bit more sense. But still.]
Although, in fairness, Simon isn't helping his case:
Simon, who is on bail until today, wrote on Facebook: "If the lad who phoned the police is reading this, WHAT IS WONG WITH YOU? Sorry, what is wrong with you?"
What, indeed.
Anyway, it's actually still a pretty good song: