March Madness
How many Americans are really even paying attention to the actions in Libya?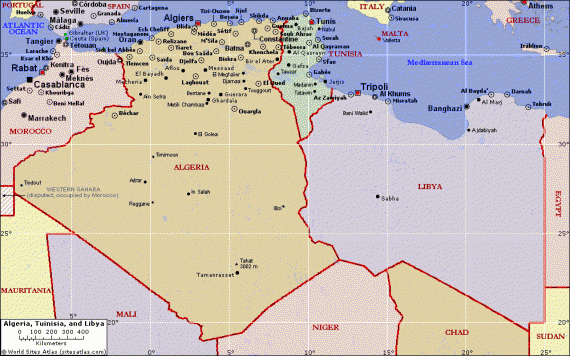 This post is more a musing on the situation in Libya as much as it any attempt at actual analysis.  Really, it is mostly wondering out loud.  I wonder, specifically, how truly tuned in to the current situation, the most dramatic and intensive military action undertaken by the US military since the invasion of Iraq eight year ago (to the day), most American are.
We, as a country, were quite tuned in to the Afghanistan invasion as it was launched in the context of, and in response to, the 9/11 attacks.
Likewise, the build-up to the Iraq invasion of 2003 was very much part of long-term public focus.
The launching of massive cruise missile strikes yesterday, however, is probably not getting anywhere near the focus.  And yet, we have very possibly just gotten ourselves into a protracted and complicated engagement in Northern Africa.
Part of my "wondering" on this issue is because I have been more divorced than usual from news consumption over the last several days—indeed during the period of time that the UN Resolution was passed and when planes took to the skies of Libya and the cruise missiles began to fly.
On Friday during my commute (~45 minutes each way) I listened to non-political podcasts in the car (atypical for me, as I usually listen to a mix of NPR and the BBC with a intermingling of ESPN Radio).  That afternoon I took my oldest son to play 9 holes of golf (meaning that I was not I front of the computer or near a radio) and then spent much of Saturday working in the yard (again, listening to a non-political podcast) and helping my wife with a home improvement project.
It would have been extremely easy to have been utterly ignorant of the fact that the US military had launched a major military operation—an operation with the potential for long-term, significant implication for our country.
Now, because even when doing the things listed above I am still a habitual news-checker, I had seen, via brief encounters with my internet-connected computer, that allied fighter jets were engaging Gaddafi's air force as hundreds of US cruise missiles rained down on military targets in the country.
But, a few choices in terms of news acquisition (or if I was a person who paid little attention to the news) and I could easily not even know about these actions.
I wonder how many Americans, focused on family, work, the yard, or the NCAA Tournament, are in such a position, i.e., utterly unaware (or, perhaps only vaguely aware) that the US has started yet another military engagement in the world.
This strikes me as a problematic situation—i.e., that more public awareness should be needed before such events are put into motion.
Ok, musings and wonderings done for the moment.