Mariah, Beyoncé, Usher and Gaddafi Money
Muammar Gadaffi's family hired big name entertainers for parties. What with the ongoing mayhem in Libya, that's coming under scrutiny.
So, apparently, Muammar Gadaffi's family likes to hire big name entertainers for their parties. What with the ongoing mayhem in Libya, that's coming under scrutiny.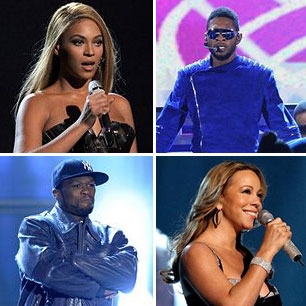 Rolling Stone ("Mariah, Beyoncé, Usher Face Calls to Donate Qaddafi Money to Charity"):
Beyoncé, Mariah Carey, Usher and 50 Cent are facing industry calls to give back the money they earned performing at lavish parties thrown by family members of Libyan dictator Muammar el-Qaddafi. "If it were me, it would go to charity," says Buck Williams, agent for R.E.M. and Widespread Panic. Adds David T. Viecelli, agent for Arcade Fire, "Hopefully donate it to a charity that somehow assists some of the people who have suffered at the hands of that regime."

Carey accepted $1 million to perform for Qaddafi's son, Muatassim, Libya's national-security adviser, at a lavish New Year's Eve party on the Caribbean island of St. Barts in 2008; Beyoncé and Usher performed for an undisclosed sum on the island the following year. 50 Cent gave a performance before Muatassim at a 2005 film festival in Venice. Managers for Usher, 50 Cent and Carey declined comment, and Beyoncé's management, run by her father, Mathew Knowles, did not return phone calls. "They've done it for tons of artists," says a music-business source, referring to Muatassim's parties, which are often jammed with supermodels. "Those guys are all over the world."

Qaddafi's record of brutality and terrorism during his 40-year reign is well-documented – his regime was linked to a 1986 Berlin disco bombing, causing the deaths of two American soldiers, and the 1988 bombing of Pan Am Flight 103 over Lockerbie, Scotland, which killed 270. Late last month, Libya's former justice minister told a Swedish newspaper that Qaddafi himself ordered the Pan Am bombing. Muatassim's brother Seif al-Islam el-Qaddafi recently warned Libyan protesters on state television to abandon the streets or face "rivers of blood."
Back when I was an undergraduate, Gaddafi was Public Enemy Number One. He ordered several acts of terrorism and we launched military action against him on more than one occasion.
After the most notable of these, Operation El Dorado Canyon, Gaddafi seemed to fall off the map. (We learned much later that he had ordered the bombing of Pan Am Flight 103 later that year but we presumed until 2004 that the Iranians were to blame.) Eventually, Saddam Hussein became our bogey man in the region.
As recently as 2008, Gaddafi was completely rehabilitated, pursuant to reparations for the Flight 103 victims and cessation of his nuclear program.
All of which is a longwinded way of saying: To anyone under 40, Gaddafi is just another Middle East dictator. We wouldn't bat an eye if Usher performed for one of the Saudi princes or the potentates of Jordan. The fact that he's now reminded us of what a horrible bastard he is doesn't obligate these people to divest themselves of money they earned beforehand.
Now, if they want to donate that money to a good cause, particularly one aiding the people of Libya, it would be commendable. But keeping the money wouldn't make them bad people.
via Paul McLeary