Mark Sanford's Political Redemption Is Complete
Apparently, there is an off ramp on the Appalachian Trail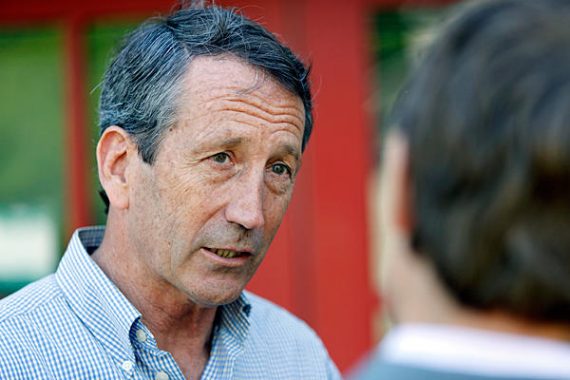 Mark Sanford, the Congressman turned Governor of South Carolina who saw his national political future ruined after a secret trip to Argentina to visit a mistress only to turn around and run for his old Congressional seat in a Special Election and win, is running unopposed for re-election this year:
Rep. Mark Sanford, R-S.C., appears to have completed an 18-month transformation from irresistible joke to immovable incumbent.

As governor, he became a staple of late night comedians in 2009 when he famously disappeared from the Statehouse to visit his mistress in Argentina while his staff told reporters he was hiking the Appalachian Trail.

Last year, he staged an improbable comeback, running for the U.S. House seat he had held before being elected governor. An underdog at the outset,  he ultimately won a special election, beating out Elizabeth Colbert Busch, the sister of comedian Steven Colbert.

Sanford has no opposition for re-election in either the GOP primary or the  general election in November. March 30 was the filing deadline for South Carolina candidates andnone of either party filed in Sanford's district. As the National Review points out, the only remaining threat to Sanford would be a late filing by an independent candidate.
As I said at the time that Sanford won the Special Election against Stephen Colbert's sister, the fact that Sanford won wasn't too much of a surprise given the fact that he had represented the district before Tim Scott, and that this district has been in Republican hands for more than 30 years. In retrospect, Sanford's biggest test last year was the Republican primary, which he won after a runoff election that really wasn't much of a contest. If he was going t be seriously challenged this time around, it would have been in the primary. More importantly, if Sanford was going to be vulnerable at any point, it would be in this first General Election after he won the seat. The fact that no Republican even bothered to step up to challenge him is an indication that he would have likely been unbeatable.
It's unlikely that Sanford will ever return the national prominence he once had, or that he would ever seriously be thought of as a Presidential or Vice-Presidential nominee as he was prior to the whole "Appalachian Trail" fiasco, but he seems fine with that. Having been in Congress  just under a year now, he's taken up the role of the fiscally conservative back-bencher that he had when he was in Congress. And the voters of the 1st District seem just fine with that.