Mark Sanford Enters GOP Race Against Trump
Former Republican Congressman and Governor Mark Sanford is running for President.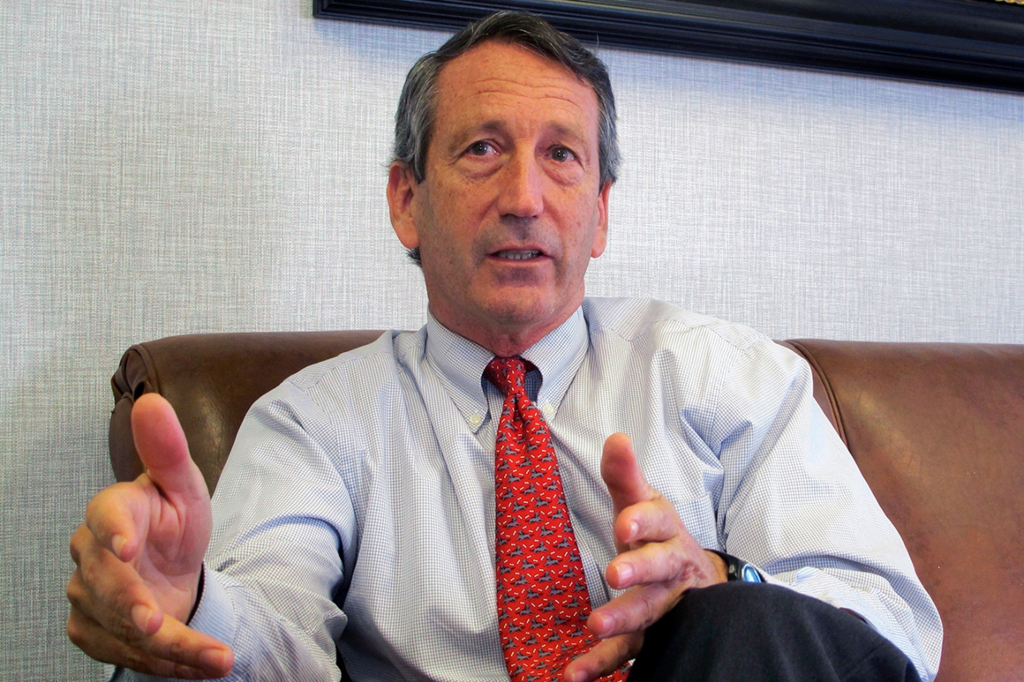 Former South Carolina Governor and Congressman Mark Sanford has become the third Republican to challenge President Trump for the Republican nomination for President, a bid that will likely prove to be quixotic but which is welcome nonetheless:
Mark Sanford, the former governor and representative from South Carolina who lost re-election to Congress after becoming a vocal critic of President Trump, announced on Sunday that he would seek the Republican presidential nomination and challenge the man who helped doom his 2018 campaign.

"I am going to get in," Mr. Sanford said in an interview broadcast on "Fox News Sunday," ending weeks of speculation about his intentions.

"I think we need to have a conversation on what it means to be a Republican," he added. "I think that as a Republican Party we have lost our way."

Mr. Sanford had been mulling a presidential primary run since at least mid-July, when he told The Post and Courier of Charleston, S.C., that he was considering whether and how he could focus national attention on the need to rein in government spending.

On Sunday, he made clear that he would focus his campaign on fiscal issues.

"The epicenter of where I'm coming from is that we have lost our way on debt and deficits and spending," he said. "The president has called himself the king of debt, has a familiarity and comfort level with debt that I think is ultimately leading us in the wrong direction."\

The federal deficit has ballooned during the Trump presidency and will widen to $1 trillion for the 2020 fiscal year, the Congressional Budget Office said in forecasts released in August.

(…)

Mr. Sanford supported Mr. Trump in 2016 but eventually became one of his fiercest Republican critics in Congress. Last summer, he lost the primary to Katie Arrington, a candidate Mr. Trump had endorsed. Ms. Arrington then lost in the general election to her Democratic opponent, Joe Cunningham.

"Republicans got a wake-up call last week. But will we wake up?" Mr. Sanford wrote in an Op-Ed in The New York Times shortly after Ms. Arrington was defeated. "My party would be wise to take a step back from President Trump's approach to politics."
Mark Sanford's resume is, of course, fairly well-known. After earning a Bachelor of Arts degree at South Carolina's Forman University and a Masters of Business Administration at the University of Virginia, he returned to his hometown outside Charleston where he started a real estate company that he continues to operate today. He first stood for election in 1994 when he ran for and won, the Republican nomination for South Carolina's 1st Congressional District, a position he held from 1994 until 2002 when he decided to run for Governor. At that same time, he enlisted in the Air Force Reserve, where he served until 2013. 2002 was also the year that he ran for Governor of South Carolina, an election he won easily, and was easily re-elected in 2006. During his time as Governor and Congressman, he developed a reputation as a staunch fiscal conservative, something that led to frequent disputes with the Republican-held legislature over spending and taxation issues. As Governor, he was consistently ranked highly by the Cato Institute and other conservative and libertarian groups for his fiscal conservative and generally small-government policies. When he was barred from running for a third term, he persuaded state legislator Nikki Haley to run for his seat, which she won in 2010 despite the fact that other candidates in the race had the support of Tea Party groups behind them.
What made Sanford famous nationwide, of course, was the incident late in his second term that brought his personal life crashing down. At some point during that time, Sanford had begun a relationship with an Argentinian woman. Beginning in mid-June 2009, Sanford had disappeared from public view and, while he had told his staff that he was going on vacation to hike the Appalachian Trail, the truth was that he had ventured to South America to visit this woman, something that soon became public in a scandal that nearly led to his impeachment and removal from office. Prior to this incident, Sanford had become well-known nationwide for his fiscal conservatism and was seen by many as a potential Republican nominee in 2012. Obviously, that speculation ended with the scandal surrounding his personal life.
Despite this setback, Sanford made a comeback four years later, running for and successfully winning back his seat in Congress, a position he held until being defeated in 2018 in a Republican primary by a candidate backed by President Trump. During this second stint in Congress, Sanford returned to his fiscally conservative routes and became one of the few Republican Members of Congress to be willing to criticize President Trump, although he did support Trump in 2016. That criticism earned him the ire of the President, who endorsed his primary opponent on the eve of the election and is widely seen as the reason he lost the primary.
Sanford, of course, is the third candidate to enter the race for the GOP nomination against Donald Trump. The first such challenge came in April when former Massachusetts Governor Bill Weld entered the race, and the second came just a few weeks ago when former Illinois Congressman Joe Walsh entered the race. In addition to these three challengers, former Ohio Governor John Kasich also appears to be considering entering the race even though he appeared to rule it out in early June, while Maryland Governor Larry Hogan, who had looked into the idea of running against the President ruled such a run out earlier this summer.
None of these candidates stand a realistic chance of winning the nomination, of course. President Trump enjoys historically high job approval ratings among Republicans and that is unlikely to change over the course of the next year. Additionally, the Republican Party is making it as hard as possible for anyone to pose a real challenge to the President by canceling primaries, including in Sanford's home state of South Carolina. That being said, it is a historical fact that all incumbent Presidents in the modern era who have faced a strong primary challenge, specifically including President Ford in 1976, President Carter in 1980, and President George H.W. Bush in 1992, have ended up losing the General Election. Whether that will be the case in 2020 remains to be seen, but for those of us hoping to see the President defeated, this is generally speaking very good news. Here's hoping Weld, Walsh, and Sanford all give Trump at least something to worry about in November 2020.