Mayor Alec Baldwin?
Actor Alec Baldwin may run for mayor of New York.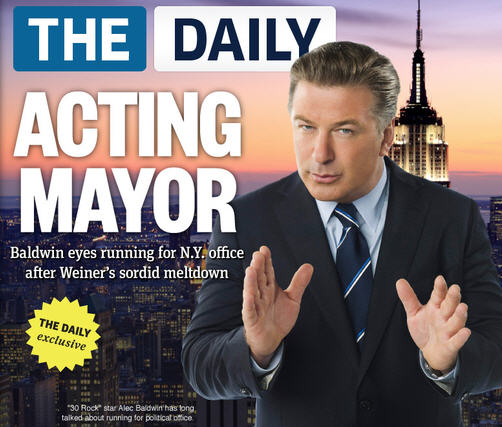 Yet another possible fallout from the Anthony Weiner scandal: Actor Alec Baldwin may run for mayor of New York.
The Daily ("Political Smart Alec"):
Alec Baldwin is mulling a run for mayor of New York City now that kinky Congressman Anthony Weiner appears to have sexted himself out of the 2013 race.

The "30 Rock" star, who has long talked about running for political office, believes Weinergate has shaken up the field of candidates enough that he might have a chance to win, a friend of the actor told The Daily. "Alec said, 'Hey, maybe this changes the race. The dynamics have shifted,' " said Baldwin's pal. "The Democrats need a high-profile candidate, and Alec can fill that bill."

Baldwin, a die-hard Democrat originally from Massapequa, a suburb on Long Island, N.Y., has said 2012 will be his last year on "30 Rock," which would free him up for a 2013 mayoral run.

He'd be the biggest name by far to throw his hat in the ring to succeed Mayor Michael Bloomberg at "the second hardest job" in the nation, Weiner's dream gig before his sordid fall from grace. Bloomberg, who had New York City's term-limit law rewritten to win his third term, isn't expected to run again in 2013. The likely candidates include City Council Speaker Christine Quinn, Councilman Bill de Blasio, and former New York comptroller Bill Thompson, who narrowly lost to Bloomberg in 2009.

[…]

Baldwin, 53, famous for his liberal politics, has been talking about the possibility of running for office since the '90s. "Is this something that I want to do? Yes," Baldwin said in a 1997 New York magazine cover story on his political ambitions. But he said it didn't seem like the right time. "The men and women that run the world are in their 50s. It takes time to build that kind of thing. I'm 39."

Fast-forward 11 years. In a 2008 interview on "60 Minutes," Baldwin mused about being in his 50s and said it was possible that politics would be his second act. "There's no age limit on running for office, to a degree," he said. It's "something I might do, one day."
Let's stipulate that this is thin as hell: An anonymous "friend" talking to a tabloid I've never heard of buttressed by some musings by the actor from years ago. But it's an interesting notion. Baldwin is certainly political, his likability factor is way up because of the Jack Donaghy character, and New York has a history of electing celebrities with outsized personalities and no political experience to big jobs.