McCain Filibuster Threat Puts "Don't Ask, Don't Tell" Repeal In Doubt
The prospect of repealing Don't Ask, Don't Tell before the November elections is in doubt thanks to a threatened filibuster led by Arizona's John McCain.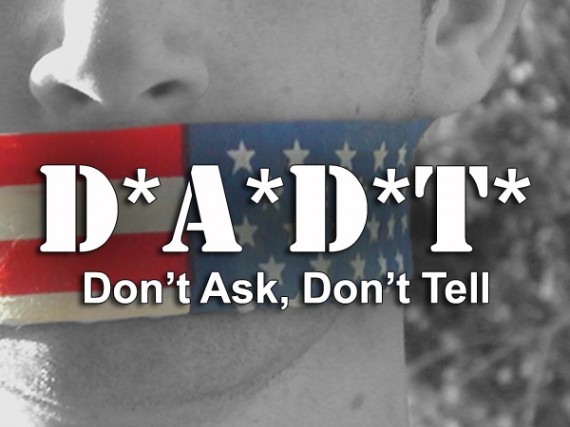 Three months after passing the House, the legislative effort to repeal the military's "Don't Ask, Don't Tell" rule appears to be in trouble thanks to a threatened filibuster led by John McCain:
Gay rights advocates went on high alert Thursday afternoon after Sen. Joe Lieberman (I-Conn.), a key proponent of repealing the military's "don't ask, don't tell" policy, said that he believes Senate Republicans can kill the defense authorization bill containing the repeal c- a step Sen. John McCain has already threatened to take.

"The question is whether the Senate leadership can negotiate an agreement with the Republicans that will allow the bill to come up and get them to feel that they can introduce amendments that they want to introduce as well," Lieberman said in an interview with Kerry Eleveld of the Advocate, a web site and magazine for the gay community. "But until that happens, I don't think the votes are there to break the filibuster, which would be a shame."

McCain (R-Ariz.), the ranking member of the Senate Armed Services Committee, declared he will block the defense bill if the "don't ask, don't tell" language isn't stripped.

Lieberman's assessment was more negative than Senate Majority Leader Harry Reid offered on Tuesday, when asked if he had enough votes to push the legislation through GOP opposition.

"We'll sure find out. I don't know," Reid said.

Gay rights advocates have assumed that a cloture vote on the bill would be close, but that senators favoring repeal would probably have the upper hand. As a result, Lieberman's dire prediction caused considerable consternation.

"It's crunch time. It will shock a lot of people if we can't get 60 votes to end "don't ask, don't tell," after all this effort," said Richard Socarides, a White House adviser to President Bill Clinton on gay issues. "There are some Democrats who may be soft on this but the thinking has always been that you pick up the moderate, pro-equal rights Republicans."

(…)

Meanwhile, a spokesman for Lieberman told POLITICO that the senator hadn't intended to predict in his interview with the Advocate how the cloture vote would go.

"The Senator was saying it is an open question whether there are enough votes to get cloture on [a] motion to proceed to [the] bill – it is not known one way or the other whether there are sufficient votes," the spokesman, Marshall Wittmann, said. "The Senator, of course, is a leader for repeal of DADT."
As I noted shortly after DADT repeal passed the House back in May, there are several issues with the Defense Authorization Bill that have the potential to pose problems for implementing DADT repeal in the near future, including a dispute over engines for the Joint Strike Fighter that has yet to be resolved. McCain's effort, however, is aimed directly at the effort to repeal the ban on gay man and women serving openly in the military, which seems to be a direct contradiction from the position he took in 2006:
[T]he day that the leadership of the military comes to me and says, Senator, we ought to change the policy, then I think we ought to consider seriously changing it because those leaders in the military are the ones we give the responsibility to."
While the Joint Chiefs have asked Congress to wait on DADT repeal until they've completed their study about how repeal would be implemented with minimal disruption, they have not backed down from the statement that several top officers made back in February:
WASHINGTON — The nation's top two Defense officials called on Tuesday for an end to the 16-year-old "don't ask, don't tell" law, a major step toward allowing openly gay men and women to serve in the United States military for the first time in its history.

"No matter how I look at the issue, I cannot escape being troubled by the fact that we have in place a policy which forces young men and women to lie about who they are in order to defend their fellow citizens," Adm. Mike Mullen, the chairman of the Joint Chiefs of Staff, told the Senate Armed Services Committee. He said it was his personal belief that "allowing gays and lesbians to serve openly would be the right thing to do."

But both Admiral Mullen and Defense Secretary Robert M. Gates told the committee they needed more time to review how to carry out the change in policy, which requires an act of Congress, and predicted some disruption to the armed forces.
There were many people who thought McCain's shift on DADT was related to his primary challenge from the right by J.D. Hayworth. That primary was over several weeks ago, though and McCain appears to be holding fast to his new, unfortunate, position.