One Year Later, Study Finds No Harm To Military From DADT Repeal
Not surprisingly, a new study finds that repealing Don't Ask, Don't Tell has not caused any harm to the military.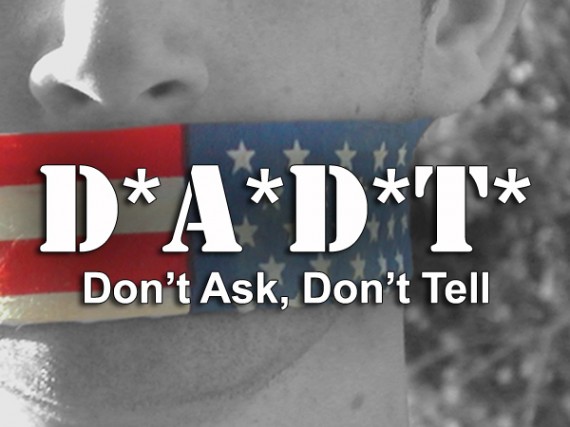 Replicating the results of other surveys that have come out in recent months, a new study says that allowing gays and lesbians to service openly in the military has not caused any measurable harm to the military:
The repeal of the military's "don't ask, don't tell" policy in 2011 has not had a negative impact on force readiness, recruitment or retention, contrary to predictions that it would, according to a new study published Monday.

The policy, implemented in 1993 while then President Bill Clinton was pushing for openness in the military, was repealed on Sept. 20 last year. Before its enactment and the repeal, service members had said having openly gay troops would harm the military.

But the study by the Palm Center, which conducts research on sexual minorities in the military, determined those concerns were unfounded. The research by nine scholars, some professors at military academies, began six months after the policy (known as DADT) ended and wrapped up near the one-year mark.

The scholars said they interviewed opponents and advocates of the repeal, as well as active duty service members who are gay, and conducted on-site field observations of four military units, among other research. They also reached out to 553 of the nearly 1,200 generals and admirals who signed a 2009 letter saying the repeal would undermine the military and eventually got interviews with 13 officers.

"Our conclusion, based on all of the evidence available to us, is that DADT repeal has had no overall negative impact on military readiness or its component dimensions, including cohesion, recruitment, retention, assaults, harassment or morale," according to the study. "Although we identified a few downsides that followed from the policy change, we identified upsides as well, and in no case did negative consequences outweigh benefits. If anything, DADT repeal appears to have enhanced the military's ability to pursue its mission."
This isn't entirely surprising, of course. There had been numerous studies prior to the Congressional repeal of DADT that reported that there was no evidence that there would be any negative impact from the repeal of Don't Ask, Don't Tell. After repeal had become law, the military itself did careful research to determine the impact that repeal would have and how to best implement it, and generally found that there was no real evidence that allowing homosexuals to serve openly in the military would cause harm to unit cohesion or any of the other areas that the military was concerned about. Indeed, there was some anecdotal evidence that repeal would actually benefit the military as a whole because it would eliminate the need for people to hide their private lives and worry about having their military careers ruined by an anonymous tipster.
DADT repeal was, of course, widely opposed by Republicans with a few notable exceptions in the United States Senate and House of Representatives. During the primary campaign, candidates such as Rick Santorum suggested that they would reinstate DADT if they were elected President, a position that seemed to have a fairly large level of support in the party as a whole. Additionally, while the Republican Platform does not explicitly call for DADT to be reinstated, it does contain this language:
The foundation of our military lies in the men and women who wear our country's uniform, whether on active duty or in the Reserves and National Guard, and the families who support them. Under no circumstances will we reveal any secret or detail of a military operation that could put our people into additional harm's way. The members of our military should be treated with the utmost respect and dignity. We reject the use of the military as a platform for social experimentation and will not accept attempts to undermine military priorities and mission readiness.
Most of the time when conservatives spoke out against DADT repeal, they called allowing gays and lesbians to openly serve as "social experimentation," as if treating people equally was some kind of new-fangled thing. I don't think that this passage indicates that a Republican President would reverse course on DADT repeal, though. The ship on this issue has largely sailed. It's been a year now since the repeal became official, and before that happened it enjoyed the support of the vast majority of the command-level officers serving in the Pentagon, as well as the American people. Indeed, I think the fact that the platform doesn't explicitly call for DADT to be reinstated is a fairly blatant admission by the GOP that they would never be able to achieve this goal and that they don't intend to spend any political capital on it if they do gain power.
This study, though, does remind me somewhat of the arguments that many on the right make against same-sex marriage. They claim that it will lead to the degradation of the family and the institution of marriage, although one wonders how they can look at the divorce rates in this country and make that argument with a straight face.  They claim that it will harm children, even though there's no credible evidence that children raised in same-sex homes end up any worse off than children raised in a "traditional" family (not to mention the fact that adoption by a gay couple seems far better than being raised in a single parent household.) They make all kind of other claims about the alleged harms that would come if we recognized the equal rights of same-sex couples under the law.  Given how wrong they were about the alleged dangers of repealing DADT, a fact that should have been recognized simply by observing the status of American allies who have allowed gays to serve openly, including Israel), one wonders why their claims are even taken seriously at this point. We now live in a world where same-sex marriage has been the law in many states for many years, and yet, just as with the repeal of DADT, none of the doom and  gloom that opponents have predicted has come to pass. They were wrong about DADT, they will be proven wrong about same-sex marriage. It's time for them to move on.
Here's the study from The Palm Center: