McDonald's Health Plan ObamaCare Casualty? Good!
Among the unintended but not unforeseen consequences of the new health care law is that companies who were previously offering some health coverage may stop altogether. In some cases, that's just as well.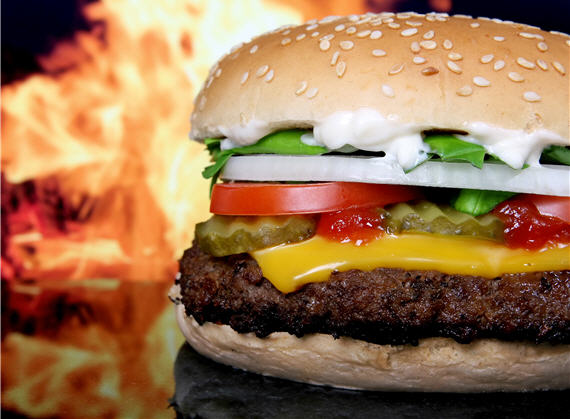 Among the unintended but not unforeseen consequences of the new health care law is that companies who were previously offering some health coverage may stop altogether. WSJ reports that McDonald's may do just that.
McDonald's Corp. has warned federal regulators that it could drop its health insurance plan for nearly 30,000 hourly restaurant workers unless regulators waive a new requirement of the U.S. health overhaul. The move is one of the clearest indications that new rules may disrupt workers' health plans as the law ripples through the real world.

[…]

While many restaurants don't offer health coverage, McDonald's provides mini-med plans for workers at 10,500 U.S. locations, most of them franchised. A single worker can pay $14 a week for a plan that caps annual benefits at $2,000, or about $32 a week to get coverage up to $10,000 a year.

Last week, a senior McDonald's official informed the Department of Health and Human Services that the restaurant chain's insurer won't meet a 2011 requirement to spend at least 80% to 85% of its premium revenue on medical care.

McDonald's and trade groups say the percentage, called a medical loss ratio, is unrealistic for mini-med plans because of high administrative costs owing to frequent worker turnover, combined with relatively low spending on claims.

Democrats who drafted the health law wanted the requirement to prevent insurers from spending too much on executive salaries, marketing and other costs that they said don't directly help patients.

[…]

A spokeswoman for McDonald's said it would look for other insurance options if it couldn't get the waiver. The company's chief people officer for the U.S., Steve Russell, said, "McDonald's will continue to be committed to providing competitive pay and benefits." The chain has offered a limited benefits plan for more than 10 years. The current version provides outpatient, inpatient, preventive-care and prescription-drug coverage. McDonald's says 85% of participants have less than $5,000 in medical expenses a year.
Regulators haven't yet had time to flesh out the details on how the law will be implemented.  It's quite possible that a waiver will be granted for these kinds of plans as they work through the painful process of implementing the law.   It's just a natural result of trying to craft a one-size-fits-all solution for a very diverse economy.
UPDATE:   I didn't notice it initially but both Teresa Kopec and E.D. Kain make a good point:   A plan that costs $728.48 for a maximum benefit of $2000 is horrendous.  Indeed, Kain notes, these people would indeed be better off if McDonald's canceled their plan and just dumped them into the new ObamaCare fallback plan.
A $10,000 maximum benefit provides no real health insurance at all, though it's better than nothing. We really should have fought for universal catastrophic insurance starting immediately, which would have taken the teeth out of reports like this one. And if I were a McDonald's employee, I'd be hoping against hope that I could lose the crappy mini-med plans and get onto an exchange as quickly as possible. Though hopefully not before 2014….
Granting that it's insurance and that an employee could find themselves hospitalized and getting the $2000 benefit after the first weekly payment of $13.99 — at which point it would be a bargain! — this is just the opposite of the kind of insurance typical low wage McDonald's employees  — who I'd assume are mostly teens and twenty-somethings — needs.  They'd be much better off with a policy that didn't cover ordinary expenses but kicked in at, say, $5,000.   Still lousy, of course, if you're making poverty wages.
The bottom line, though, is that it's absurd to expect companies who hire mostly low skill, high turnover workers to provide health insurance.  We'd be better off with some sort of single payer system with a parallel Cadillac system for high earners.