Memorial Day Should Be Sacred Even When You Oppose War
Political disagreements about war are no reason to dismiss the sacrifices of those who have died for our country.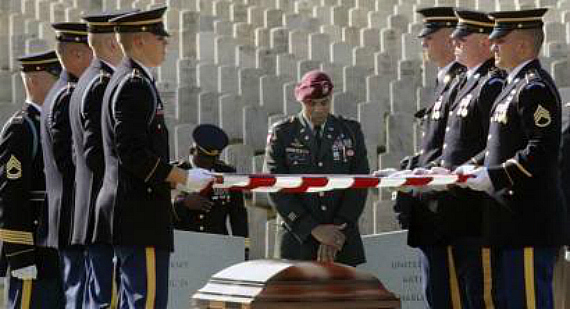 MSNBC's Chris Hayes, who hosts a show that airs on Saturday and Sunday mornings, aroused no small degree of controversy today when, in the midst of a discussion about Memorial Day, he stated that he felt "uncomfortable" calling fallen soldiers heroes:
It's Memorial Day weekend, and while many may be marking this occasion as a time for barbecuing with the family, it's also an important time to reflect on the sacrifice of those who lost their lives serving the country. We like to remember them as heroes, men and women who risk everything to protect their fellow citizens, but on MSNBC today, Chris Hayes admitted he feels "uncomfortable" about doing that, suggesting the "hero" label gives us more rhetorical reasons to continue the wars.

Hayes observed that in much casual conversation about war and fallen soldiers, talk of heroism often comes up, and he doesn't necessarily think that's a good thing

"I feel… uncomfortable, about the word because it seems to me that it is so rhetorically proximate to justifications for more war. Um, and, I don't want to obviously desecrate or disrespect memory of anyone that's fallen, and obviously there are individual circumstances in which there is genuine, tremendous heroism, you know, hail of gunfire, rescuing fellow soldiers, and things like that. But it seems to me that we marshal this word in a way that is problematic. But maybe I'm wrong about that."

Columnist John McWhorter agreed with Hayes' discomfort because the word "hero" and others like it can be used as "argumentational strategies" whether we are consciously aware of that or not. Hayes did acknowledge the other side of the argument, namely that there is no mandatory conscription and service is purely voluntary, therefore all those who choose to sign up and take heavy risks are heroes in their own right.

Michelle Goldberg, columnist for The Daily Beast, argued that the reason "hero" comes across as a loaded word is that it implies "they died in the pursuit of a worthy endeavor."
Here's the video, via Mediaite:
Now, on some level I will admit that there is merit in the argument that the term "hero" is tossed around far too loosely these days. Going back to the Ancient Greeks and the Romans, after all, "hero" has long been a term that was applied sparingly. That's why the United States awards special honors, ranging from commendations to the Bronze Star, the Silver Star, and the Congressional Medal Of Honor, to those who have distinguished themselves by exceptional action in combat. So, to say that everyone who has died in service to their country, or even just served their country, is a "hero" in the Greek/Roman sense of the word is perhaps a bit of an exaggeration. That is not, by any means, to denigrate the service and the sacrifice of anyone who has served. However, the word "hero" definitely used to mean something special and it has kind of been watered down over the years. After all, is the guy who scores the winning touchdown in the last minute of the Big Game really as much of a "hero"as the firefighter who just saved a child from a burning building? Perhaps we need new words to describe these things, but that's a question for linguists.
I suppose the problem I have with Hayes's comments, and with the comments of those who have been defending him online today, is that the objection to describing those who have died in service to their country as heroes isn't based so much in a concern that it diminishes the true acts of heroism that have occurred, and will continue to occur in wartime as it is in the fear that acknowledging the sacrifices that these men, and women, have made would somehow be a political statement.  That strikes me as a deeply myopic, politically-obsessed, view of the world.  Disagreeing with the political decision to go to war should never, I would submit, be a reason to either denigrate or ignore the sacrifices that those who served in that war have made, which seems to be the clear implication of what Hayes and his fellow panelists were saying in this segment. Individual soldiers are not responsible for the decisions of those who sent them into battle, and it strikes me as incredibly callous to dismiss the sacrifices made by those who died in such endeavors.
I opposed the Iraq War. I think our continued mission in Afghanistan is a big mistake. But, holding those fighting the battle responsible for that would be a tragic mistake. They did not make the decision to go to war, and they have no control over when to end it. We have already dealt in our very recent history with an unpopular war and a group of veterans and war dead who, for far too long, were forgotten by their nation, we should not join the Chris Hayes's of the world in doing that again.