Men's Wearhouse Fires George Zimmer
George Zimmer, the founder and public face of Men's Wearhouse since 1973, has been fired as CEO.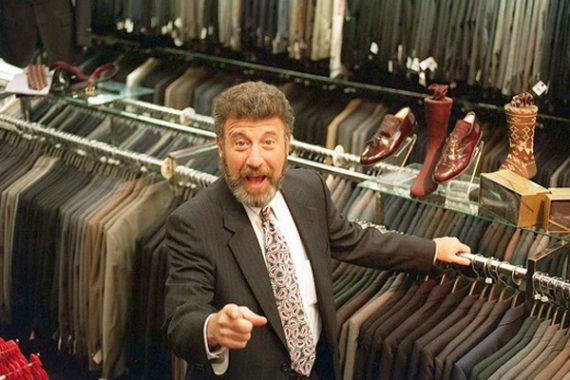 George Zimmer, the founder and public face of Men's Wearhouse since 1973, has been fired as CEO.
Bloomberg ("Men's Wearhouse Board Fires Founder George Zimmer"):
Men's Wearhouse Inc.'s board fired George Zimmer, the founder and public face of the company, as executive chairman without saying why and delayed its annual shareholder meeting so it can renominate directors without him.

The board expects to discuss with Zimmer the extent and terms of his future relationship with the company, Houston-based Men's Wearhouse said today in a statement. The company didn't provide a reason for the firing, and Ken Dennard, a Men's Wearhouse spokesman who works for Dennard – Lascar Associates, declined to comment beyond the statement.

Men's Wearhouse is parting ways with the man who founded the company in 1973 and stars in its commercials, delivering the signature tag lines, "You're going to like the way you look. I guarantee it," in his baritone voice. While Zimmer, 64, had been scaling back his professional responsibilities, including leaving the board of online education provider Apollo Group Inc. in March, the Men's Wearhouse statement is puzzling, said Richard Jaffe, an analyst at Stifel Financial Corp.
"Why would the board terminate him?" Jaffe, who's based in New York, said in a telephone interview. "My sense is that he was reluctant to let go, and that would make sense. He is not a mild-mannered and unassuming guy."

[…]

Zimmer owns about 3.5 percent of the company's shares, according to data compiled by Bloomberg.
He opened the first Men's Wearhouse in Houston with his college roommates, selling $10 pants and $25 polyester sport coats, according to the company's website. He began appearing in the company's commercials in 1986, extolling the company's low prices.

Men's Wearhouse now operates 1,143 stores selling suits, coats, clothing and accessories through its namesake, Moores, Tux and K&G chains.
I've never understood the appeal of Men's Wearhouse, whose prices were always rather high given the low quality goods on offering. Suit customers on a tight budget would be far better off shopping at Nordstrom Rack, Marshall's, Filene's Basement, and several other outlets specializing in out-of-season clothing; shopping sales at Nordstrom's and other high end department stores; or even eBay and quality consignment shops. But Zimmer was certainly an iconic salesman for his brand.