Michele Bachmann Leads In New Iowa Poll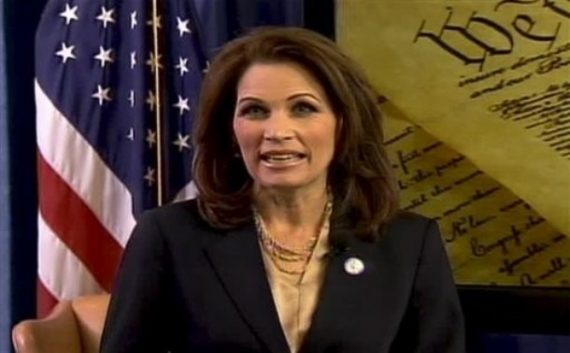 A new poll from The Iowa Republican has Michele Bachmann taking the lead in the Republican primary race in the Hawkeye State:
Minnesota Congresswoman Michele Bachmann has surpassed former Massachusetts Governor Mitt Romney in a recent Iowa poll that was conducted by TheIowaRepublican.com.  With Bachmann now leading in Iowa, Romney has fallen to second place, but he is still well ahead of third place finisher Tim Pawlenty, who has overtaken Herman Cain my a miniscule margin.

Bachmann received support from 25 percent of likely Iowa caucus goers in the poll, while Romney is backed by 21 percent.  The poll also shows signs of growth for former Minnesota Governor Tim Pawlenty, who now stands in third place in statistical tie with Herman Cain at just under nine percent.  Ron Paul finished with six percent, Newt Gingrich with four percent, Rick Santorum with two percent, and Jon Huntsman rounded out the field with one percent.

Bachmann's campaign has taken off like a rocket since participating and announcing her presidential intentions during the CNN debate in New Hampshire last month.  Here in Iowa, Bachmann has been playing up her Iowa roots.  She officially announced her candidacy in Waterloo, the town in which she was born and spent her formative years.  The night before she made her announcement, Bachmann's campaign hosted a rally for 500 locals who came to welcome her home.

(…)

While Bachmann's lead over Romney is just within the margin of error, the poll's cross tabs show how much momentum her campaign has generated in Iowa.  Her favorability is ten points higher than Romney's, who had the second highest number in that category.  Her unfavorable figure is 14 points lower than Romney's, giving her a stellar plus 65 favorability margin.  Her numbers suggest that Bachmann has found a very effective way to appeal to caucus goers.

The candidate with the next highest favorable/unfavorable spread is Tim Pawlenty with a plus 48 margin.  Like Bachmann, Pawlenty is well liked by caucus goers, but he has found it more difficult to move his overall polling number in the state.  Pawlenty finished in third place in the poll by edgeing out Herman Cain, 8.8 percent to 8.5 percent.  Pawlenty's numbers have increased since the Des Moines Register poll showed him at 6 percent.  A major factor could be the radio and television ads the Pawlenty campaign has been airing in the past few weeks.
This poll was taken the week before the July,4th holiday so it doesn't take into account the impact ofTim Pawlenty's recent attacks on Michele Bachmann's lack of anything resembling an accomplishment in her political career, an attack he kept up during his appearance on Meet The Press yesterday:
Visit msnbc.com for breaking news, world news, and news about the economy
The good news from Pawlenty's point of view may be that Bachmann could be peaking too early. The inevitable fall from grace will come for Bachmann, and Pawlenty's attack on her record, which is largely true, may be the start of that.