Michele Bachmann Mixes Up John Wayne And John Wayne Gacy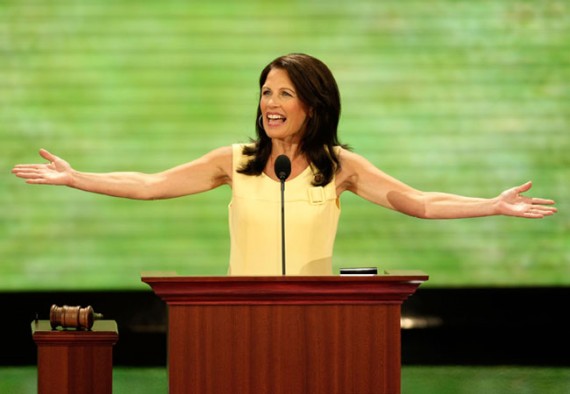 A bit of a gaffe on the day of her big announcement:
Rep. Michele Bachmann kicked off her presidential campaign on Monday in Waterloo, Iowa, and in one interview surrounding the official event she promised to mimic the spirit of Waterloo's own John Wayne.

The only problem, as one eagle-eyed reader notes: Waterloo's John Wayne was not the beloved movie star, but rather John Wayne Gacy, the serial killer.

Mrs. Bachmann grew up in Waterloo, and used the town as the backdrop for her campaign announcement, where she told Fox News: "Well what I want them to know is just like, John Wayne was from Waterloo, Iowa. That's the kind of spirit that I have, too.
Video:
Indeed John Wayne Gacy, who went on to murder 33 people, lived in Waterloo, Iowa in 1967 and in fact committed his first sexual assaults there. in 1968. Marion Morrison, who later became the screen actor John Wayne, was born some three hours away from Waterloo in Winterset, Iowa in 1907, but moved to California with his family sometime in 1910. Michele Bachmann was born in Waterloo, Iowa in 1956, and lived there for about twelve years.
Something tells me she got a very bad history of the events in her hometown subsequent to the time she departed, and that those Iowa ties she talks about aren't quite as deep as she'd like Iowans to think.
Update: Apparently, John Wayne's parents lived in Waterloo for a very brief time before Wayne was born but moved to Winterset to be close to family. Wayne was, of course, born in Winterset not Waterloo.