Military Vaccine Deadlines Pass
Some 98 percent of active service members are now vaccinated. The rest will be discharged.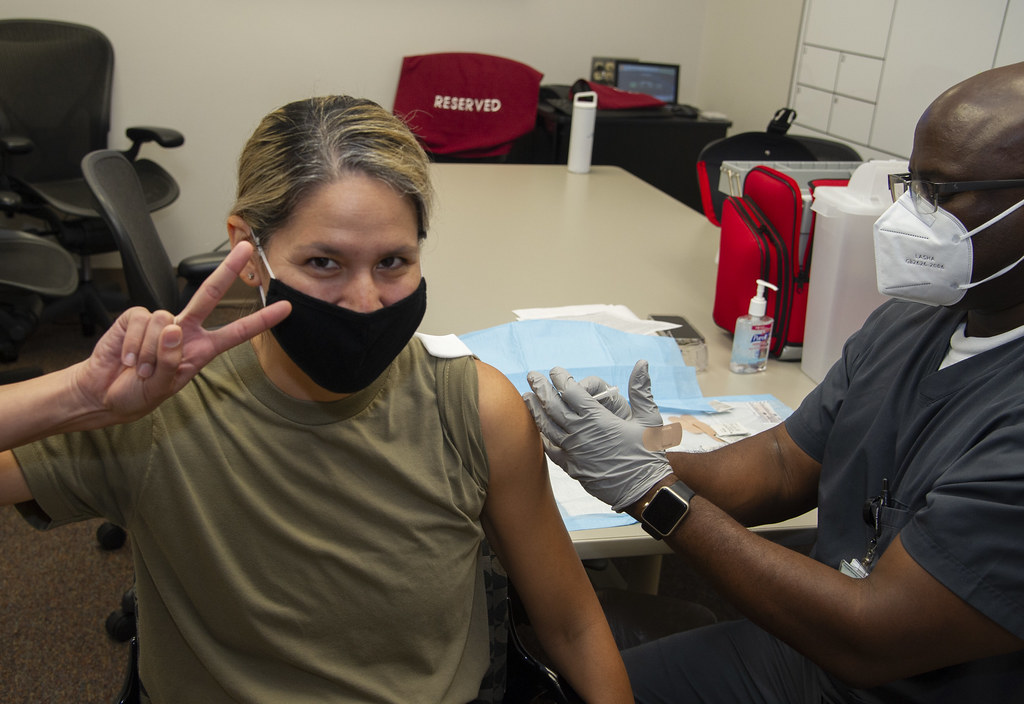 NYT ("Vaccine Holdouts in Army and Navy Will Be Dismissed, Military Says"):
The vast majority of active-duty troops in the Army and the Navy are vaccinated against the coronavirus, and the small number of those still refusing shots will soon be dismissed from the military, officials said on Thursday.

In the Army, 468,459 active-duty soldiers, or 98 percent, have received at least one dose of the vaccine. The Navy has inoculated 342,974 members, with roughly 1.7 percent still holding out.

Some of those who are unvaccinated, however, have medical and administrative waivers or pending requests, or have already signed up for shots. But Army officials said that less than 1 percent of active-force members are in that category. Thousands of troops requested religious exemptions, but none have been granted, officials said.
While I continue to be confused as to why the Defense Department didn't have a single deadline for active military members to comply with the Secretary of Defense's order—which was really the President's order—all of them have now passed. And the good news is that compliance has been extraordinarily high given how polarizing the issue has been, not only in the United States but globally.
And, despite some grandstanding by politicians, conflicts have been resolved with uncharacteristic bureaucratic efficiency.
Army commanders have relieved six active-duty leaders, including two battalion commanders, and issued 2,767 general officer written reprimands to soldiers for refusing the vaccination order, according to Army officials on Thursday.

Vice Adm. John B. Nowell Jr., the chief of naval personnel, said this week that the administrative separation processing for those who continue to refuse would be expedited to "maximize speed and equity in achieving a fully vaccinated force."

Each service branch set its own deadlines for compliance with the mandate, which was issued last August. The Air Force, with more than 325,000 active-duty members, hit its deadline on Nov. 2. Pentagon officials said this week that 27 airmen — all with less than six years of service — were the first believed to have been fired over vaccine refusals. The deadlines for the Marines and the Navy were on Nov. 28. The Army's was on Wednesday.
The Marine Corps, far and away the service with the youngest personnel, with most enlisted Marines limited to a single four-year stint, have been the least compliant. This has generated big headlines, with some 10,000 failing to meet the deadline. But that's still a 94 percent compliance rate.
I understand why the headlines tout the outliers. That some 40,000 people who swore an oath are refusing to follow lawful orders is newsworthy. But that's out of a combined force of well over 1.3 million.
Further, the noncompliance rates are artificially inflated by the fact that a goodly number of them are people who were otherwise leaving the military, via either the natural end of their enlistment or having reached retirement eligibility. Those people will almost certainly simply be allowed to exit the service without punishment.
This is a success story, not a failure. Mandates work. And our military is more ready because it is fully vaccinated—and because we're purging it of those who won't do their duty.
UPDATE: And mandatory booster shots are quite likely soon.