Mitch McConnell: Defeating Obama In 2012 Crucial To GOP Agenda
Mitch McConnell made clear today that he's targeting Barack Obama for defeat in two years.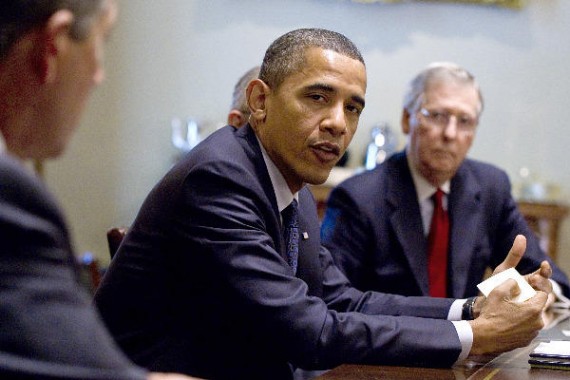 Senate GOP Leader Mitch McConnell is doubling down on comments he made before Tuesday's election that defeating the President in 2012 is essential to achieving the GOP's goals:
An emboldened Sen. Mitch McConnell on Thursday will declare that President Barack Obama must be defeated in 2012 because Republicans "can't plan" on the White House to listen to voters and cooperate on some of his party's top political priorities.

"Over the past week, some have said it was indelicate of me to suggest that our top political priority over the next two years should be to deny President Obama a second term in office," the Senate Republican leader will tell the conservative Heritage Foundation, according to excerpts of his speech provided to POLITICO.

"But the fact is, if our primary legislative goals are to repeal and replace the health spending bill, to end the bailouts, cut spending and shrink the size and scope of government, the only way to do all these things is to put someone in the White House who won't veto any of these things," the Kentucky Republican will say. "We can hope the president will start listening to the electorate after Tuesday's election. But we can't plan on it."

While Democratic leaders said Republicans should be prepared to compromise to pass legislation, McConnell will make clear that he wants the administration to "move in our direction" if it wants his party's cooperation.

McConnell's sharpened attack would be a departure from the more collegial tone that some Republican leaders struck in the immediate aftermath of Election Day, when voters returned Republicans back to the House majority and elected six more Senate Republicans, narrowing the Democratic majority in the upper chamber to 53-47.

But McConnell's comments suggest that Obama will face a far more confrontational Senate, particularly if he doesn't dramatically overhaul his agenda. And the Republican leader suggested that he's prepared to tie up the Senate floor and unite his party against some Democratic bills, which could lead to legislative gridlock and have profound repercussions across the 2012 campaign trail.

In particular, McConnell will say the Senate should be prepared to vote on a straight repeal of the new health care law "repeatedly."

"But we can't expect the president to sign it," the excerpts quote him as saying. "So we'll also have to work, in the House, on denying funds for implementation and, in the Senate, on votes against its most egregious provisions."
While McConnell won't have control of the Senate, there are plenty of parliamentary rules that he will be able to use to block Democratic efforts to water down legislation sent over from the House, and he'll have a much larger caucus to work with (and possibly the support of Democrats like Ben Nelson and Joe Manchin depending on the issue at hand), so it's a fact of life that any legislation coming out of the Senate is going to have to have significant Republican support.
As Jay Bookman notes at the Atlanta Journal-Constitution, though, it is rather extraordinary to hear such a statement from a prominent politician:
McConnell isn't some talk-radio host trying to work his audience into a lather. He's not a behind-the-scenes political operative or consultant plotting the next election. He's the Senate minority leader, with an obligation to govern that ought to transcend partisan goals.

For that reason, it means something when a person in his position embraces partisan gain over all else, however he may try to justify it to himself and others. In fact, it's hard to hear his statement as anything but a declaration of all-out partisan war, damn the consequences.

For example, given the choice of supporting something that was good for the country, but would also benefit Barack Obama politically, what would McConnell do? If you take him at his word — and I guess we have to, since he has chosen to repeat it for emphasis — you at least have to wonder.

I just can't imagine such a bald assertion of partisan gain over policy at any other time from such a prominent source. Tom Daschle in 2002, saying "the single most important thing we want to achieve is beating George Bush?" Unthinkable, because then as now, the country had bigger things on its plate. Even Bob Dole and Newt Gingrich, at the height of political acrimony with Bill Clinton, didn't publicly commit themselves to Clinton's political destruction as their primary goal.
It's also surprising because McConnell has never been known as a partisan bomb thrower in the style of, say, a Newt Gingrich. However, I think it's largely a reflection of the hyper-partisan political culture that we live in today.  Historically, the Senate was the body where compromise takes place, but that has become far less common over the last decade, and it's becoming common to hear Senators talking like House members in a more confrontational, partisan style. Additionally, McConnell is a smart enough politician to know that he needs to keep the base happy, and the Republican base loves rhetoric like this right now. Does this mean that compromise in the Senate is dead? No, it means that when that compromise happens, Mitch McConnell is making clear that it will happen on Republican terms.
Whether that's what the voters want is another question.