Mohammed El-Baradei: Mubarak Must Go, U.S. Is Disappointing Egyptians
Mohammed el-Baradai had harsh words for Hosni Mubarak and the United States when he spoke today from house arrest.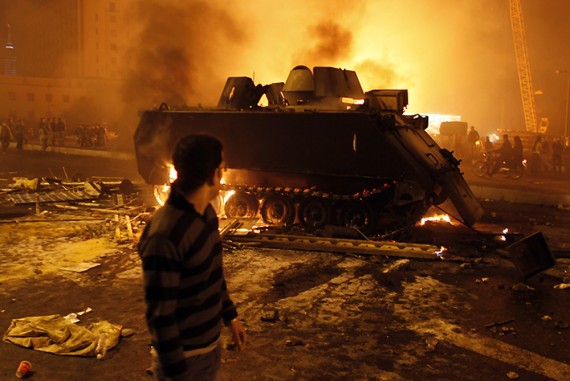 He may be under house arrest, but former United Nations weapons inspector Mohamed el-Baradei, who has become something of a rallying point for the Egyptian protesters, is still speaking out, and he has harsh words for Hosni Mubarak and the Untied States:
Egyptian dissident Mohamed ElBaradei called the U.S. position on the Egyptian crisis a disappointment and condemned Egyptian President Hosni Mubarak's early Satruday morning speech as "almost an insult to the intelligence of the Egyptian people."

ElBaradei also said in an interview with the English-language segment of France 24 that he would continue to speak out against Mubarak's regime, whether he was under house arrest or not, until the president leaves office.

(…)

ElBaradei said Egyptians had hoped that Mubarak would have announced his resignation earlier on Saturday, "but at the last minute he came out with an empty statement which was a huge disappointment to the Egyptian people."

Mubarak, he said, doesn't have a clue.

"He obviously did not understand the message from the Egyptian people," ElBaradei said. "It was almost an insult to the intelligence of the Egyptian people to tell them that  the only response is that I will have a new government. People know full well that he is in charge of every aspect of running the country. He did not elaborate on one single economic or social reform."
Given the reaction of the Egyptian people today to the changes in government that Mubarak has made, El-Baradei would seem to be 100% correct on this point:
In Alexandria, where some of bloodiest clashes with the police took place, protesters' positions appeared to be hardening, with at least some expressing anger at the United States.

"I've been in the streets from the 25th on, and I'm going to remain in the streets until Hosni Mubarak and his friends leave the country," said Marwat Saleh, 43, who owns a small tourism company.

"It would have been better if he had not given his speech yesterday, because it seems he did not understand our demands," she said. "We want him to step down, not only the government; he has to go."

Mr. Mubarak's speech just after midnight, in which he dismissed his cabinet, was mainly a defense of his government and the imperative to maintain stability.

Protesters in the city also voiced significant anger at the United States, rushing up to American reporters on the streets unprompted to ask why the United States continued to back the Egyptian government.

"We are very disillusioned by President Obama's speech," said Muhammad Shafai, 35, a lawyer, who called for Mr. Obama to distance himself from Mr. Mubarak.
El-Baradei echoed this sentiment in his interview:
"What is … very disappointing to the Egyptian people is the message coming from the U.S., which is saying that we are going to work with the Egyptian people and with the government," he said. "Well, you have to make a choice. This is an authoritarian government and on the other hand the people have been deprived of their freedom for 58 years."
As James Joyner noted this morning, the United States is in a difficult position. I don't think there are any clear answers here, and little ground to criticize the Obama Administrations response to what is clearly the most difficult foreign policy crisis they've dealt with to date. However, it's worth noting that we may be nearing a point where U.S. influence over Mubarak is not nearly as strong as we thought it might be and that it's time to start considering what the Egyptian people will think of how we've acted here when the government finally does change.
Photo via Al-Jazeera