More Border Wall Numbers
Border states/districts are not as pro-wall as presidential rhetoric might make you think.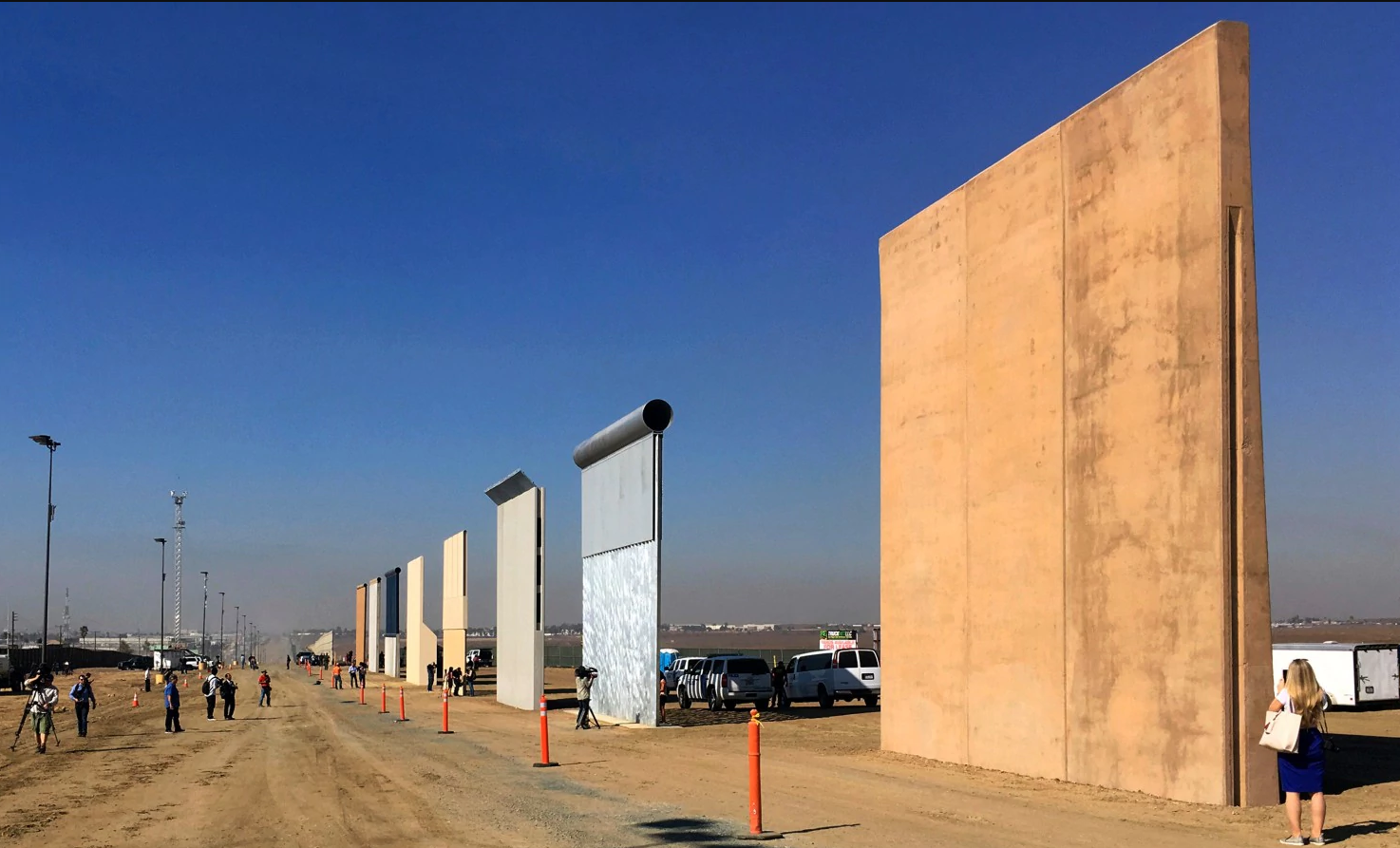 The Upshot (As Trump Sticks With His Wall, His Ratings Stay Stuck in Place) has the following graphic in regards to the midterms and support for a border wall: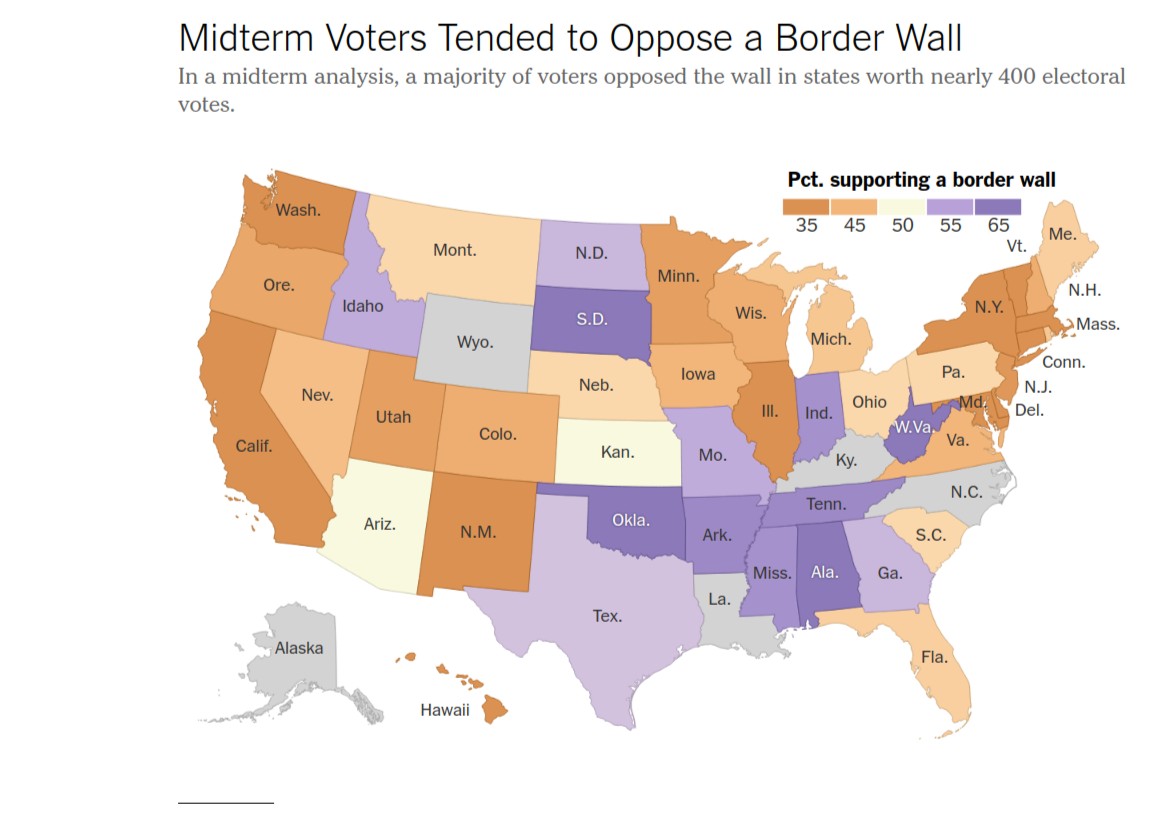 What strikes me about the graphic are the border states. First, if there really was a massive crisis on the border, one would expect the border states to be somewhat in sync over this issue. However, those states run the gamut.  Second, it is blatantly obvious that partisanship is the real driving variable.  CA is heavily Democratic, AZ is becoming purple, and Texas is mostly red, but had a serious blue challenge in 2018 (and we see opposition, a 50-50 split, and support with significant opposition across those three states).
Also in regards to the crisis thesis, if we look at the 2018 mid-terms and border districts, most of them voted Democratic (source: CNN):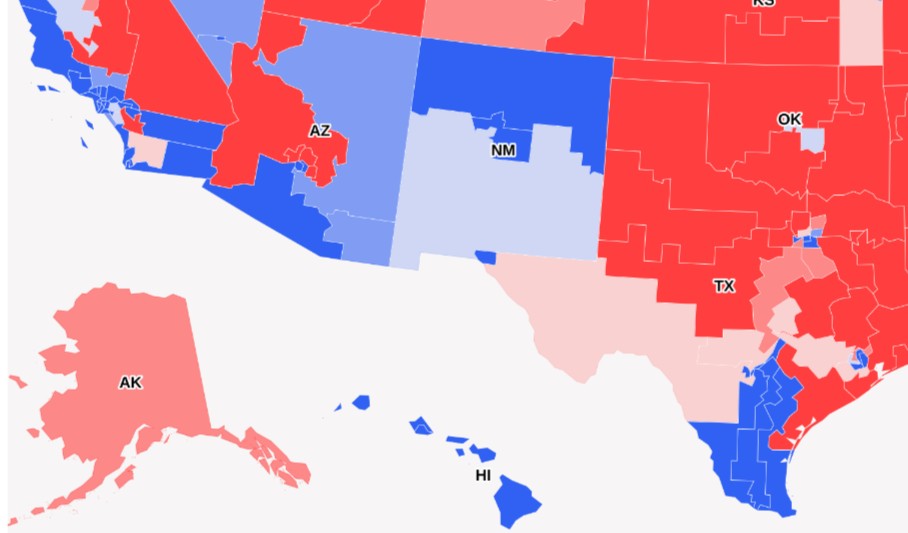 Indeed, only Texas 23 went Republican, and then by less than a percentage point (not to mention the district is geographically huge with much of it being hours by car from the border). Again:  if a wall was truly the sine qua non of border security, surely these districts would have voted for the pro-wall party.
The piece notes:
The wall has consistently been unpopular, with voters opposed by around a 20-point margin over months of national surveys. That makes it even less popular than the president himself.

Support for the wall is closely tied to support for the president, though. Over all, polls show it consistently tracks just a few points beneath the president's approval rating, and support for the wall is almost exclusively confined to voters who already support the president.

[…]

The relationship between support for the president and the wall is so tight that it's hard not to wonder whether, at least for now, support for the wall is simply a function of support for the president. In other words, attitudes about President Trump might drive attitudes about the wall, rather than the other way around. It wouldn't be much of a surprise, given how strongly voters feel about the president and the extent that he's emphasized the issue.
Indeed, while it is possible that causality runs from wall support to Trump support, I am guessing that, on balance, wall support is a proxy for Trump support.  Hence, when we see some polls showing an increase in support for the wall in the last year, I think that is more about Trump supporters doubling down on their Trump support more than it is about the wall in and of itself.  In other words, I think when people hear the question "Do you support a border wall" they hear "Do you support President Trump" and answer accordingly.  This has to be especially true in the context of the shutdown.